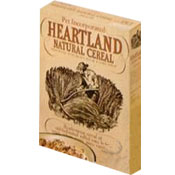 From: Heartland Brands
Introduced in 1972
A 1973 ad (that's rather hypnotic at the end) described it this way:
"
Taste the flavor of times long gone. In Heartland Natural Cereal.
"
"Your first taste of Heartland Natural Cereal will seem strangely familiar. As if you've tasted it sometime, someplace long ago. As if, somehow, it's part of your past. Because it is. Pet Incorporated has reached back, beyond today's complicated, artificial times, to bring back a taste rich in the natural goodness Americans enjoyed long ago. Heartland has no artificial preservatives. Natural protein from natural grain. And three deliciously toasted natural flavors. Plain. Raisin. And coconut. No cooking. None at all. You just add milk. And you can't help liking it. Because you have a natural taste for Heartland."
Emerging from a decade of super-sweetened cereals, this little-known natural cereal is credited with bringing granola to America's breakfast tables. Nearly a century earlier around 1881, Dr. John Kellogg had introduced a cereal he called Granola, but the Granola of yesteryear was a flour and grain biscuit that was crumbled into small pieces. It was hard and tasteless - a far cry from granola as we know it today.
In 1965, a man named Layton Gentry began shopping around a new cereal he called Crunchy Granola. It consisted of rolled oats, wheat germ, sesame seeds, coconut, oil, salt and brown sugar - a basic recipe for what we now consider granola.
Gentry's granola found national distribution through a company that had never sold a cereal before, Pet Incorporated (formerly known as the Pet Milk Company).
Within a year of the cereal's national introduction as Heartland Natural Cereal, the product had claimed 2.3% of the U.S. cereal market. Larger cereal companies recognized the potential of Gentry's simpler approach to breakfast cereal. In 1972, Quaker introduced 100% Natural Cereal which was followed by General Mills Nature Vally granola cereal and Kellogg's Country Morning Cereal.
Combined, the new back-to-nature granola-type cereals grabbed 10% of the cereal market by the end of 1973.
In 1998, McKee Foods Corporation acquired the Heartland Brand where the spirit of Gentry's creation lives on in the form of Heartland Granola Cereal - Original.
Click here
to see all cereals from Heartland Brands.
---
Additional Images
1973 Hearland Natural Cereal Ad
Submitter: Mr Breakfast
Uploaded: 9/22/2008
Additional details
---
Comments About This Cereal
What do you think of Heartland Natural?

Overall Average Rating = 5 (out of 5)

By Sher


| | |
| --- | --- |
| Cereal Rating (out of 5): | |

I am so sad that they are no longer manufacturing Heartland Granola Cereal. I've been a regular customer (no pun intended!) since the early 1970's. Not only do I use it as a cereal, served with yogurt instead of milk, but I use it in several of my dessert recipes of cakes and muffins. Other granolas always have some form of nuts in them, which I am allergic to. Heartland was my go to cereal for the past 48 years! So very disappointed. Couldn't they sell the recipe to some other manufacturer and get this back on the store shelves?

Comment submitted: 6/25/2020 (#25318)



By heartlandfan


| | |
| --- | --- |
| Cereal Rating (out of 5): | |

I didn't know about or even like natural cereal when this came out, I was young & didn't know better. But I've never had anything as good before or since. I remember it cost $4 a box in the late 1970s, which was pretty jaw-dropping (tiny box too, but dense). Still: truly amazing. The people who were lucky enough to have it invariably remember it the same way. Expensive. Amazing. And almost impossible to stop eating.

Comment submitted: 5/3/2020 (#25119)



By Nelly G.

It was a fantastic cereal.

Comment submitted: 12/21/2018 (#23776)



By ssf806


| | |
| --- | --- |
| Cereal Rating (out of 5): | |

I miss this item as well. Would like to see greater distribution. Have not found it in Arizona.

Comment submitted: 12/17/2015 (#19758)



By Steve


| | |
| --- | --- |
| Cereal Rating (out of 5): | |

I miss this cereal... can't find it in Columbus, Ohio anymore.

Comment submitted: 5/22/2012 (#7730)



By Joe Spliggins


| | |
| --- | --- |
| Cereal Rating (out of 5): | |

This stuff was awesome! The raisin and the coconut mixed together was the best. One of the few cereals I've had that would actually keep you full until lunch without eating 4 bowls.

Comment submitted: 2/15/2011 (#3930)



By old chum


| | |
| --- | --- |
| Cereal Rating (out of 5): | |

I wish I could find the old TV commercial for this cereal.

Comment submitted: 12/12/2010 (#3423)



By 07640


| | |
| --- | --- |
| Cereal Rating (out of 5): | |

As a late baby boomer who tried every new cereal to come down the pike as a grade schooler from the mid 60s thru the mid 70s, Heartland (along with Oak Flakes) were my absolute FAVORITE!

Comment submitted: 9/4/2009 (#514)



By granola


| | |
| --- | --- |
| Cereal Rating (out of 5): | |

My ex father inlaw was Layton Gentry. He started for my wife Maryanne Gentry and I a Granola Bakery in Penryn California in 1977. The shoppes name was the Mill Stone Bakery. I will say I made alot of granola during that time. I still remember the rescipi for his granola, 70 pounds batch. Layton was a good man and I amired him for his ethics. He never got rich but I quess he did not care. He died some years ago and I thought to myself he never was given creadit due for his contribution to heath food.

Comment submitted: 8/27/2009 (#412)