Introduced in 1965
You can't keep Quisp Cereal down. After a popular run, the cereal was removed from shelves in the mid-70's. It reappeared briefly in the mid-80's and disappeared once more. In the mid-90's, the cereal emerged yet again as the first "internet cereal" - available for online purchase only. In 2008, the cereal was sold in limited quantities at Dollar General stores in select areas.
Quisp and its partner cereal Quake were introduced by Quaker Oats in 1965.
Initial boxes of Quisp referred to the cereal as "the vitamin powered sugary cereal... for QUAZY energy." The "crunchy corn cereal" pieces were often called "saucer-shaped" but more realistically resembled flattened or deflated round cereal pieces such as Kix. The cereal tasted remarkably similar to another Quaker cereal, Cap'n Crunch.
Quisp has become iconic in the cereal world thanks to its namesake mascot. Quisp the character is a pink alien with a propeller protruding from the top of his head. He was most often drawn wearing a green space suit with a large capital "Q" emblazoned on the front.
Which came first... the cereal or the mascot? In the case of Quisp, the mascot came first. Jay Ward and Bill Scott, the creators of Rocky & Bullwinkle were asked by Quaker to create characters which cereal brands could be built upon. In 1963, Ward and Scott delivered Cap'n Crunch. In 1964, they gave them Quisp.
For more about Quisp the character, check out this
profile from Topher's Castle
.
The counterpart cereal to Quisp was Quake. Introduced the same year, Quake was another crunchy cereal with pieces shaped like gears. Ads for the Quake referred to the cereal pieces as "wheelies". While the flavors of the two cereals were basically identical, Quisp was a far more popular cereal.
Quake featured a charter named Quake who was also created by Jay Ward and Bill Scott. The mascot was a muscular, cape-wearing, miner's helmet-sporting momma's boy with a deep booming voice.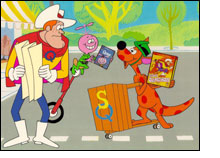 In 1969, the Quake character was made thinner and swapped his miner's helmet for an Australian cowboy hat. Despite efforts to make the Quake character less daunting, kid's still overwhelming choose Quisp.
Quisp and Quake were almost always promoted together. The usual commercial scenario had the two characters competing against each other for screen time and bickering over which cereal was best or provided the best premium.
At the height of the the cereals' popularity, Quisp and Quake took in 1.6% of the entire breakfast cereal market - almost equivalent to what Cap'n Crunch gets today.
In 1972, the final battle between Quisp and Quake began. Earlier ads, in which the cereals were promoted together, often challenged kids to choose which cereal was better. But in the earlier 1970's, the stakes were raised. Quaker ran print ads and television commercials asking consumers to vote on their favorite cereal/character. The loser would be banished from grocery store shelves.
Quisp won by a wide margin and, true to their word, Quaker discontinued Quake cereal. The Quake character reemerged for a short time playing second banana to Simon the Quangaroo in ads for Quake's Orange Quangaroos cereal. Like it's predecessor, Quangaroos was pitted against Quisp in ads. Quisp easily defeated it's new challenger in both cartoon races and sales.
Quisp cereal began disappearing from grocery stores in the late 1970's. It was re-introduced in the mid-80's for a short time. It is available today, but almost exclusively via orders on the internet.
Check out this site
.
Since its demise and rebirth as an "internet cereal", Quisp memorabilia has become a particularly hot commodity among cereal collectors. Recently, a 1969 Quisp Beanie cereal premium sold for $1,025 in an internet auction. A 1968 Quisp Space Quaft Cereal Box sold for $600 and a Quisp Red Smoke Gun premium sold for $310.
Other known premiums in original Quisp cereal included a 2-in-1 fun bowl, a Quisp bank, cloth dolls, mini-comics, a circus acrobat toy, a tiny flying saucer, a foam frisbee, various rings, a Quazy Moon Mobile and assorted pins and iron-ons.
Click here
to see all cereals from Quaker.
---
Additional Images
These are the most recent images. Click here to see all pictures for Quisp.
There's More Pictures! See all images for Quisp cereal
For more information about Quisp,
visit
http://www.quisp.com
.
---

Overall Average Rating = 5 (out of 5)

View all 98 comments for this cereal.


By Postman


| | |
| --- | --- |
| Cereal Rating (out of 5): | |

National Cereal Day is March 7. Enjoy a bowl or two of your favorite cereal.

Comment submitted: 3/4/2020 (#24952)



By Postman


| | |
| --- | --- |
| Cereal Rating (out of 5): | |

Great to see Quisp on the back of the Red, White and Blue Crunch Berries Captain Crunch box. Glad to see Quaker cross promoting Quisp. I would recommend the Red White and Blue Crunch Berries. Very tasty.

Comment submitted: 8/2/2019 (#24381)



By Postman


| | |
| --- | --- |
| Cereal Rating (out of 5): | |

Happy belated National Cereal Day (March 7). Will have to mark it on my calendar next year.

Comment submitted: 3/11/2019 (#24010)



By Ernie


| | |
| --- | --- |
| Cereal Rating (out of 5): | |

I remember having Quangaroos back in the day, but I don't ever recall eating Quisp. Our ShopRite sells it and I decided to check it out. Tastes like a buttery version of Cap'n Crunch. This seems to be a favored cereal for a good reason.

Comment submitted: 1/19/2019 (#23861)





By PlatNuMonk (Team Breakfast Member)


| | |
| --- | --- |
| Cereal Rating (out of 5): | |

Since they stopped making Freakies, this cereal was bumped up on list to #2. Just bought 3 boxes.

Comment submitted: 11/16/2018 (#23703)



By Postman


| | |
| --- | --- |
| Cereal Rating (out of 5): | |

I have been buying all my daughters friends a box of Quisp to try. They all love it. It appears to be really selling well at my local Food City. If cereal companies would just reintroduce some of the classic cereals (Concentrate, Team Flakes, Post Toasties ect...) they would see a whole new generation would enjoy them.

Comment submitted: 8/3/2018 (#23327)



By Southsider


| | |
| --- | --- |
| Cereal Rating (out of 5): | |

Regarding Quisp... I grew up with it and now thanks to Fresh Market my kids are too.

Comment submitted: 6/23/2018 (#23173)



By Postman


| | |
| --- | --- |
| Cereal Rating (out of 5): | |

My sister told me that yesterday (March 7) was international cereal day. So Happy Cereal Day everyone.

Comment submitted: 3/8/2018 (#22795)



By Postman


| | |
| --- | --- |
| Cereal Rating (out of 5): | |

Just found Quisp at Food City. Made my weekend.

Comment submitted: 1/29/2018 (#22665)



By Crunch-14


| | |
| --- | --- |
| Cereal Rating (out of 5): | |

Best cereal ever IMHO. Couldn't believe it when my daughter found Quisp at a Shoprite in the town next to us. I went over today and bought four boxes! Hope it stays on the shelf. As to comparisons to Cap'n Crunch, the two are similar, but Quisp does not seem so excessively sweet.

Comment submitted: 1/19/2018 (#22634)



View all 98 comments for this cereal.