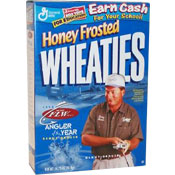 From: General Mills
Introduced in 1995
"Frosted Flakes with a Grand Slam Taste... Sweet Energy!"
This cereal was a re-working of Wheaties Honey Gold, a cereal that made a minor splash when it came out in 1992, but whose sales declined substantially in the years that followed.
A 1996 TV commercial featured football great Deion Sanders (then with the Dallas Cowbows) making an incredible catch and enjoying a bowl of the new cereal:
"What's got Deion actin' so sweet? It could only be new Honey Frosted Wheaties, the new frosted flake that's kicked with Wheaties energy for a prime time taste. New Honey Frosted Wheaties... It's sweet energy."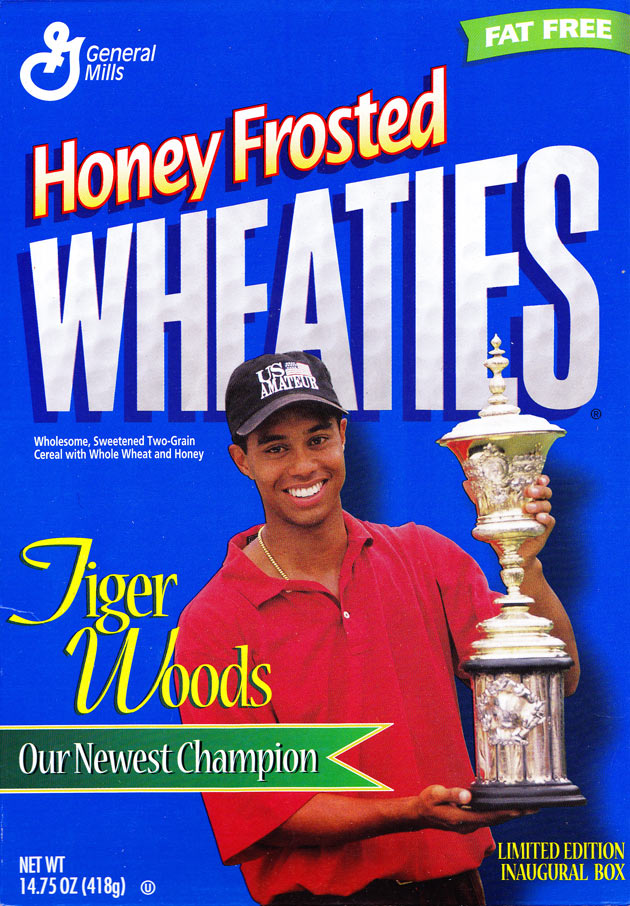 The cereal was described on the front of the box as a "wholesome, sweetened two-grain cereal with whole wheat and honey." The box we got our hands on was from 1998 and featured Tiger Woods. The back listed facts about Woods under the heading "A Champion On and Off the Course".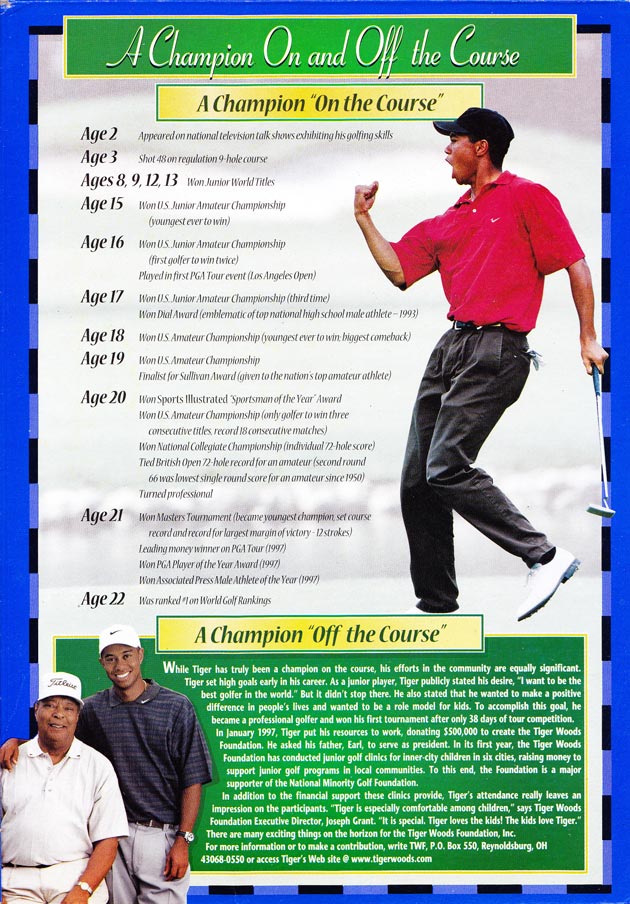 The first 8 ingredients listed on the nutrition panel (in 1998) were cornmeal, sugar, whole wheat, honey, salt, brown sugar syrup, malt syrup and corn syrup.
Click here
to see all cereals from General Mills.
---
Honey Frosted Wheaties Cereal Theater

Now Showing: 1996 Honey Frosted Wheaties Ad
---
Additional Images
Dale Earnhardt Honey Frosted Wheaties
Submitter: Mr Breakfast
Uploaded: 4/19/2009
Additional details
---
Comments About This Cereal
What do you think of Honey Frosted Wheaties?

Overall Average Rating = 5 (out of 5)

By Norman Red


| | |
| --- | --- |
| Cereal Rating (out of 5): | |

Why wes the product discontinued? - Red Ted in Norman, OK.

Comment submitted: 8/12/2017 (#22131)



By Connie

My sister collected cereal boxes. I recently found them. Are empty cereal boxes (1995-99) worth money?

Comment submitted: 12/13/2016 (#21127)



By Sooner State


| | |
| --- | --- |
| Cereal Rating (out of 5): | |

They were great. I never understood why they were discontinued. Sam's Club was always, always, running out.

Comment submitted: 7/31/2015 (#19267)



By GLP


| | |
| --- | --- |
| Cereal Rating (out of 5): | |

Where can I get Honey Frosted Wheaties? They were great. They need to put them back on the market.

Comment submitted: 6/2/2014 (#17129)



By Matt California


| | |
| --- | --- |
| Cereal Rating (out of 5): | |

I only got to try this once before it was taken away. I remember it being really good - better than regular Wheaties for sure.

Comment submitted: 10/9/2012 (#9406)



By Travelguy


| | |
| --- | --- |
| Cereal Rating (out of 5): | |

This is the best cereal I ever ate! I've been looking for it to appear again for years. No such luck.

Comment submitted: 3/18/2012 (#6866)



By chezwel


| | |
| --- | --- |
| Cereal Rating (out of 5): | |

Where do you find these frosted Wheaties? I remember liking them but haven't seen them in forever.

Comment submitted: 5/22/2011 (#4894)



By candiatti


| | |
| --- | --- |
| Cereal Rating (out of 5): | |

It's hard to find... but I think it is the best cereal ever.

Comment submitted: 4/20/2011 (#4705)