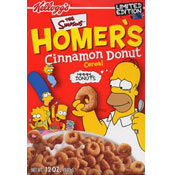 From: Kellogg's
Introduced in 2001
The shape of the cereal pieces in Homer's Cinnamon Donut Cereal were intended to look like donuts, which succeeded in as much as Cheerios look like small donuts.
Some disappointed cereal enthusiasts noted that this cereal had too much cinnamon which caused the cereal pieces to feel almost "furry".
The same year this cereal appeared, Kellogg's also produced a limited edition partner cereal called Bart Simpson Cereal. The Bart cereal was described on the box as having a "Peanut Butter Chocolate Crunch". The cereal pieces were similar to Corn Pops with areas of darker brown to indicate the chocolate.
The following year (2002), Kellogg's released a Simpsons-related cereal in Great Britain and Australia called Bart Simpson's No ProblemOs. This cereal consisted of frosted multi-grain cereal loops and mini chocolatey biscuits with characters from the Simpsons cartoon etched on the surface .
The Simpsons television series first aired on American television in 1989. In 2007, the first Simpsons motion picture appeared in theaters. As part of a promotion for the film, select Seven-Eleven stores across the U.S. sold yet another Simpsons-related Breakfast Cereal - Frosted Crusty O's (produced by MOMCO). Unlike previous Simpsons cereals, the Krusty cereal seemed to be made strictly for memorabilia collectors. The cereal in the box was a sub-par knock-off of Froot Loops which looked nothing like the cereal depicted on the front of the box.
Click here
to see all cereals from Kellogg's.
This cereal belongs to the following Mr Breakfast Cereal Families:

---
Additional Images
Front And Back Of Homer Cereal
Submitter: Mr Breakfast
Uploaded: 3/14/2008
Additional details
---
Comments About This Cereal
What do you think of Homer's Cinnamon Donut?

Overall Average Rating = 5 (out of 5)

View all 14 comments for this cereal.


By WahooTwo


| | |
| --- | --- |
| Cereal Rating (out of 5): | |

I wish they would bring this cereal back so I don't have to eat so much freaking Cinnamon Toast Crunch.

Comment submitted: 3/20/2017 (#21521)



By J. Hawke


| | |
| --- | --- |
| Cereal Rating (out of 5): | |

The empty box is displayed on the top shelf in my kitchen and gets lots of laughs. There was a very small window of opportunity to buy this cereal. But it was very good.

Comment submitted: 2/10/2017 (#21374)



By Steve-Os


| | |
| --- | --- |
| Cereal Rating (out of 5): | |

I remember this cereal. It was very big on cinnamon taste. It was decent, but nothing too great. Would've made sense to make strawberry frosted donuts instead, since that is what Homer is seen eating in the Simpsons usually.

Comment submitted: 7/10/2016 (#20528)



By Shawn_Easy


| | |
| --- | --- |
| Cereal Rating (out of 5): | |

Come on already, Doooh, bring back the most yummiest Kellogg's cereal ever tasted by kid's and adult's everywhere... It has it's own unique donut taste. Favorable, Top Notch,, A++++, great for mornings. Bring it back, bring it back. That's all I ask.

Comment submitted: 5/8/2014 (#17034)



By whitedemon


| | |
| --- | --- |
| Cereal Rating (out of 5): | |

Is it worth any money? I have a box unopened (whitedemo@aol.com). Let me know. I have an unopened Bart Simpson cereal too.

Comment submitted: 12/24/2012 (#10213)



By shockwave


| | |
| --- | --- |
| Cereal Rating (out of 5): | |

This was a really good cereal. Kellogg's should make a combo box of retro cereals, a bunch of different small boxes of different cereals from the past... I'd buy that.

Comment submitted: 9/30/2012 (#9277)



By Steve


| | |
| --- | --- |
| Cereal Rating (out of 5): | |

I found this cereal at Big Lots. Once I tried it... I drove to every Big Lots in my area and bought every box they had. Favorite cereal ever!

Comment submitted: 8/8/2012 (#8775)



By spoonman


| | |
| --- | --- |
| Cereal Rating (out of 5): | |

Simply the greatest cereal ever - the tear in Homer's eye on the front of the box sums up its greatness.

Comment submitted: 1/11/2012 (#6176)



By bass


| | |
| --- | --- |
| Cereal Rating (out of 5): | |

This cereal was amazing. It was delicious and it was good because it was Simpsons themed.

Comment submitted: 1/6/2012 (#6133)



By harwood

I've got two unopened boxes purchased around 2002.

Comment submitted: 12/28/2011 (#6067)



View all 14 comments for this cereal.