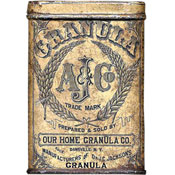 From: Independent / Undefined
Introduced in 1863
Granula (with a "U") is considered to be the first ready-to-eat breakfast cereal ever created.
Unfortunately, it really wasn't ready-to-eat. The tough and tasteless cereal had to be soaked in milk overnight before it could be chewed.
Text on the side of a tin of Granula described it like this: "A most delicious and nutritious Cooked Food, ready for immediate table use. Prepared by a peculiar process original with us, embracing the use of all the constituents of the grain, which is the best White Winter Wheat."
Granula was the creation of Dr. James Caleb Jackson. The doctor operated the Jackson Sanatorium in Dansville, NY where he treated patients with hydrotherapy (known then as "the water cure"), exercise and healthy foods, all in a smoke-free and booze-free environment.
Jackson took it upon himself to come up with fresh, new healthy food and drink options for his patients.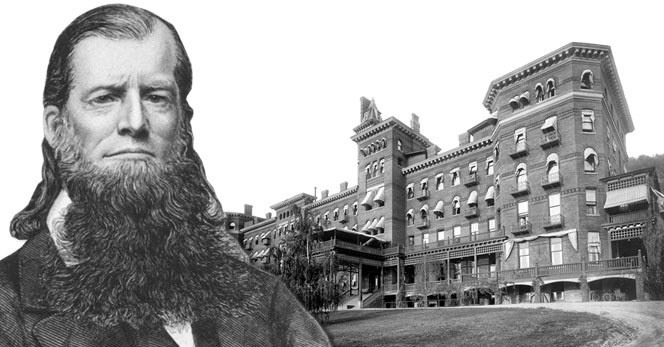 His recipe for the world's first cold breakfast cereal went something like this:
Granula Recipe
Graham flour (aka wheat flour)
water
Mix the Graham flour with the water. Bake this mixture until it becomes as hard as a brick.
Break the brick pieces into smaller pieces and bake them once more.
To serve, soak the Granula overnight or until soft enough to attempt chewing. Enjoy!
Dr. Jackson formed the Our Home Granula Company to sell his new cereal. The cereal was marketed along with another Jackson creation, Somo coffee substitute. An ad in the doctor's own magazine,
The American Water Cure Journal and Health Reform Magazine, read "Eat Granula, Drink Somo."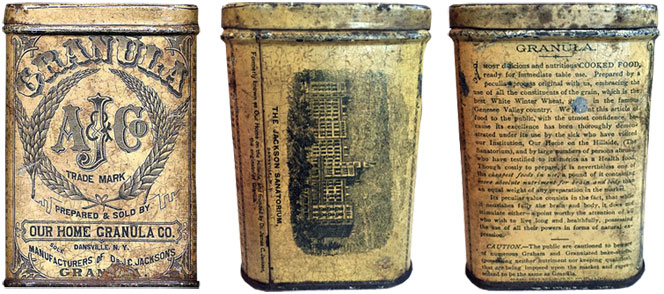 Click here to see all cereals from Independent / Undefined.

---
Comments About This Cereal
What do you think of Granula?

Overall Average Rating = 5 (out of 5)



By driemer (Team Breakfast Member)

Hello. We had to look at this for a school assignment. Yasssssss! Thats all I have to say.

Comment submitted: 12/4/2018 (#23742)



By Ballino

Granula sounds like an old time movie monster. Like from a Godzilla movie.

Comment submitted: 8/31/2013 (#13594)



By wokman

Thanks. We are doing a project about early products and nutrition in school and this will be helpful.

Comment submitted: 12/6/2011 (#5902)



By nekocatmews

Okay... if you want pictures, I recommend that you ask the Dansville historical society. They even have a flyer.

Comment submitted: 9/30/2011 (#5385)



By George Custer


| | |
| --- | --- |
| Cereal Rating (out of 5): | |

I remember breaking every tooth in my mouth eating this. Good times indeed...

Comment submitted: 6/9/2011 (#5055)



By Abraham Lincoln


| | |
| --- | --- |
| Cereal Rating (out of 5): | |

I remember this from when I was a kid!

Comment submitted: 1/6/2010 (#1162)