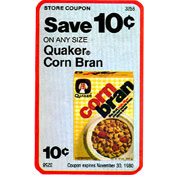 All Comments For
Average Rating = 5 (out of 5)
24 comments



By Bentpenny




I have been looking for this cereal in Chico, CA. I used to eat it a lot back in the late 80's and early 90's. Now I can't find it! Please bring it back!

Comment submitted: 9/7/2018 (#23450)



By CornBranLover




Quaker Corn bran was the best. Please bring it back.

Comment submitted: 7/13/2018 (#23266)



By Big bowl




Shame they stopped making it. It wasn't popular because it was never on the shelves to buy. We would buy out the store's shelf whenever we found it. For some reason stores wouldn't carry it. Oh a person could buy all the sugar coated diabetic shock cereals available, but a just right sweetness bran cereal that kids liked must have been outside the box for the store buyers.

Comment submitted: 3/7/2018 (#22785)



By bozo

Wish it would come back. Tastes great when you use it for Chex party mix.

Comment submitted: 12/7/2017 (#22498)



By Bucky




I love Quaker Corn Bran. I purchased a similar cereal at Target called Quaker Corn Crunch but it isn't the way I remember my Corn Bran cereal. Close, but not the same. Why do they always have to change things. If it ain't broke don't fix it! Just like the fools who ruined Honeycomb cereal.

Comment submitted: 10/16/2017 (#22340)



By Barb




I really like this cereal. But I can't seem to find it anywhere. Can anyone tell me what stores carry it?

Comment submitted: 5/20/2017 (#21777)



By janoscie




I can't find Quaker Crunchy Corn Bran anywhere these days. Does anyone know where I can purchase some? I LOVE this cereal!

Comment submitted: 4/12/2017 (#21620)



By rader




Great cereal, but no one seems to carry it anymore.

Comment submitted: 3/23/2017 (#21534)



By Love My C.B.




I absolutely love this cereal but can only find it in Target. Why can't other stores carry it?!

Comment submitted: 1/27/2015 (#18441)



By JungleCat




I was a kid in the early 80's and my earliest memories of cereal were solely this delicious cereal. When I grew up and started shopping for my own cereal, I would always look for this but never found it (in Wal-mart or Kroger's). Next time I go to Target, I will see if they have it. I haven't had Corn Bran since the '80's but still remember how much I loved it.

Comment submitted: 12/2/2012 (#10074)



By Ellen L (Team Breakfast Member)




My son was born in 1982. I would give this to him when he was older as a snack - he loved it - and so did I. About 15 years ago, I was able to find it in a Pathmark Store (Philadelphia area) and would order it by the case from the grocery manager! Then about 4 years ago while visiting my niece in Maine, I found it! I bought 10 of the 12 boxes on the shelves (had to leave a box or two for the WIC families). They came home with me to the Philadelphia area! Boy, did I stretch those boxes out. I went to the Quaker website recently and discovered they were at Target! Happy, happy, joy, joy! Love this cereal in case you couldn't figure it out!

Comment submitted: 11/17/2012 (#9931)



By So Happy




You can find this cereal at Target! I loved this cereal as a child and thought they had completely stopped making it since it disappeared from shelves. But I found it at Target! It's available, just hard to find. I will be stocking up! :)

Comment submitted: 11/3/2012 (#9803)



By J. J. Reyes




They need to make this more available again! I love this cereal and when my mother, in past years, lived in Maine she'd send me some. I haven't seen it in Mass for years. BRING IT BACK!

Comment submitted: 5/22/2012 (#7727)



By Tipper J.




Best ever! My childhood in a box!

Comment submitted: 1/8/2012 (#6145)



By Spiffindor




Quaker Corn Bran is a favorite in our house. We all love the stuff. In our area I've only been able to find it at Target, so I buy a few boxes whenever I shop there. It can also be ordered through Amazon.

Comment submitted: 10/20/2011 (#5527)



By Arlie




I love it! This is one of my favorites.

Comment submitted: 6/23/2011 (#5189)



By U.S. Wes




I have not been able to find this cereal in years and years. What's up with that.

Comment submitted: 6/13/2011 (#5069)



By curlytop




I love this cereal and it's Weight Watcher's "friendly." I find in here on the East Coast in many IGA food stores.

Comment submitted: 3/22/2011 (#4169)



By Drury




It's an amazing cereal, and still available in Canada, by the way.

Comment submitted: 2/13/2011 (#3903)



By smithj33

You can still buy Corn Bran at quakeroats.com, but they no longer have it listed as a current products, so they must be selling off old stock.

Comment submitted: 3/8/2010 (#1567)



By smithj33




I don't believe they make it anymore, but Puffins (from Barbara's Bakery) is the same thing.

Comment submitted: 3/8/2010 (#1566)



By Zaxon




You mean they still make this!!! This was the BEST cereal ever. Even back in the day the only place I could find this cereal was a store that sold scratch & dent discounted food. I haven't seen this in decades where can you get it?? I'm on a mission now to find this elusive cereal for the best Christmas breakfast since 1986.

Comment submitted: 12/5/2009 (#1011)



By Hart2Hart




It is so good... sooo gooood!

Comment submitted: 8/27/2009 (#415)



By Trasher




Excellent cereal, just hard to find.

Comment submitted: 2/4/2009 (#50)