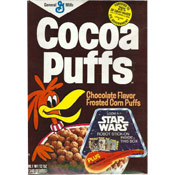 All Comments For
Average Rating = 4 (out of 5)
31 comments



By B. Barnes




I loved this cereal when I was kid and the commercials were great.

Comment submitted: 4/5/2019 (#24074)



By Ken




The gold standard of chocolate cereals. There is simply none better.

Comment submitted: 3/14/2019 (#24019)



By trottersan

From time to time I'll buy a box of Cocoa Puffs. While they are still pretty good, they aren't like they were when I was a kid. Back then, they had a light coating of sugar, which made them incredibly tasty. I would love to just once more, have a bowl of those original Cocoa Puffs.

Comment submitted: 2/6/2019 (#23925)



By German

I love chocolate for breakfast. Classic.

Comment submitted: 3/5/2018 (#22780)



By The Slammer (Team Breakfast Member)




I love this cereal so much!

Comment submitted: 6/14/2017 (#21897)



By Mad GUy

I need more facts for this cereal. I'm doing a bunch of research on the history of this.

Comment submitted: 2/9/2017 (#21373)



By TammyC (Team Breakfast Member)

I was never one to Like Chocolate Cereals of any Kind... So With that being said, this Wasn't A Choice For me Personally. But My Brother Loved It. So I still Had to Look At it in Our House regularly :)

Comment submitted: 12/27/2016 (#21171)



By Dasani Man




Yo, Cocoa Puffs are mah boi (my boy)! That is to say, I like them!

Comment submitted: 12/9/2016 (#21115)



By MaryMoran




Loved them growing up in the 70's. Still occasionally have them in my cupboard.

Comment submitted: 3/16/2016 (#20066)



By Bijon




Always loved it when I was a kid. Let 'em soak in the milk for 10 minutes or so. So tasty.

Comment submitted: 1/7/2016 (#19816)



By Mark F.




Cocoa Puffs is the best tasting cereal of all time. At least it was when I was little in the late 1950s and 1960s. Cocoa Puffs was one of my secret obsessions - it tasted soooo gooooood - I LOVED it. Oh, my gosh, Cocoa Puffs was DEE-LICIOUS! Amazingly, I haven't had any Cocoa Puffs for decades! For some reason, I've had Cocoa Puffs on my mind for the last few days or so. I've decided to buy some the very next time in in the food store! I'm also going to buy a GALLON of cold, fresh CHOCOLATE milk to go with my them - never tried it before, but I'm now OBSESSED with the idea! When I was little, I loved this cereal and I loved cold chocolate milk - what in the UNIVERSE could be better than Cocoa Puffs in cold chocolate milk?! It's the VERY BEST cereal of ALL TIME. (I very much hope that it's as perfect as it was in the '50s and '60s.) Thank You incredibly much, General Mills. Best. Cereal. Ever. Period.

Comment submitted: 11/2/2015 (#19611)



By Brian J.




Just never been a favorite of mine. Most other chocolate cereals are better than this one. Sorry.

Comment submitted: 9/29/2015 (#19500)



By gramma




I am so excited! Cocoa Puffs came to No Frills in Canada today! Thank You General Mills! My grandchildren thank you too!

Comment submitted: 7/8/2015 (#19207)



By hungry




They were my favorite cereal for many years until they took the white sugar coating off I haven't eaten them since. Bring back the old style!

Comment submitted: 7/10/2014 (#17320)



By lunedogg (Team Breakfast Member)




Pro Tip: Next time you eat Cocoa Puffs, wait like 15 minutes after you pour them until they got all soggy... much more delicious that way.

Comment submitted: 4/27/2014 (#16997)



By JT$




The best. I have to say I love the Malt-O-Meal version with Lucky Charms marshmallows... cereal heaven!!

Comment submitted: 9/25/2013 (#14328)



By luckycharms




I don't find COCOA CABOODLES on this site. It's an organic cereal produced by The Nash Brothers Trading Company. I like Cocoa Puffs better, but I just thought I'd be good to add one more cereal to the Mr Breakfast cereal list.

Comment submitted: 8/24/2013 (#13405)



By dannyiscool (Team Breakfast Member)




I want Cocoa Puffs made with Hershy's cocoa!

Comment submitted: 7/28/2013 (#12977)



By K.Y.




Does anybody remember the box (had to be from the 90's) where you'd put the Puffs in a hole on top and they'd fall through a maze type slide and into your bowl waiting at the bottom hole. I had so much fun with that box as a child.

Comment submitted: 6/27/2013 (#12570)



By Hunter-m3




Never really liked it that much. I liked the brownie crunch version better, but it was pretty much the same flavor.

Comment submitted: 2/8/2013 (#10674)



By Barney




This was always my favorite as a kid. The Cocoa Puffs bird always cracked me up. Nice that they still make it today.

Comment submitted: 9/10/2012 (#9078)



By Ernie




I've recently rediscovered how good this cereal is when I bought a box on sale. Chocolate richness that shouldn't just remain in ones childhood.

Comment submitted: 6/21/2012 (#8144)



By MyEmptyCanvas (Team Breakfast Member)




Decent cereal with a good crunch. (myemptycanvasreviews.blogspot.com)

Comment submitted: 6/21/2012 (#8124)



By sonny rules




When did the miniature trading cards like "Authors" or "Hearts" show up as prizes in Cocoa Puffs? The late 50's ? They were printed by Bates Printing Chicago Ill.

Comment submitted: 3/5/2012 (#6692)



By andreas

Can somebody get me one box? For some reason it hasn't been in my regular grocery store for the last month. I know they're still making it. I'm literally going Koo Koo for Cocoa Puffs right now.

Comment submitted: 2/18/2012 (#6539)



By cocoa craver




Just "AMAZING" - one of the best cereals ever and a classic.

Comment submitted: 2/9/2012 (#6463)



By jazzmine

I love Cocoa Puffs! You could even say I'm Koo Koo for them. Seriously.

Comment submitted: 10/10/2011 (#5455)



By cocoa puffs mom




Bring the original Cocoa Puffs back! Take away the chocolate explosion, My kids hate it & won't eat it.

Comment submitted: 9/3/2010 (#2786)



By cecelia (Team Breakfast Member)




Yummy!

Comment submitted: 3/11/2010 (#1594)



By RoboBebo




I love cereal =)

Comment submitted: 10/20/2009 (#769)



By CerealKiller




Still my all-time favorite cereal. One of few cereals where I can eat the whole box at one sitting. Even though it is very sugary the chocolate balances it out.

Comment submitted: 8/31/2009 (#432)