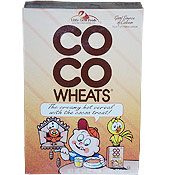 All Comments For
Average Rating = 5 (out of 5)
48 comments



By We want coco




I was raised on it and my kids and grandkids love it... why isn't it in the stores anymore? I hope they start making it again and put it in the stores!

Comment submitted: 3/15/2020 (#24989)



By cerealguy




Woco Wheats cereal is back at Mitch's Food Center.

Comment submitted: 2/26/2018 (#22762)



By cerealguy5




Coco Wheats are no longer available at Mitch's Food Center in Plainview, NE 68769.

Comment submitted: 11/14/2017 (#22430)



By Tom-53




Found some! CoCo Wheats is available in Indiana at Meijer's.

Comment submitted: 5/23/2017 (#21793)



By Ramber1987




We LOVE CoCo wheats cereal! Just had it this morning for our breakfast. Our Walmart now carries it again and we bought two boxes! Love it! Add peanut butter and it's the best!

Comment submitted: 5/1/2017 (#21697)



By chargfox (Team Breakfast Member)




To find CoCo Wheats in your area, go to https://www.postconsumerbrands.com/store-locator/. I kept waiting for Walmart to stock it again and then found this locator and where to buy it locally.

Comment submitted: 4/20/2017 (#21652)



By Hungry4CocoW




Someone... make Walmart stock Coco Wheats again! They haven't had it for months and months.

Comment submitted: 3/28/2017 (#21553)



By crafty gal




I have been eating this since I was a kid. I buy it at Krogers in Michigan. I pay $3.99 a box. I add a little caramel sauce to make it even better!

Comment submitted: 5/12/2016 (#20293)



By BLT

You can g it on MyBrands.com for $5.29 per box, half the price as Amazon.

Comment submitted: 1/3/2016 (#19806)



By Jenny




I love it!

Comment submitted: 11/27/2015 (#19691)



By Swifty (Team Breakfast Member)




I have eaten Coco Wheats when I was a kid and every chance I get I will look for it. I live in Winchester, Kentucky now and cannot find it. It's like I am craving for it. JUST LOVE MY COCO WHEATS. Awesome hot cereal.

Comment submitted: 2/9/2015 (#18515)



By Bit Bland




I had it in the early-mid 60's and remember it as being on the bland side... needing a touch of Nesquik, Bosco or sugar. (I don't have a sweet tooth either)

Comment submitted: 1/30/2015 (#18455)



By Price2High

I found Coco Wheats on eBay and Amazon but it's expensive. They must be making them out of gold these days.

Comment submitted: 1/21/2015 (#18408)



By breakfastgood




You can still get it online through the new producer, MOMBrands.com, but the 28oz box is $5.30 per box, plus shipping. Just a bit high, even by today's standards. Walmart used to have them through their online grocery, but no longer.

Comment submitted: 1/15/2015 (#18373)



By LuvCocoWheats

We can't find Coco Wheats in our local stores. Did they quit making them? We love this product. Please help us locate. Our local walmarts and Martins Food stores do not have this product. Please comment if you can help me.

Comment submitted: 11/15/2014 (#18026)



By LadyLeisure11




I moved to Italy for work and need Coco Wheats shipped to us! Family has been enjoying them for 40 years.

Comment submitted: 11/12/2014 (#18012)



By Woodburn




Miss not being able to find here in Oregon. I grew up on it. My grandma used to make it when we went to visit in Kentucky. Yummy!

Comment submitted: 3/30/2014 (#16537)



By Jenjclt




CoCo Wheats... simply the best! Worth whatever quest you must go on to get them! Add peanut butter and buttered toast pieces and stir. Delish! You can do a product locator on the website to find them in your area. I've been eating them since I was a small child. I am 45 now and have 5 boxes in my pantry. I LOVE them!

Comment submitted: 9/23/2013 (#14292)



By Warsaw1108




Coco Wheats were manufactured in my home town, so we could always find a box of them in the grocery store!

Comment submitted: 8/17/2013 (#13330)



By Dan D. Man




My wife introduced this cereal to me. This stuff is phenomenal. It is hard to find it though.

Comment submitted: 6/19/2013 (#12466)



By 313NOtacoz4u (Team Breakfast Member)




Well, today was the first day I tried... and I love it!! @my empty canvas... your taste buds must be empty as well.

Comment submitted: 6/12/2013 (#12386)



By E. Sanders




I love Cocoa Wheat and was raised on it in West Virginia. Came to Balto and found it in Walmart.

Comment submitted: 3/23/2013 (#11361)



By Jersey girl76 (Team Breakfast Member)




My family absolutely love Cocoa Wheats. My Aunt used to bring them from WV back to Jersey. If you haven't tried it yet... After cooking "in milk" add peanut butter!! Oh Yeah, now that's pure love :)

Comment submitted: 3/18/2013 (#11300)



By CocoBob (Team Breakfast Member)




Best part of waking up in the winter was smelling the Coco Wheats my mother had waiting for us. Found out years later that Dad loved it too. In fact I'm on my last box from his house after he passed last June. He had four. I got two.

Comment submitted: 3/5/2013 (#11131)



By SKY




Love this cereal. Grew up with this over 40 years ago, my kids loved it and today my grand-daughter, who also loves it was saddened by not being able to find it in the stores. I don't care what anybody says about it... this cereal rocks!

Comment submitted: 12/4/2012 (#10087)



By Frank57




It's a long time staple in our family - it's what we grew up liking so comments about no real COCOA are unimportant.

Comment submitted: 11/14/2012 (#9881)



By Sykesville




Loved CoCo Wheats as a child but now it's hard to find where I live in MD.

Comment submitted: 11/13/2012 (#9871)



By Kim L




LOVE CoCo Wheats! Miss it now that I moved to AZ and can't find it anywhere. I grew up with it and it's definitely one of my favorite breakfasts.

Comment submitted: 10/15/2012 (#9517)



By radar (Team Breakfast Member)

I grew up eating Cocoa Wheats but can't find it where I live in NC. Wish there was a way to get it down here.

Comment submitted: 8/27/2012 (#8907)



By MyEmptyCanvas (Team Breakfast Member)




There's not an ounce of "cocoa" taste in this "cereal", IMHO (tastes like dirt). I don't see it in stores anymore, but I know you can get it online - but would never buy it again. (myemptycanvasreviews.blogspot.com)

Comment submitted: 6/21/2012 (#8139)



By Event_Horizon




I was hoping to find a clip of the "ray charles" like commercial for this cereal. I still remember the jingle.

Co-Co Wheats
(back up singers: bup a bup boo)
Co-Co Wheats
(back up singers: bup a bup boo)
HOT !
That's the way you make it.
CHOC O LATE !
That's the way you take it.
Have a hot breakfest with CoCo Wheats.

Comment submitted: 3/23/2011 (#4184)



By Yummmmmm




Coco Wheats is incredible.

Comment submitted: 10/28/2010 (#3158)



By Rich get Richer




Maybe 820 votes from the same user meant he really really liked the cereal. I haven't found anything on the website that says you can't vote more than once. Maybe they are being penalized because 'fact checker' and Mr Breakfast are both on the take from GMills and Kellogs.

Comment submitted: 10/22/2010 (#3101)



By fact checker

Someone packed the ballot box here. This cereal went from almost nothing to second place in a couple of days.

Note From Mr Breakfast:
Thanks "fact checker". The voting is checked every night for irregular activity. This cereal has been put back to it's previous position and penalized an additional 10 votes. Thanks for keeping an eye on things.

Comment submitted: 10/20/2010 (#3090)



By modelT2




My whole family loves this on a cold morning! I have to order it online because we now live in Texas.

Comment submitted: 10/14/2010 (#3029)



By Mr. Good




My dad used to make these for us at breakfast all the time and he'd mix in a little peanut butter. It was sooooo good.

Comment submitted: 9/16/2010 (#2862)



By Tangoboy

Does anyone know if the Wheat ferina in this cereal is all milled wheat and not corn or potatoes? You can email me at homer.wallace@insightbb.com

Comment submitted: 8/24/2010 (#2712)



By Bros. J.




CoCo Wheats are the best!!! Grew up as kid with em...

Comment submitted: 4/13/2010 (#1897)



By smash591 (Team Breakfast Member)




I have been eating CoCo Wheats since I was a kid in the 60's. My mom used to stir a spoon of peanut butter into my bowl and I enjoyed it immensely. I imagined I was eating a huge Reeses Peanut Butter Cup. Mmmm... I think I'm going to have a bowl now.

Comment submitted: 1/18/2010 (#1225)



By BRANDY4514 (Team Breakfast Member)




I love and grew up on Coco Wheats!

Comment submitted: 11/22/2009 (#951)



By jojo




I love CoCo Wheats, but can't get it on the west coast, grew up with it in the midwest.

Comment submitted: 10/30/2009 (#836)



By Coco




We love CoCo Wheats whoot!!!

Comment submitted: 10/24/2009 (#796)



By momof2




My kids and I just tried the cereal this week at my sister-in-laws house. WE can't get them where we live. I am actually going to try ordering it online.

Comment submitted: 9/8/2009 (#527)



By madmatt

What about the CoCo Wheats song featuring the black man?

Comment submitted: 8/15/2009 (#323)



By barbnictom




My family loves Coco Wheats. My sister lives in North Carolina and I have to send them to her. None of the stores by her have them not even Walmart.

Comment submitted: 7/30/2009 (#281)



By Chuck Davis




I'm 47 now but remember living on Coco Wheats for like 7 years as a kid. I just love this cereal with it's warm wonderful chocolate taste and you don't even need a spoon; two slices of buttered toast cut on an angle and dig in haha awesome!!

Comment submitted: 6/7/2009 (#203)



By tomatohuck




I would visit Indianna and fill my suitcase with CoCo Wheats.

Comment submitted: 5/14/2009 (#184)



By Indiana Joe




I love coco wheats. I loved them the first time I tried them my mom got me hooked on coco wheats!

Comment submitted: 4/27/2009 (#154)