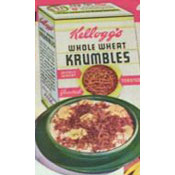 All Comments For
Average Rating = 5 (out of 5)
26 comments



By Phaedra47




I loved Krumbles so much and have missed it all these decades. Decade after decade, and still wishing to be able to eat it again. Kellogg's is a huge company... I don't understand why they can't handle a little job like that; bring us Krumbles again! PLEASE!

Comment submitted: 4/15/2019 (#24092)



By Steve




Wish I could buy it today. It was my favorite when I was a child.

Comment submitted: 9/13/2018 (#23469)



By J.S.




I ate Krumbles as a kid. They really need to bring it back. I am now 70 and the little things in life are what matters. Krumbles was one of those things that gave us joy.

Comment submitted: 7/27/2017 (#22054)



By joeg99




Krumbles was my favorite! Yes, 'bring it back'! OK, the marketeers will have to find a way to differentiate it, a niche! Healthy and delicious!

Comment submitted: 6/7/2017 (#21873)



By dana




I remember this cereal from my childhood - utterly disgusting. It became instantly soggy when you poured milk on it and worst of all, a strange brown color immediately suffused the milk. Ick!

Comment submitted: 3/21/2017 (#21529)



By Minnesota Jim




We all loved Krumbles. Please bring it back. - Jim in Minnesota

Comment submitted: 2/15/2017 (#21389)



By Linda-6




I've been requesting that they bring back this cereal for years now and never hear a thing; PLEASE BRING BACK KRUMBLES!

Comment submitted: 1/26/2017 (#21302)



By boomtudy (Team Breakfast Member)




I never understood why they did away with Krumbles cereal. It was the best. Bring it back please!!!

Comment submitted: 7/4/2015 (#19193)



By Bitsy

Please bring back Krumbles! I always remember it being the best cereal. When we couldn't get in our state, my dad found a grocery store in Wisconsin that had it still. He bought all the boxes they had! Bring it back!

Comment submitted: 11/23/2014 (#18060)



By conroy51




I have missed Krumbles since they stopped making it. It was my whole family's favorite cereal.

Comment submitted: 4/2/2013 (#11478)



By Jon R.




Besides Sir Grapefellow, this cereal was my absolute favorite!

Comment submitted: 3/11/2012 (#6801)



By Motor Mouth




I too have been trying to find Krumbles on the cereal shelf! It was always my favorite cereal and I was very upset when the store where I shopped quit carrying it!! Little did I know it was no longer being made. Why not? Motor Mouth

Comment submitted: 1/6/2012 (#6129)



By knotaclew (Team Breakfast Member)




Absolutely my favorite until the powers that be took it off the market. Please revamp your thinking, get rid of some sweet cereals and reintroduce Krumbles - Kellogg's best Munch the Krunch cereal!

Comment submitted: 2/2/2011 (#3790)



By Helen




I remember Krumbles being yummy in every way -- flavor, texture, crunch. Easily one of my all time favorites. Wish they would bring it back!

Comment submitted: 1/18/2011 (#3634)



By Bill in IL




Krumbles needs to be brought back into production. In today's health conscious market the demand for the cereal would be significant. Missing a best friend.

Comment submitted: 11/24/2010 (#3333)



By jeanbean




This was the best tasting cereal. Please bring it back.

Comment submitted: 11/12/2010 (#3264)



By ceegee




Krumbles was also my favorite cereal from the time I was a child into the 1970s. I'd love to see it back.

Comment submitted: 9/11/2010 (#2830)



By Glenda




I just returned from a trip to Italy. I had what I would swear was Krumbles for breakfast! I stayed at a Westin Hotel in Rome and one in Venice, and they both had it. I wish I had gotten the name, but figured it would be Italian, and if available in the States, I'd be able to find "Krumbles" through Google. Sadly, I can't...

Comment submitted: 8/25/2010 (#2718)



By Krumbles Please




The Best Cereal I've ever eaten. I have not been able to find it for years. I wish it would return to the grocery store, to fill my breakfast needs once again. I might would even try to make it if I had an inkling how.

Comment submitted: 8/13/2010 (#2651)



By need it




Grew up on it! Could find it into the mid-80's in Washington special foods shop. Bring it back!!!

Comment submitted: 6/26/2010 (#2355)



By Coop




I dream about Krumbles, its dark flavor after it's been in the milk a while, better than any other bran from anyone. I'd pay 20 bucks a box for it to come back.

Comment submitted: 6/13/2010 (#2285)



By Farmer




I really liked this cereal. It was my favorite. Looked everywhere for it and then found out it is not made anymore. Wish they would bring it back for us older people who like a whole wheat cereal without the added sugar.

Comment submitted: 6/6/2010 (#2240)



By It Was So Good

Bring back this wonderful cereal. My family enjoyed it very much and was disappointed when it was discontinued. We need the cereal back.

Comment submitted: 3/28/2010 (#1811)



By Kate




I would also like to see a comeback of this cereal. It was also my favorite cereal growing up. Please bring it back Kelloggs!

Comment submitted: 12/2/2009 (#998)



By Dave




I have seen a Kellogg's comment on a Canadian site that implied Krumbles was discontinued because Frosted Mini-Wheats filled the need for a shredded wheat-like cereal that would fit in a bowl without being crumbled up. Ridiculous! Apart from any competition with Nabisco Shredded Wheat, Krumbles was a tremendous cereal in its own right, with great taste and texture. The only "old-folks cereal" I would touch as a kid. I loved it until they killed it in 1972 (when I was 17). It would go great now that the boomers are becoming seniors!

Comment submitted: 10/19/2009 (#765)



By Krumbler




This was my favorite cereal when I was growing up. My father's also. Is there ANY chance that it will ever be produced again? If so, put me down for several cases!!

Comment submitted: 2/27/2009 (#61)