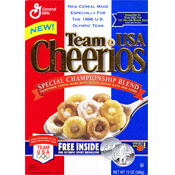 All Comments For
Average Rating = 5 (out of 5)
15 comments



By Hood




Team Cheerios mixed original, multi grain, and frosted brands. If you want it back simply buy those three boxes and mix them up yourself.

Comment submitted: 6/23/2018 (#23175)



By Derp




This stuff was the best cereal ever made. I haven't eaten cereal in years, but every time I walk through the grocery store I still look for this one.

Comment submitted: 7/4/2014 (#17287)



By Snowzer




I would have liked to have seen this back for the Winter Olympics this year. I liked it a lot.

Comment submitted: 2/17/2014 (#16079)



By I. Cool T.

Multi Grain Cheerios is Team Cheerios.

Comment submitted: 10/13/2013 (#14958)



By Kiwi




Still no Team Cheerios? What the heck man, this was the best cereal ever. I too have tried to reproduce my own to no avail. Please, please bring it back.

Comment submitted: 9/26/2012 (#9237)



By U.S.A. Olympics




I agree. Please bring back Team Cheerios. They were the best!

Comment submitted: 7/30/2012 (#8654)



By butch (Team Breakfast Member)




Bring back the Team Cheerios please. It was great.

Comment submitted: 6/13/2012 (#8000)



By Team V.




I absolutely loved this cereal! Some golden, some frosted plus multi-grain. Yum. I've even tried to make my own but the ratio wasn't right. Please bring this great cereal back!

Comment submitted: 1/6/2012 (#6126)



By JulesL




I have to agree! Team Cheerios was not only a great cereal, but a great dedication to the USA. BRING IT BACK!

Comment submitted: 11/19/2011 (#5793)



By boogie




I was heartbroken when I couldn't find them anymore, as if a part of me no longer existed. What cereal do you have that is the same. I have tried the multigrain and they are different.

Comment submitted: 10/11/2011 (#5461)



By B. L. T.




There's nothing left to say... the cereal was so amazing... it represented the whole country The box says it all. So bring them back... we all loved them and think after as long as they been out the shelves and profits would sky rocket because of how long people been waiting for them.

Comment submitted: 4/11/2011 (#4638)



By Shay22 (Team Breakfast Member)

This was the BEST cereal in the whole entire world. I would be the most happiest women alive if this cereal came back to the shelves. Please let me know if this cereal still exists if so, where can I purchase it @.

Comment submitted: 3/30/2011 (#4233)



By Billy J.




Team Cheerios was the best! Bring them back!!

Comment submitted: 10/21/2010 (#3091)



By J. B.




I think they should make Team Cheerios again, market under Team U.S.A..

Comment submitted: 8/29/2010 (#2750)



By Demari




What happened to this cereal? General Mills is screwing up!

Comment submitted: 2/16/2010 (#1439)