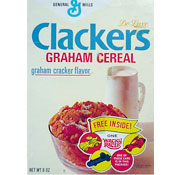 All Comments For
Average Rating = 5 (out of 5)
25 comments



By Yummy




I have to correct you. The Clacker Quacker was NOT a whistle. It was exactly what its name implied... it was a yellow and white plastic quacking duck call. I know this for an absolute certainty, because, believe it or not, I still have mine! And, after all these years, it still quacks!

Comment submitted: 11/12/2019 (#24667)



By JayHawke




I remember my mom buying Clackers once in the early '70's. I liked it. I doubt highly that General Mills will ever bring it back as it has had so much success with Golden Grahams which tastes identical. The commercials were annoying.

Comment submitted: 6/1/2017 (#21842)



By C.O.




My all-time absolute favorite breakfast cereal. Please bring it back!

Comment submitted: 5/10/2016 (#20287)



By Harry-6




Clackers was a great tasting cereal that had only one flaw... advertising. GM did not know what to think of the cereal. If GM had just said "it tastes great" they would still be selling it. It is far superior to Golden Grahams. Too bad GM couldn't see that.

Comment submitted: 3/17/2016 (#20070)



By Douglas




Clackers was the best Graham Cereal period. I've been hoping that General Mills would bring it back for the past 40 years but still waiting. They stopped making Clackers when they started making Golden Grahams. Golden Grahams you must eat as fast as you can or they will get soggy in less than a minute. Not the case with Clackers. Clackers were heartier with more Graham taste with less sugar taste (note on the front of the cereal box showed added sugar put on top of cereal as they were not sweet tasting. Golden Grahams are way too sweet. If Clackers ever come back, I'll buy 2 cases.

Comment submitted: 8/5/2015 (#19290)



By Graham2




This was by far my favorite cereal. I no longer eat breakfast cereal, but would buy Clackers if I knew where to get them. I think my parents hid my Clacker Quacker.

Comment submitted: 12/8/2014 (#18160)



By claudette




Please bring this cereal back! I miss Clackers!

Comment submitted: 3/29/2014 (#16533)



By MandyH (Team Breakfast Member)




More than any other sweet breakfast cereal, they stayed crunchy in milk.

Comment submitted: 6/27/2013 (#12574)



By Cereal Eater




Yep! I also remember Clackers as a kid and thought of it several times over the years. It had a great texture, great taste, and better than anything close to graham today!

Comment submitted: 6/14/2012 (#8018)



By Baby Boomer




Had great fun calling people on the phone, and, when they answered, blowing the Clacker Quacker at them, then hanging up!

Comment submitted: 4/12/2012 (#7134)



By Clacker (Team Breakfast Member)




The best ever. Great balance of sweetness and heartiness. And crispness that stood up to milk. Loved it!

Comment submitted: 4/7/2012 (#7084)



By cindy




I really enjoyed this cereal - flavor and texture. I was either 12 or 13 when I ate it and it had a toy whistle inside that sounded like the quacking of a duck. I was very disappointed when I no longer saw it anymore.

Comment submitted: 2/8/2012 (#6456)



By Lee




I remember having Clackers from when I was a kid. It has been on my mind for about a month now, I've seen the box, read the comments and am glad that others share my love for this delicious classic cereal.

Comment submitted: 5/10/2011 (#4815)



By Clackers




I liked the cereal, but I really got a kick out of the commercials. I'm 50 years old now, and I was around 10 or so when Clackers was on the market. I used to tease my dog by playing ball with her and then I'd hide the ball under my shirt or something and then pull it out and say "CLACKERS!" like in the TV commercials. LOL I've seen a couple of the old Clackers ads on youtube, but I'd love to see the rest of them if they're online somewhere else.

Comment submitted: 1/3/2011 (#3517)



By poppy




I remember it tasting a lot like Golden Grahams. I know I liked it, but it wasn't around very long.

Comment submitted: 7/26/2010 (#2517)



By skyhat

I remember my clacker quacker. I might even still have it, buried in a box somewhere in the basement.

Comment submitted: 4/24/2010 (#1969)



By kara_l

I think there was another ad that showed a karate expert splitting logs with his hands, and then he hit a box of Clackers, upon which he heard a shout of "Clackers!"

Comment submitted: 4/12/2010 (#1883)



By beach80




Yeah, I remember these as a kid, especially the Clacker Quacker which was a plastic, short tubular duck call toy inside. I would insert it into a rubber hose with a funnel on the end and my homemade trumpet would drive my mom crazy. Great tasting cereal, too!

Comment submitted: 3/7/2010 (#1562)



By thegalaxybeing

There was also a long haired, head-shaking rock singer (obvious Beatles-like parody) singing, Yeah, yeah, yeah - I need your "CLACK-ERS!!!!"

Comment submitted: 12/4/2009 (#1005)



By bossmossfreaky




I remember a commercial were a martian confronts an astronaut and says "Greetings earth man take me to your CLACKERS!" or something like that. My brother and i never forgot it.

Comment submitted: 11/20/2009 (#932)



By Videos Anyone?




I love the old TV commercials. Doesn't anyone have them on youtube? Couldn't find them. "Yo ho ho and a bottle of- - "Clackers"!

Comment submitted: 11/18/2009 (#921)



By The Big Train




The baseball scenario above should say "pitcher" where it says "picture." I never loved a cereal more than Clackers. After discontinuation, my mother found a box here & there in non-chain stores, collecting dust, waiting for me.

Comment submitted: 10/6/2009 (#697)



By otterami




One of our fondest memories... eating Clackers under the beanpot in Brookfield, Mo.

Comment submitted: 5/12/2009 (#176)



By Barb




Clackers was the BEST cereal ever. Golden Grahams are good but there is no comparison between the two. Clackers texture and flavor are unsurpassed. I wish they would bring them back.

Comment submitted: 5/7/2009 (#168)



By MusicGal

I loved this cereal! Used to eat it at my aunt's house and was in mourning when it when out... then came Golden Grahams, and that helped!

Comment submitted: 4/10/2009 (#120)