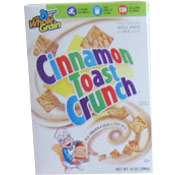 All Comments For
Average Rating = 5 (out of 5)
31 comments



By BubblySky




This cereal was pretty good, but the only good off-brand types that was made by the company was Frosted Toast Crunch; the Chocolate and the Peanut Butter Toast Crunch was really bad.

Comment submitted: 5/6/2020 (#25134)



By Donna49 (Team Breakfast Member)




This is one of my top 5 breakfast cereals EVER eaten! I could eat this by the truckload! Mmmm.... Cinnamon Sugar cereal HEAVEN! I am dreaming about a bowl right now.

Comment submitted: 7/7/2019 (#24301)



By Reed




This is literally my ALL TIME FAVORITE CEREAL! Heck, I even eat the generic versions! THAT'S how much I love it!

Comment submitted: 1/21/2019 (#23877)



By The Ritty




1984... that was when this came out? I thought it was later... this one LASTED. Wow!

Comment submitted: 1/2/2017 (#21196)



By CerealCrusher (Team Breakfast Member)




Love it... but, let's be serious: the Chocolate cinnamon variety is what they should have been making from Day 1. ;-)

Comment submitted: 3/25/2016 (#20102)



By Joey Heise




The best cereal ever - one of my favorites. I agree they took an ingredient out of it.

Comment submitted: 12/21/2014 (#18237)



By MadSkool




I want a bowl right now! I never get tired of eating this wonderful cereal... Delicious!

Comment submitted: 11/22/2014 (#18055)



By Cinnamontoast




This is my ultimate favorite cereal! I always drank the milk at the end, which is really saying something because I didn't really like milk. Now that I'm all grown up, I still drink the milk and on special occasions have an adult version which is the Cinnamon Toast Crunch shot that has rumchata and fireball whiskey and tastes exactly like the cereal :)

Comment submitted: 9/24/2014 (#17725)



By S.T.L.




Sadly, not as godly as it used to be. They stopped using coconut oil in it a couple years ago and it made a noticeable difference in both the flavor and texture. Formerly my all-time #1, but now often surpassed by the generic knock-offs of it. Interestingly, the new chocolate toast crunch does have coconut oil in it - and has the lighter texture regular CTC used to have.

Comment submitted: 8/25/2014 (#17551)



By Five C's




Best cereal ever! I was in the test market in Georgia before it hit the shelves. I will never forget eating it for the first time. It was heaven! Or course when it came out in the stores my Mom would never buy it. Guess because I liked it so much she figured it wasn't healthy. Haha.

Comment submitted: 8/24/2014 (#17548)



By FatsILLmatic (Team Breakfast Member)




Thank you God for allowing this small piece of heaven to remain on the shelves in spite of all the worry of too much sugar in breakfast cereals. Even though the other bakers have disappeared like the other Jackson Five members, Wendell holds it down as the Michael Jackson of Cereal characters. Hang in there Wendell... you see what GM did to the Cookie Crisp mascots!

Comment submitted: 3/27/2014 (#16498)



By Menzel




I knew it. There were 4 bakers at one time. They later added Wendal, the crazy one who tried to eat all the cereal.

Comment submitted: 1/22/2014 (#15803)



By thecerealmunchr (Team Breakfast Member)




It's the most amazing cereal of all time. Me and my family love it!

Comment submitted: 12/21/2013 (#15559)



By Drury




Mighty good eating, but so decadent!

Comment submitted: 10/18/2013 (#15162)



By Daz W.




Dude, this cereal is great. It's been a week since I've had some because my friend ate it all, but I shall get some more soon lol.

Comment submitted: 9/18/2013 (#14126)



By larry




My wife and I still eat Cinnamon Toast Crunch. It's one of our very favorites.

Comment submitted: 7/11/2013 (#12736)



By bursar20 (Team Breakfast Member)




GREAT for just about any craving. Sweet, but not too sweet. Can EASILY be eaten just out of the box. It does have a cinnamon flavor, but is also innocuous enough that it can be enjoyed when not in a cinnamon mood. Great as a small sweet snack, out of a ziploc bag, if looking to indulge and not ruin a diet. A lot of other cereals only fit for a specific craving -- Fruity Pebbles, for example, when wanting sherbet-sweet taste; Corn Flakes for a clean and simple savory taste. Cinnamon Toast Crunch, however, covers just about every category. Hint: Try mixing with smaller-grained, stronger-flavored cereals in one bowl. Ex: I sprinkle some Fruity Pebbles over a Cinnamon Toast Crunch bowl when I want a bit of fruity kick but don't want a lot of sickly-sweet fruit-flavored milk left in the bowl. Cocoa flavored rice krispie-type cereals adds just a hint of cocoa and the additional crunch isn't detectable. And, if really looking for a cinnamon punch, sprinkle a bit of cinnamon powder directly into the milk bowl.

Comment submitted: 2/22/2013 (#10964)



By Just Me?




I don't really like this cereal because I tried it last week and it has a sandy taste on the flakes.

Comment submitted: 1/29/2013 (#10588)



By Ernie




Sweet and delicious, with or without milk!

Comment submitted: 8/15/2012 (#8819)



By pinksparkle1965




I've love this cereal since the very first year it came out!

Comment submitted: 7/8/2012 (#8411)



By Dee Harmony

I used to eat this cereal every day as a kid. Now I feed it to my kids. They truly enjoy it too.

Comment submitted: 5/8/2012 (#7587)



By kurtis




I usually eat healthier cereals like Kashi, but last night I was craving CTC. Got it. Ate it. Loved it. One of the all-time best.

Comment submitted: 10/21/2011 (#5542)



By texjeff




This is my favorite cereal. I don't remember when they were shaped like little toasts. I wish they'd bring that back as a special edition so I could try that. Sounds fun.

Comment submitted: 6/16/2011 (#5087)



By bezzbo




A quick shout out to my favorite cereal of all-time. I've had it 3 days a week for 20 years and have no intention of stopping. If they ever stop making this, I will die.

Comment submitted: 5/17/2011 (#4858)



By PinkySlickFist

I just found this out a month or so ago: Apparently, Cinnamon Toast Crunch is widely considered to be some sort of inside joke among users of Heroin and other opiates... Like some sort of unspoken junkie Truth that this is the best cereal ever made because it's not only delicious, but it's one of the only foods you can keep down when you're strung out. You learn something new every day!

Comment submitted: 2/4/2011 (#3814)



By Kimlegh




I love, love, love Cinnamon Toast Crunch. It's a good cereal. Yummy yummyyyyyyy yay

Comment submitted: 1/24/2011 (#3701)



By I.L.C.




I love Cinnamon Toast Crunch. It is the best cereal ever. I always hide them from my brother.

Comment submitted: 1/10/2011 (#3556)



By snackie




I love Cinnamon Toast Crunch and eat it as a snack especially in the evening... (Instead of chips or pretzels). However, I purchased a large box, (700g) I think and notice that it does not have as much cinnamon on the squares... Very disappointing as the large box is expensive...

Comment submitted: 11/17/2010 (#3292)



By leggs




Does anyone have the Cinnamon Toast Crunch box with the huge face of Wendell the Baker on the box (just his face)? I'd like to buy it. Please post here if you do.

Comment submitted: 3/27/2010 (#1761)



By Kitty




So hard to imagine cereals before Cinnamon Toast Crunch. Days when your cereal options were either you ate the nutrional things your grandparents love or you eat the pound of sugar the cereal Mascot was promoting. There was bland, sugar, or fruit. Then something came along your mom thought would help her avoid cooking French Toast or Pancakes. Something claiming to be better then her recipe and take minutes to dump on you so she could get you to school faster and so that she could get more sleep.

I would not say pouring this cereal into your bowl under a cup of cold milk could at all similate mom's hot heart felt French Toast. There isn't that taste of butter,.. or eggs,.. or Pam. But this sure was a change in taste, suddenly a sweet cinnamon was a cereal option in the sugary, fruit, bran world of cereal.

I just wonder one thing,.. why does the Mascot seem to disappear from the box or commercials some times? Okay, also.. what happened to his bakery pals? Are they working on their own Pancakes and Waffles cereals?

The Cinnamon and Sugar are true in taste for this, so avoid this if you are allergic to Cinnamon. Some studies indicate a little Cinnamon may be good for your health, so no need to avoid if you are having health problems [ I am not a doctors and studies are constantly changing results]. If you want to really taste Cinnamon instead of Cinnamon Sugar, I would recommend Cinnamon life.

This cereal gets soggy too quickly and it's Mascot(s) vanish(es) too often. It does not have namesake if you eat your French Toast at home but some resturants serve a very similar tasteing Cinnamon French Toast. This may surprise you as a finger or dry food, capable of mesmerizing children once they get it in their mouth ( have something to drink ready). Some people and resturants also use Cinnamon Toast Crunch as a secret ingredients in deserts. If you are a person that likes to be left alone and not eat out I'd give this a 3.5. If you eat out at all, have children, or are a child I'd give this a 4. Just eat a little at a time when using milk to avoid the sogginess.

Comment submitted: 10/26/2009 (#802)



By PeaPants




This is my favorite cereal ever. I tried the new cinnamon total that you say is similar, but it's not nearly as good. C.T.C. Forever!

Comment submitted: 9/21/2009 (#602)