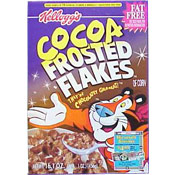 All Comments For
Average Rating = 5 (out of 5)
27 comments



By Postman

I saw the Choco Zucaritas at WalMart this morning. Did not realize they were starting to carry this.

Comment submitted: 10/21/2016 (#20982)



By CerealCrusher (Team Breakfast Member)




Choco Zucaritas rocks my socks!

Comment submitted: 6/4/2016 (#20382)



By CerealCrusher (Team Breakfast Member)




So much sugar, but a guilty treat for sure! I can't stand Wal-Mart, but I will go there for these... thankfully a Dollar General in my area has 'em, too!

Comment submitted: 2/28/2016 (#20002)



By bethywethy17 (Team Breakfast Member)




I remember these! I remember liking them but it's been so long since I had them. :p

Comment submitted: 8/12/2015 (#19327)



By luc




You all gotta come to Mexico to get your Choco Zucaritas. They're easy to find at any supermarket.

Comment submitted: 12/22/2013 (#15569)



By wdweaver (Team Breakfast Member)




This cereal was the best ever! If the chocolaty flavor wasn't enough, they were saturated with sugar. This was like Kellogg's version of Crack Cocaine. You could never get enough and the sugar rush was amazing!

Comment submitted: 8/16/2013 (#13318)



By Vickie R.




There's a new Chocolate Frosted Flakes in stores now. I tried it and LOVED it.

Comment submitted: 2/26/2013 (#11034)



By Chody!




For anyone out there looking, Malt-o-Meal makes a very comparable substitute for this cereal. Can't remember the name but they are easy to find due to the clear bags of cereal!

Comment submitted: 12/10/2012 (#10114)



By Sandra NJ




My husband had Choco Zucaritas at our all-inclusive resort at Riviera Maya - and even brought some home! This was 5 years ago and he is still begging me to "work my internet magic" and find MORE!

Comment submitted: 6/26/2012 (#8198)



By pam




Me and my husband loved this cereal. Please bring it back. It was the only cereal we bought when it was available. Matter of fact it sold out of stores so fast they couldn't keep it on the shelves. Please, please bring it back soon.

Comment submitted: 6/24/2012 (#8180)



By I. Wantitback




One of my all time favorite cereals. I wish they would just bring it back already.

Comment submitted: 6/23/2012 (#8156)



By Nick A.




Choco Zucharitas is the best cereal ever! Pressure Kellogg's to produce it for the U.S!

Comment submitted: 6/17/2012 (#8040)



By LoveCocoa




Bring them back! Most people I talk to don't know Cocoa Frosted Flakes ever existed so it'd be like introducing a whole new cereal. That would create a lot of buzz and sales. I'll buy 10 boxes myself.

Comment submitted: 3/27/2012 (#6984)



By Team Choco




Found them at Walmart at the end of 2011. Now I can't find them anywhere! I need my Choco Zucaritas.

Comment submitted: 3/25/2012 (#6952)



By goldie




Found them at Walmart... fell in love with them... now their gone.... where can I find these at?

Comment submitted: 3/7/2012 (#6744)



By coco lover




I really wish they would stop taking my favorite cereal in & out of my life...I''m so disappointed! Please please please bring my cereal back for good... thank u!!

Comment submitted: 2/9/2012 (#6475)



By Laurie




I love these and was so excited to find them again last fall. Now they are gone again. Please bring them back!

Comment submitted: 12/26/2011 (#6039)



By J. Edgar




Cocoa Frosted Flakes is the best cereal there ever was! I ate them religiously for several years and then one day they were gone. PLEASE bring them back!

Comment submitted: 12/17/2011 (#5982)



By Pop Radio




One day they were there and the next they were gone. Please bring back the Cocoa Frosted Flakes. Where do they sell them at?

Comment submitted: 11/16/2011 (#5773)



By ja1244




Here in Eastern PA, Wal-Mart has them imported from Mexico as Choco Zucaritas. Now, they have stopped carrying them. Let me know where I can buy some please. - ja1244@ptd.net

Comment submitted: 11/13/2011 (#5743)



By SFLA Yummy




I'd get them at Walmart, Publix and Winn Dixie in South Florida and they were very delicious.

Comment submitted: 10/8/2011 (#5442)



By be100




If any one knows where I can get this please tell me. Please! be100nmore@yahoo.com

Comment submitted: 6/22/2011 (#5178)



By DoubleT




I would like to know where to purchase some cocoa frosted flakes as well. Email= TT581951@mycia.net

Comment submitted: 1/22/2011 (#3688)



By Sondra




The best cereal of all time. PLEASE bring it back... PLEASE!

Comment submitted: 12/19/2010 (#3460)



By Bigsuge




This cereal was pretty damn good , when I first heard about it thought it would be gross but after eating it I fell in love with it. Wish it was still on shelves.

Comment submitted: 10/17/2010 (#3055)



By fnancy




Where can I buy this cereal my husband is driving me crazy about it. Please email me at fnancy89@aol.com.

Comment submitted: 8/18/2009 (#341)



By Chris




Where is this stuff? It was Grrrrreat!

Comment submitted: 4/26/2009 (#151)