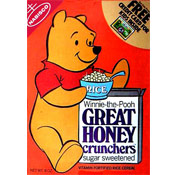 All Comments For
Average Rating = 5 (out of 5)
14 comments



By Piglet




After almost 50 years I still look for it every time I walk down the cereal aisle. Bring it back!

Comment submitted: 6/11/2020 (#25260)



By Winky Face




Yeah! I would love me some more of this stuff. Bring it back already!

Comment submitted: 1/18/2016 (#19856)



By remi




The best ever... I miss it... please bring it back.

Comment submitted: 1/17/2015 (#18381)



By allip97 (Team Breakfast Member)




Only the best cereal ever. I was so sad when it was gone! :(

Comment submitted: 2/6/2014 (#15964)



By Cereal Addict




This was the best cereal ever made. It was far superior to Sugar/Honey/Nothing Smacks or Sugar/Golden Crisp, for example. Bring it back, Nabisco!

Comment submitted: 7/15/2012 (#8483)



By Kallah

My daughter would love this. She just started reading and LOVES Winnie The Pooh. I take it that it's discontinued, but please let me know if it's still available anywhere, please.

Comment submitted: 5/21/2012 (#7720)



By J.P.




While the wheat variety was great, I think the rice version was out of this world. Some of my fondest breakfast cereal memories come from these two cereals.

Comment submitted: 4/22/2012 (#7363)



By ken

I believe that Great Honey Crunchers cereals were successors to wheat and rice honeys cereals and klondike pete's crunchy nuggets were successors to great honey crunchers.

Comment submitted: 1/19/2011 (#3658)



By me&bff




My bff and I are in love with this cereal. We want to find it!! WHERE CAN WE FIND IT?? It's the best!

Comment submitted: 6/7/2010 (#2245)



By Derek




Awww... I wanna buy this cereal!!!

Comment submitted: 4/28/2010 (#2002)



By w0wbagger




There was a cereal here in Canada called "Winnie-the-Pooh Golden Honeys", which may be the same cereal, repackaged. I loved that stuff.

Comment submitted: 11/19/2009 (#925)



By Buffy




I loved this cereal so much... Why can't I find it anymore? Come on! Make business... ugh it was just so good. The best cereal EVER! Now its only in my mind. I can still taste it at the tip of my tongue =(

Comment submitted: 11/13/2009 (#898)



By Cereal Addict




This is, from memory, the finest cereal ever made. Perhaps it is only because not eating it for thirty years makes it all the more delicious in my mind, but who knows? I would love to eat it again, just to see.

Comment submitted: 8/21/2009 (#355)



By Plastic Pooh




When I was little I ate the Nabisco Wheat Puffs and still have the Winnie the pooh plastic puppet container.

Comment submitted: 7/12/2009 (#251)