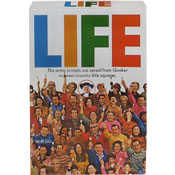 All Comments For
Average Rating = 4 (out of 5)
36 comments



By Karl

Their agenda driven (now Mikey is a girl) ad is just sickening. Every time they play it all I can see is the real Mikey with his little hands over his eyes, crying. I hope it backfires on them. They need to get a new advertising agent and fire the liberal idiots who care more about their agenda than they do about the product.

Comment submitted: 5/12/2020 (#25156)



By Postman




I noticed on the box that the Quaker man is not on the front anymore. He is also missing from Cap'n Crunch cereals. He is so iconic with this brand. Put him back on.

Comment submitted: 9/27/2019 (#24557)



By DanB




I agree with MarkCaplan's comment. I don't see how they can get away with calling the current product 'Original' when I know it hardly tastes like the distinctive all-oats original I loved in the late 60's and early 70's. I also try to avoid wheat when I can, and they've polluted my once favorite cereal with wheat and other grains so I can't eat it as often as I'd like to. Waaah!

Comment submitted: 6/18/2018 (#23154)



By Postman




Life is the bomb. Love it.

Comment submitted: 10/5/2017 (#22310)



By nebby




I don't eat this like cereal but I love to eat it like how people eat popcorn or chips. Very sweet! Good stuff.

Comment submitted: 3/6/2017 (#21450)



By NostalgiaL




Has to be eaten in small quantities and quickly due to turning soggy before the spoon hits the bottom of the bowl BUT still very delicious... glad it hasn't changed!

Comment submitted: 3/27/2016 (#20119)



By Old Wolf




I became a lover of Life when it was first introduced in 1961. It had a wonderful texture and a completely different flavor. Over the years, the formula has been modified slightly; the 1998 reformulation prompted a storm of protest, in which I took part - and they went back to the previous iteration. But I wish they had kept the very first formula... it was absolutely wonderful. I'm still a big fan, and it's almost the only cereal I'll eat.

Comment submitted: 2/2/2015 (#18470)



By CerealSavage (Team Breakfast Member)




I absolutely love Life cereal. It has such a unique flavor, and tastes great dry or paired with milk.

Comment submitted: 10/1/2014 (#17753)



By MichiganMom




Life cereal is not as nutritious as marketed. Why would I give my kids Red 40, Blue 1, Yellow 5, BHT, and more than 2-1/2 teaspoons of sugar in their cup of cereal? I'll stick to quality brands.

Comment submitted: 8/3/2014 (#17453)



By cerealfiend




This cereal is my childhood in a box. After 20+ years, I still enjoy the odd box every now and then. Sometimes I eat it straight out of the box, but I especially love the texture after it steeps in my milk for a bit. My preferred method of carbo-loading before races. :)

Comment submitted: 4/17/2014 (#16956)



By drury




An amazing cereal, whether whole grain or traditional. Have eaten it for years, and never tire of it.

Comment submitted: 12/16/2013 (#15540)



By MarkCaplan




Quaker introduced a new Life form. Life is now multigrain - it contains corn flour, wheat flour and rice flour. Even the boxes [mis]labeled "ORIGINAL" Life are multigrain. The only grain in the true original Life cereal was oats. The true original Life cereal had a distinctive oaty taste that I much preferred to the current formulation. I'm now looking for a store-brand Life knockoff that stayed faithful to the original recipe.

Comment submitted: 11/28/2013 (#15409)



By Tebs




I remember eating it as a young child and mixing a spoonful in my mouth with my scrambled eggs. Wonderful! I tried that recently at the age of 32 and it's still a great combo. Life is great all on it's own however. My favorite cereal of all time. The cinnamon version is great too!

Comment submitted: 11/5/2013 (#15259)



By Julie




The brown maple sugar box of Quaker Life cereal is very racist. Why would they put black people on a brown box and white people on a white box... really? It's not a good look for their company!

Comment submitted: 10/2/2013 (#14574)



By Vikki




I love Life cereal. Wondering if they ever did or ever would try a peanut butter flavor.

Comment submitted: 8/1/2013 (#13039)



By [mrl]




Facts about Mikey: Although it was said by rumors that he ate 6 bags of Pop Rocks at a party, and consumed a 6-pack of Pepsi; he didn't die. Today, Mikey (real name: John Gilchrist), is an advertising-account manager for a New York radio station.

Comment submitted: 7/28/2013 (#12972)



By larry




My wife and I still eat Life cereal all the time.

Comment submitted: 7/11/2013 (#12749)



By richardpaulhall (Team Breakfast Member)




Absolutely the worst cereal I ever tried. The only box of cereal I just could not finish. My brother tried it one morning and agreed with me.

Comment submitted: 4/5/2013 (#11527)



By Dolan H.




Life cereal is like Shreddies on steroids and sugar. This is my favorite cereal that does not taste like (to quote Calvin and Hobbes) Chocolate Frosted Sugar Bombs, and still delivers the goods.

Comment submitted: 2/12/2013 (#10764)



By mobygrapenut (Team Breakfast Member)




One of my favorites as a child. I loved the lightly sweet toasted oat flavor and the way the texture changed from crunchy to chewy as I ate my way through the bowl. I'd probably enjoy it now but I don't need to. I ate so much of it growing up that just remembering it is as good as eating it.

Comment submitted: 2/5/2013 (#10643)



By LifeLady




I have been eating Life cereal for over 50 years now. I even remember my first bowl of this delicious cereal. One time I was visiting someone's home as a guest. She knew I liked Life and had some for me. She also had a young daughter about age 5. A year or later I was going for a return trip to her house. She told her daughter about it ahead of time and said I had been to house before. Daughter said, "Is that the lady who likes Life cereal?"

Comment submitted: 9/12/2012 (#9098)



By MyEmptyCanvas (Team Breakfast Member)




The Original Regular Life cereal - I just couldn't eat because it was almost flavorless in a way and because of that I never tried the others. (myemptycanvasreviews.blogspot.com)

Comment submitted: 6/21/2012 (#8117)



By vaudeville2




I second Marc's vote on the Vaudeville commercials. Anything that featured two guys in gorilla suits had my instant attention. Still does. I believe this was the TV campaign immediately before the one with Mikey came out.

Comment submitted: 5/26/2012 (#7768)



By Kaboodle Doodle (Team Breakfast Member)




My second favorite after Boo Berry.

Comment submitted: 5/9/2012 (#7609)



By AA6




This is my most favorite cereal. I can't get enough of it!

Comment submitted: 5/9/2012 (#7597)



By McFlyJr1979 (Team Breakfast Member)




Only #59 on your list of the top 100 cereals? That's blasphemy. This cereal doesn't even need sugar added. It is one of the few cereals perfect w/o it, as it has enough in it already! :)

Comment submitted: 5/2/2012 (#7524)



By johnnyboy52 (Team Breakfast Member)

My idea for a television commercial. A family setting of 4. Mom, Dad, Sister, brother. Sister is 7 years old, brother is 10 years, old, parents are middle aged. Sister begins the commercial by stating life cereal tastes so good and makes her feel good about beginning her day as she is leaving with school backpack heading out the door. Brother says life cereal has increased his amount of friends that cannot wait for him to arrive at school they want to start breakfast with him by sharing his life cereal. The commercial ends with the children holding individual life boxes and simply stating my life. Then the two children standing together holding one life cereal box between them with parents behind them, father with right hand on son's right shoulder and mother's left hand on daughter's left shoulder and both parents say "our life".

Comment submitted: 12/9/2011 (#5931)



By Marc

My brother and I have been looking for years for the vaudeville commercials. Unfortunately, even the people at General Mills don't remember it. Too bad, because they were great commercials!

Comment submitted: 9/25/2011 (#5348)



By grammy k.




The cereal is awesome and Joseph likes to eat it right out of the box.

Comment submitted: 9/18/2011 (#5296)



By Jon J.

I remember a Life commercial that was themed "Your Money or Your Life" featuring a vaudeville style players. I believe it was in the 60s. I thought it was so funny, but have not been able to find it. Does anybody have any reference links?

Comment submitted: 9/15/2011 (#5281)



By Bizarro (Team Breakfast Member)




Amazing cereal - unfortunately it turns soggy if you even *think* of pouring milk on it.

Comment submitted: 3/18/2011 (#4142)



By ken

The worst thing I didn't like about Life cereal was the crowd of people on the 1970 package. I stopped eating this cereal because of the kids on the ads in the 1980's and 90's.

Comment submitted: 1/19/2011 (#3648)



By chloe33 (Team Breakfast Member)




Always got a kick out of mikey! :)

Comment submitted: 12/21/2010 (#3466)



By Drury




A simply wonderful cereal with a unique taste. My children love it, too!

Comment submitted: 11/16/2010 (#3285)



By Leeloo7




I love adding ground ginger to it for a ginger snap taste... YUM!

Comment submitted: 8/2/2010 (#2562)



By CreepysFan (Team Breakfast Member)




Mikey isn't the only one who loves life, I enjoy it on a regular basis.

Comment submitted: 1/25/2010 (#1285)