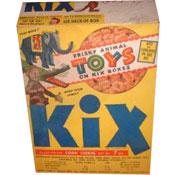 All Comments For
Average Rating = 2 (out of 5)
16 comments



By Jay Hawke




I would call this cereal mediocre... but it is OK with sliced bananas and a teaspoon of sugar. One of the few cereals my brother and I were allowed in the 70's (besides corn flakes, Rice Krispies and Wheat Chex). Mom was terrified of cavities by us eating sugary cereals. Interesting how KIX NEVER goes on sale - kind of pricey at $4.99 a box.

Comment submitted: 10/1/2019 (#24566)



By Postman




I bought a box of Kix this past weekend. GM has changed something about it. The color is different so I guess some of the dyes were taken out. However it tastes different. Not bad but different. I liked the original better.

Comment submitted: 9/19/2018 (#23489)



By James Chicago




I will eat just about any cereal that's on sale, but I wouldn't eat this if you gave it to me free. How it has stuck around for nearly 80 years is beyond me.

Comment submitted: 5/19/2016 (#20328)



By IDOLiberty

Does anyone have an image of the Kix box with "America's Regions". I'd be interested in obtaining an image. Private message me at info at indefenseofliberty.tv

Comment submitted: 9/4/2015 (#19419)



By Y.U.C.K.




The worst cereal ever! How can anyone eat this? The comment about cardboard in water nails it.

Comment submitted: 1/29/2015 (#18450)



By Lionhearted

There was a short lived character on the KIX box in 1969 named Rick O'Kickme. The box was green in the background.

Comment submitted: 10/23/2014 (#17894)



By Babyhulk




KIX made it into the top 100? Really? Totally tasteless (literally) cereal. Soak some cardboard in milk...

Comment submitted: 11/16/2012 (#9918)



By MyEmptyCanvas (Team Breakfast Member)




#1 cereal I just can not eat! This cereal is so nasty. (myemptycanvasreviews.blogspot.com)

Comment submitted: 6/21/2012 (#8140)



By freetoyinside (Team Breakfast Member)




I never insisted mom buy me KIX very often as a kid, cause my grandmother always had it on hand. I liked JETS better, which according to Grandmother had way too much sugar, besides I had that at home. I actually was attracted to the colors of the box. My grandparents thought,however it in poor taste having product packaging on the dinning table. Crushed it makes an excellent coating for chicken, chops or fish. It is after all basically corn meal.

Comment submitted: 4/16/2011 (#4681)



By mjoven




ZZZZ, one of the most boring cereals ever! My mother used to buy this for me when I "misbehaved." I snuck into my Dad's sugar jar just to make the cereal edible.

Comment submitted: 1/21/2011 (#3670)



By foodlover

What about Berry Berry Kix?? That was the best cereal ever! Apparently they still make it, but I haven''t been able to find it anywhere. It definitely needs to be added to the cereal index though.

Note from Mr Breakfast: Hi Foodlover - Here's the page for Berry Berry Kix. Just click here.

Comment submitted: 6/20/2010 (#2317)



By gazorp

Remember the Kix Gazorp character?... a mop haired creature with a head arms and legs only.

Comment submitted: 3/17/2010 (#1635)



By Lothiel




Still one of my all-time favorites. I eat it regularly, even as an adult. Yum!

Comment submitted: 1/27/2010 (#1301)



By Gail

Kix use to be my favorite cereal ever since the mid 1950's. Unfortunately about the mid 1980's the company added more sugar. I also contacted the company to complain. Their response (to me) was that Kids wanted more sugar. I stopped buying it and miss the taste of the original. I hope they will reconsider now that our children are over weight. The WIC program use to provide free coupons for milk, cheese and KIX for pregnant women and their children. Now the benefits of the added vitamins vs the added sugar puts that in question. - Gail a 1950's baby.

Comment submitted: 12/12/2009 (#1038)



By ficwriterpaul (Team Breakfast Member)




One of the best. It doesn't get soggy to fast and even makes a great addition to trail mix.

Comment submitted: 11/21/2009 (#940)



By baby boomer




KIX used to be my favorite cereal since the mid 1950's. Unfortunately about the mid 1980's the company added more sugar. I contacted the company too complain. Their response was they sold more cereal if there was more sugar! I don't buy it anymore.

Comment submitted: 9/18/2009 (#587)