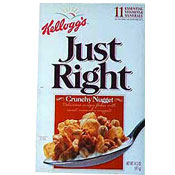 All Comments For
Average Rating = 5 (out of 5)
16 comments



By Ljr




Please bring it back to the US! It's the best! Just right in every way!

Comment submitted: 9/7/2019 (#24475)



By Lliz




My children's and my favorite cereal, they never wanted sugary stuff with this one. Why did Kellogg's get rid of it? You can buy it in England and Canada, why did they take it from us?

Comment submitted: 2/5/2019 (#23915)



By samanda




Please bring it back to the US. I miss my date nuggets!

Comment submitted: 8/29/2018 (#23410)



By Rahul




Kellogg's, if you're reading this, please bring back this cereal! Or let us order it online at least!

Comment submitted: 6/2/2018 (#23111)



By masscrunch




If anyone from Kellogg's is reading this... Guys, bring this cereal back. Don't be corporate morons. Listen to the people.

Comment submitted: 8/5/2016 (#20661)



By Ohio Red (Team Breakfast Member)




Kellogg's "Just Right" was another of my favorite cereals that is now gone.

Comment submitted: 3/7/2014 (#16306)



By Alan




I have been looking for this cereal for quite a while. I loved it before it was taken off the US shelves.

Comment submitted: 2/21/2014 (#16130)



By Heatwave

It's the only cereal in the whole world that my son will eat.

Comment submitted: 10/3/2012 (#9322)



By Dawn Jones




Well, here it is, many years later and I am still looking for Just Right Cereal. Never knew why it was removed or not re-ordered. Can someone please enlighten me? I love Kellogg's Raisin Bran but really, really want Just Right back!

Comment submitted: 8/23/2012 (#8874)



By brodrick




Where can I find this great cereal? It was the best. I miss it.

Comment submitted: 5/21/2012 (#7718)



By candi c.




I miss it so much! Bring it back please! For me, this cereal was... Just Right!

Comment submitted: 11/8/2011 (#5667)



By freetoyinside (Team Breakfast Member)




We have to go to Canada for a host of products JUST RIGHT is one. It is a bit chewy to me, but i never tire of the taste. For me, never put it in milk. I never eat it as a breakfast food. I use it as a trail-mix, and when cryogenically packed in Nitrogen it's a survival staple, mmmm goood for years. Total cereal was always a joke to my family. tasted like glue, and according to ads it was all you would ever have to eat.

Comment submitted: 4/16/2011 (#4680)



By Drury




It is still available in Canada, and it is still delicious.

Comment submitted: 11/27/2010 (#3346)



By J.D.G.




I have to mix my cereals to get what was in JUST RIGHT! Time to bring it back to the states!

Comment submitted: 11/12/2010 (#3263)



By scooterpie

Where can I purchase Just Right Cereal?

Comment submitted: 7/3/2010 (#2393)



By Just Right (Team Breakfast Member)




This was my favorite cereal. I look for comparables every time I go shopping. I've been looking for it for last 3 years. Anyone knows how long it's been off the market. - George

Comment submitted: 3/20/2010 (#1652)