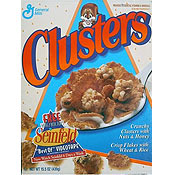 All Comments For
Average Rating = 5 (out of 5)
57 comments



By Stormy




How can I get Clusters? I miss them! My most favorite cereal ever!

Comment submitted: 5/16/2020 (#25165)



By Cooky




Please bring back my favorite cereal.

Comment submitted: 2/23/2020 (#24922)



By Great Cereal




I really liked the cereal, actually better then some newer health cereals. PLUS... Fantastic commericals. Was searching for YouTube clips. One I can not find is the tug of war with squirrel and human.

Comment submitted: 12/24/2019 (#24745)



By cereal guy




I am so happy that Clusters cereal was still around in the United Kingdom. I wish that General Mills could bring back Clusters cereal to the US and Canada, along with Triples cereal, Wheaties Honey Gold, Multi Bran Chex, original Oatmeal Crisp and Oatmeal Raisin Crisp. Those cereals from General Mills came out before I was born.

Comment submitted: 9/21/2019 (#24530)



By cereal guy




General Mills - will you please bring back Clusters cereal with its 1987 recipe? I want to try it.

Comment submitted: 10/24/2018 (#23642)



By cereal guy




Can someone make a petition at change.org to bring back Clusters cereal from the dead?

Comment submitted: 4/26/2018 (#22976)



By E. Kelly




Still available in the UK at britishcornershop.co.uk.

Comment submitted: 6/8/2017 (#21876)



By Greenwood

I really miss Clusters.

Comment submitted: 11/7/2016 (#21027)



By kimmyaus (Team Breakfast Member)




Please, please, PLEASE bring back Clusters cereal. It was BY FAR the BEST cereal I've ever had and I really miss it!

Comment submitted: 9/22/2015 (#19472)



By Motrocks




Bring it back!

Comment submitted: 6/24/2015 (#19159)



By Nutty-1




Best. Cereal. Ever. Bring Clusters back!

Comment submitted: 3/7/2015 (#18688)



By Dani




I just visited Vienna, Austria and found Clusters there! It had actual almonds in it too, not the almond flavoring. It was so great having it again. I may have to see if I can get some shipped to me so I can have it here!

Comment submitted: 2/18/2014 (#16099)



By ATL




Don't understand why I can't find Clusters anywhere. Please return it to the marketplace. Love It.

Comment submitted: 1/17/2014 (#15762)



By Foodie




I am a picky eater and the ONLY cereal that I eat is CLUSTER'S! Been looking for it in every store for a month now and can't believe it has been discontinued. I don't know what genius made this decision, but he/she needs to be demoted and the cereal, promoted back to its proper spot in every store!

Comment submitted: 12/29/2013 (#15599)



By Rick




I agree with the others... I want my Clusters Back!

Comment submitted: 12/14/2013 (#15531)



By Captconey (Team Breakfast Member)




Please! Do not stop making Clusters! It's my favorite cereal. Unfortunately, many stores in our area don't offer it; but I "stock up" on it every chance I get. Please advertise it more.

Comment submitted: 11/24/2013 (#15387)



By Nattie




I also want my clusters back!

Comment submitted: 11/19/2013 (#15353)



By L.L. Letters




My favorite cereal! Cannot find it anywhere in Beaver Dam, WI.

Comment submitted: 10/13/2013 (#14972)



By Joy




I live in NC and we can not find Clusters any longer. Can you tell me who carries this product in Wilmington, NC?

Comment submitted: 10/9/2013 (#14709)



By Mitch




Thanks for all of the information. I came to this site looking for Clusters. I'll try Walmart and soap.com. Thanks a million. I hope I can find them. I'll let everyone know.

Comment submitted: 10/4/2013 (#14614)



By carb1




I agree with every one of the other comments - I want my Clusters back!!!

Comment submitted: 8/12/2013 (#13245)



By missmyclusters




I have been looking for Cluster for a long time. I heard they stopped selling them due to peanuts allergy and changed them to almonds. All I know is that I want my Clusters back.

Comment submitted: 8/7/2013 (#13133)



By K.B. Smith




We absolutely loved the cereal Clusters and can't find it in any of our grocery stores. Are they not making it anymore? If they are, where can we find it? - K.B. Smith (Canton, Ohio)

Comment submitted: 7/20/2013 (#12877)



By Covington




We love Clusters cereal. We cannot find a store around us that sells it anymore. Where can we purchase it. We are located in Covington, TN.

Comment submitted: 3/25/2013 (#11384)



By Ramjet (Team Breakfast Member)




My family and I have enjoyed Cluster cereal for years, recently I went to our local commissary and no Clusters so I went to Wal-Mart and 3 other stores and none to be found. WHY? We would really like to know why?

Comment submitted: 3/8/2013 (#11163)



By Mrs. Rich

I remember the commercials for Clusters cereal being hilarious. Please find the footage of people dealing with the squirrels trying to get their cereal.

Comment submitted: 11/5/2012 (#9823)



By Roho

I have bought Clusters cereal for several years now and always really liked it, but it has changed now. Not for the better! It's now kinda like eating hay. The nuts have a very strange taste.

Comment submitted: 10/17/2012 (#9576)



By sammyDee




You can find it for sale on soap.com. I just ordered some. It's called Honey Nut Clusters now.

Comment submitted: 5/2/2012 (#7506)



By mariecouch (Team Breakfast Member)




I can't believe this isn't available in the U.S. anymore. Strange that you can get it in Mexico and not here. Why not? Obviously, enough people remember and love Clusters enough to sell it here. I'll by a crate myself. Please bring Clusters back!

Comment submitted: 3/7/2012 (#6741)



By luckycharms

To all those living in cities not too far from Mexico: You can get Clusters here! Go to any supermarket (Wal-Mart E.G.) and you'll find it. I live in in Mexico, believe what I'm tellin' you.

Comment submitted: 1/29/2012 (#6313)



By Sam W.




I was introduced to Clusters by a good friend while both of our families were living in Pittsburgh. At that time, he was a Kellogg's salesman. He told me I must try this new cereal. Once trying, it became my most enjoyable breakfast cereal for years. Then all of a sudden one day now living in Georgia I looked for it in Wal-Mart, It wasn't there. I went to Food Lion, Target, Bi-Lo no Clusters. Don't theys know a good thing when they have it. Please put them back on the shelves.

Comment submitted: 1/27/2012 (#6300)



By snoppy




I live in Carrollton,TX. I went to Wal-mart, Walgreen's, Target, Albertson and Kroger's. NO Cluster's!! Why is that? Don't they sale them anymore? This is my favorite cereal! And I can't find them? What's up with that? Don't they want to make more money? That's not helping if not sale-able. I don't need a reply, thank you. I just want to see them! So I can buy them.

Comment submitted: 1/25/2012 (#6289)



By Better Date

The cereal was not released until 1987. I have the series 2 box of the cereal and the flap is dated 5-87.

Comment submitted: 1/24/2012 (#6276)



By hailey




I absolutely loved the Clusters cereal. I can't find it in any store. So Sad. Good stuff.

Comment submitted: 1/14/2012 (#6190)



By boricua




I have been looking for Clusters cereal. I live in Grand Rapids, Michigan. Can't find in anywhere. Me and my kids love Clusters cereal. Miss it mucho mucho.

Comment submitted: 1/13/2012 (#6184)



By South Benders

My husband and I have been looking for Cluster's in the store. We live in South Bend Indiana and we can not find Cluster's in the stores around here. Do you know why?

Comment submitted: 11/7/2011 (#5661)



By ravvi




Go get "honey nut clusters" should be the same, had same beaver.

Comment submitted: 10/3/2011 (#5399)



By AttnDefDis




Honey Bunches of Oats is nothing like Clusters. I wishes it was. I've been looking for a Clusters substitute for awhile now and I keep coming up empty. No other cereal uses bran flakes or has the amount of clusters in each bite that Clusters did. The closest I can come is Just Bunches and it doesn't taste the same at all. God, I miss this cereal.

Comment submitted: 9/1/2011 (#5209)



By Pat in FL

We all need to write to General Mills and tell them we want Clusters back on the shelves! I did my part today, hope you will write to them too.

Comment submitted: 6/15/2011 (#5081)



By P.J. Reyes




I love any cereal with nut clusters. This is the first one I ever tried, so I remember it well. I wonder if it was the first cereal to have cluster. BTW... try the Honey Bunches Of Oat cereal called Just Bunches. It's just clusters but without nuts. Pretty good stuff.

Comment submitted: 6/6/2011 (#5018)



By Yogi T.




The best cereal in the world. They should start selling it again in Syracuse, New York.

Comment submitted: 6/1/2011 (#4951)



By Layla




I bought some honey bunches of oats, not bad; but not my Clusters cereal either, why must they always take the good stuff away. I am gonna try that Crunchy Nut.

Comment submitted: 5/15/2011 (#4840)



By SueBoi




Love it. Miss it. Can't find in anywhere. Are there any current cereals that taste the same?

Comment submitted: 2/11/2011 (#3891)



By margopoff (Team Breakfast Member)




I, too could not find Clusters cereal in any stores. While shopping at K-mart I found a cereal that is new, It is Kellogg's Crunchy Nut. It has nuts in every bite. It is golden honey nut flavor. It also comes in roasted nut and honey flavor. I haven't tried that one. The price is comparable to Clusters. This cereal is delicious and I am a very picky eater.I would highly recommend this cereal for all the Cluster lovers.

Comment submitted: 2/4/2011 (#3817)



By Nik




I can't find this cereal in the Pittsburgh area either!

Comment submitted: 1/11/2011 (#3566)



By oatman

I have never had this cereal but if its anything like honey bunches of oats then its got to be a good tasting cereal.

Comment submitted: 12/23/2010 (#3471)



By moonkisss




Please bring clusters back!

Comment submitted: 11/4/2010 (#3206)



By Mitch

I live in Baltimore, Md. and I can not find Clusters Cereal anywhere!!! Please help. I will travel up to 50 miles to buy them!

Comment submitted: 9/14/2010 (#2849)



By grammy




My favorite... But cannot find in Erie, PA.

Comment submitted: 8/25/2010 (#2719)



By brainsmasher




This is the best cereal of all time. I don't eat cereal anymore because I gave up milk. I cannot understand why clusters wasn't more popular than say Cheerios or Shredded Wheat - both of which are like eating cardboard.

Comment submitted: 8/22/2010 (#2699)



By cheer




Where can you find this cereal???? We love it!

Comment submitted: 8/13/2010 (#2652)



By mom of 4




I can't find it any more. Is it discontinued?

Comment submitted: 7/15/2010 (#2457)



By cerealhead




My husband loves this cereal. Where can you find it?

Comment submitted: 6/20/2010 (#2318)



By Cluster Nutser




One of the best cereals ever but can't find it anywhere.

Comment submitted: 4/19/2010 (#1932)



By TJ

I can't find Clusters at Wal-mart. Who carries this cereal?

Comment submitted: 3/16/2010 (#1632)



By Brandy

I cannot find Clusters cereal in any of my local grocery stores! What grocery stores stock them? Thank you.

Comment submitted: 1/2/2010 (#1145)



By John D




My favorite cereal. Unfortunately, I have not been able to find it in my area (Publix, Winn Dixie, Piggly Wiggly, Wal Mart)

Comment submitted: 9/20/2009 (#601)