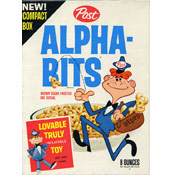 All Comments For
Average Rating = 3 (out of 5)
48 comments



By Cracker Jack (Team Breakfast Member)




I thought that it was a little bit boring.

Comment submitted: 1/30/2020 (#24845)



By Dissatisfied




This used to be my favorite, but the new version is awful! Tastes like they were soaked and dried, I agree... taste like cardboard! Bring the old one back!

Comment submitted: 2/17/2019 (#23956)



By trottersan




Alpha-Bits were in my top 5 cereals of all-time. Not too sweet, but so delicious. In recent years it has reappeared, but is nothing like the original. Tastes like cardboard now. Not even a hint of sweetness. So sad. Since they started making so many cereals 'healthier', most just don't do it for me anymore. Sadly, the change to 'healthier' foods has sacrificed the original taste of these foods. Had McDonald's fries yesterday and they were inedible! It's like that with so many foods now.

Comment submitted: 2/6/2019 (#23924)



By LuckyCharms#1




It's simple - Alpha Bits is Lucky Charms with no charms. Add the Marshmallows. Don't know why they won't.

Comment submitted: 12/27/2018 (#23786)



By reece.m.c.p




Ok. New and improved version sucks. Big letters and different taste! Curse Post - bring back the old Alpha Bits and new flavors of Alpha Bits like the marshmallow ones!

Comment submitted: 7/6/2018 (#23229)



By OldSchoolGirl




'New and improved' Alpha-Bits are anything but. Tastes like cardboard. Bring back the original.

Comment submitted: 5/8/2018 (#23035)



By Jim




I do not like the 'new and improved' Alpha-Bits at all - not good. Bring back the old cereal. In the meantime, Frosted Cheerios are a good substitute but, unfortunately, they can be hard to find.

Comment submitted: 4/19/2018 (#22934)



By Nemo38




This rating is for the 'New and improved' Alpha Bits. This cereal disappeared for a few years and when it finally re-emerged they had changed the recipe so much that it was like eating cardboard. Smart company's don't change a good thing. Coke is still Coke and Hershey Bars are still Hershey Bars.

Comment submitted: 10/20/2017 (#22355)



By Unhappy




The 'new and improved' Alpha-Bits cereal is awful. Less sugar, yes, but less taste as well. Will not buy again.

Comment submitted: 10/12/2017 (#22332)



By Pat-4

Bring back the Frosted Alph-Bits. The new 'improved' ones do not compare. I will probably end up throwing them out.

Comment submitted: 7/10/2017 (#21996)



By The Slammer (Team Breakfast Member)

I have never tried them.

Comment submitted: 6/16/2017 (#21905)



By donna1369 (Team Breakfast Member)




I miss Alpha-Bits. Don't see it in stores by me anymore.

Comment submitted: 10/23/2015 (#19581)



By alpha lvr




Stop complaining. If you don't like it then put something in it to taste better like sugar or peanut butter... anything you like. Maybe they will get their recipe back if we ask Post by calling or email them or post on Facebook.

Comment submitted: 7/24/2015 (#19244)



By a.b. lover




They need their cool prizes back and maybe more flavors. It is a good cereal.

Comment submitted: 6/26/2015 (#19162)



By Wade T.

This is and always has been my favorite cereal. But what's the deal... they changed it? No way. Well, the last place I saw it was Walmart. I'll look for it, but if they changed it, I might not like it either.

Comment submitted: 4/12/2015 (#18874)



By Ruined




New Alpha Bits taste absolutely horrible! They're hardly like the classic and great cereal at all. I wish cereal companies would stop messing with recipes that work!

Comment submitted: 3/14/2015 (#18741)



By Pamelaj25




Like many other Commenters, I finally found Post Alpha-Bits and couldn't wait to have them again. I can't believe this cereal even exists anymore. It is so nasty I will be tossing this box out right after my review!

Comment submitted: 11/19/2014 (#18041)



By Yumarama (Team Breakfast Member)




This was "THE" staple cereal at our house; you could almost always find a box of this available. I've gone and grabbed a box now and then in the last couple decades and can't believe how sweet these things are, and as I assume they'd have had even more sugar back in the 60's, it boggles my mind why my mother would have bought this. However, it still offers a good bit of nostalgia and I may pick up another box sometime, when I can get a bank loan. Man, cereals are expensive now-a-days...

Comment submitted: 11/3/2014 (#17949)



By Grant Schinto

I'm Gene Schinto's son. Congratulations. You're one of the few web sites to get anything factually right about my dad's involvement with naming Post cereals and Linus The Lionhearted characters. I'm impressed. By the way, my dad also named the cereal "Crispy Critters" and hence invented the now common slang term used by military, law enforcement and firefighters all over America. I didn't even know that until the past decade.

Comment submitted: 10/21/2014 (#17889)



By VEG HEAD




I give Alpha-Bits of the past 5 stars. Sadly, I give Alpha-Bits of 2014 a total of 0 stars. They must have changed the recipe, as they have a bitter aftertaste now. YUCK!

Comment submitted: 3/22/2014 (#16438)



By Disappointed




Shoot. I got excited. I finally found Alpha Bits in a store. So I bought two boxes of them because they were always my favorite cereal, but I could no longer find them in stores. Yuk! They were horrible! Just discovered they have a new recipe. I wish I had only bought one box. Instead, I'm throwing away two boxes! Awful!

Comment submitted: 2/1/2014 (#15879)



By Disappointed




New Alpha Bits are absolutely awful. Please return to the original formula. No one is buying them. Why mess with success. At least Coca Cola realized their error and returned Classic Coke after "improving" their product.

Comment submitted: 6/29/2013 (#12586)



By EMA




Recently had a craving for Alpha Bits, bought a box and yuck! They have a nasty rotten after taste. The remaining cereal was fed to the chickens. Thankfully, the recipe for eggs does not change.

Comment submitted: 6/20/2013 (#12475)



By Andy




This cereal used to be amazing, but they changed the recipe in August 2012 and it now tastes miserable. I'm sad that Post didn't keep it as is. If you want the old Alpha-Bits taste, don't go expecting what you're used to.

Comment submitted: 4/22/2013 (#11806)



By The Bitz




I must have this cereal at least 4 times a week. It is my all-time favorite!

Comment submitted: 1/7/2013 (#10318)



By Tomato




I grew up eating this cereal :) I miss it.

Comment submitted: 12/29/2012 (#10246)



By chuckywucky

I bet Soupy Sales would be angry too - about the change in recipes. I used to love to sit down and have lunch with Soupy.

Comment submitted: 11/24/2012 (#10003)



By Disappointed2




Just bought a new box of Alpha-Bits. They didn't taste good - kind of a strong, bitter flavor. My daughter asked what was wrong with the Alpha-Bits. I figured a recipe change. Guess I was right. So sad, it was my favorite cereal.

Comment submitted: 10/14/2012 (#9494)



By They Changed!




I looked all over a few weeks ago for Alpha bits as my favorite store was bought out by a bigger store and they didn't carry them. So I find them at Target and I'm THRILLED. I buy 3 boxes. After eating them I go back to said Target and buy 3 more boxes only to find out they TASTE HORRIBLE!!! I called Post and they changed the recipe in August 2012. Just a few weeks ago! My newest boxes are the "new" formula. There is NO warning or indication whatsoever that anything has changed but they told me that sugar went from 10 grams to 6 grams! Grains doubled. They increased the Iron and took out something that stimulates brain growth in kids. I'm incensed! I want the "old" Alpha Bits back! BTW, I'm 54! Still loving them. WAS still loving them. -D

Comment submitted: 9/7/2012 (#9062)



By MadMonkey (Team Breakfast Member)

Does anyone remember this cereal also having a marshmallow version? It was the only one I liked... it came in a purple box not blue.

Note From Mr Breakfast: Hi Madmonkey - The cereal you're looking for was Marshmallow Alpha-Bits.

Comment submitted: 5/4/2012 (#7553)



By stalley

Anybody remember when Post has a numbers cereal that corresponded with the letters of Alpha-Bits? Loved them both. They helped me be excited about learning numbers and letters when I was a little sprout. I'm surprised they don't market this cereal and an edible learning tool.

Comment submitted: 3/27/2012 (#6976)



By DeeBee




Good news if you;re having trouble finding it... Amazon still has Alpha Bits :D

Comment submitted: 2/12/2012 (#6497)



By Lionhearted

The Jackson 5 were the young spokespersons for Alpha Bits, because of their hit-song, "ABC". We miss you Michael.

Comment submitted: 2/6/2012 (#6436)



By Alpha-Awesome




I'm bummed that I can no longer find Alpha Bits. It's so fricken' awesome. I don't know why it did not last.

Comment submitted: 6/20/2011 (#5159)



By DuckyStu




Alpha Bits have been my most favorite cereal for so many years. It was so disappointing when it disappeared from the shelves. My parents used to buy it by the case and so did I... literally. Then Post teased us with a very limited run a couple of years back, then took it away again... Aaaarrrggg!!!

Comment submitted: 4/30/2011 (#4760)



By ageless kid




It was great that the Walmart in my town carried Alpha-Bits for the first time in recent times. The best thing that I remember about Alpha-bits was the "crazy shapes" they added in the mid 1960's.

Comment submitted: 1/29/2011 (#3765)



By Jane Doe




Not sure I'm going to like the "new" version. Why alter an original classic? Darn... and I was looking so forward to finally find somewhere that still sells Alpha Bits! Stores in my area don't carry this anymore, in ANY variety.

Comment submitted: 1/9/2011 (#3554)



By Postman




Alphabits is a great cereal.

Comment submitted: 1/7/2011 (#3540)



By Tanner T.

To Ruffin: if you find it, post it. I've been looking for the alphabits commerical too.

Comment submitted: 12/3/2010 (#3379)



By Ruffin

Does anyone have a copy of the commercial that introduced brown sugar frosting? It featured a speech choir for audio and simple line drawing animation in the form of wavy vertical lines and mouths. The text went something like this:

A: Have you heard what's new?
B: What's new? What's new?
A: The brand new taste of Alpha-Bits. They're brown sugar frosted.
B: Brown sugar frosted?
A: Brown sugar makes these crispy letters, made from oats, golden. New golden Alpha-Bits are better than ever.
B: Why are they better?
A: 'cause brown sugar makes 'em that way.
B: What way?
A: Crisp, golden, and delicious. Now Alpha-Bits are more A-B-C-Delicious than ever. Than ever! And new golden Alpha-Bits have energy, from A to Z. You'll like 'em better than cereals with white sugar on 'em. Start your day a little bit better, A-B-C-Deliciously. Now you know what's new, don't you?
B: Sure--Alpha-Bits. They have a new golden color and a brand new taste.
All: Now the only cereal with all the letters is the only cereal with brown sugar on 'em. New golden Alpha-Bits are better than ever. Than ever!

Comment submitted: 11/7/2010 (#3230)



By joebacon (Team Breakfast Member)




I can still remember the original Jack E Leonard commercials where a dog was chasing him up a tree and the postman kept tossing Alpha Bits at the dog. Remember laughing so much at those original commercials. Also remember when they changed the cereal formula to brown sugar. Tasted better!

Comment submitted: 11/6/2010 (#3224)



By Where?!




This is my 6 yr olds favorite cereal, and we can't find it any more. Very sad.

Comment submitted: 10/30/2010 (#3174)



By iwantalphabits! (Team Breakfast Member)




I love this cereal I just wish it was still available in Washington state. I wonder it there are enough people out there that feel the same way, to circulate a petition to bring it back to our local stores.

Comment submitted: 10/11/2010 (#3007)



By cj




I'm over 50 + and this is still by far my most favorite cereal! Yum!

Comment submitted: 9/26/2010 (#2926)



By Coco MOs




I love the commercials with little Michael Jackson. So cute! Good cereal too.

Comment submitted: 6/9/2010 (#2255)



By stray heart




I have the slides and viewer from Alpha bits cereal from when I was a kid, but cannot find any reference to them online.

Comment submitted: 2/25/2010 (#1482)



By CreepysFan (Team Breakfast Member)




Recently found this cereal again after a number of years. Still tastes great.

Comment submitted: 1/23/2010 (#1266)



By slade1955 (Team Breakfast Member)




Another cereal I liked. It was hard to find recently but it is back in the stores again.

Comment submitted: 4/2/2009 (#100)