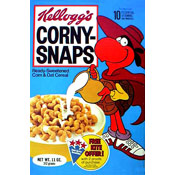 All Comments For
Average Rating = 5 (out of 5)
20 comments



By Rocky D




My all time favorite discontinued Kellogg's cereal! Sweet and super crunchy! Nothing fancy, just delicious! Bring it back Kellogg's!

Comment submitted: 9/21/2019 (#24536)



By 70s child




I ate the cereal very often as a child. I loved it. It was my favorite cereal for a time. Why did they discontinue it? BRING IT BACK Kellogg's!

Comment submitted: 6/5/2018 (#23118)



By Cereallover-14




As a child I loved Corny-Snaps! It tasted so great. Good flavor and consistency. Wish it was never discontinued.

Comment submitted: 5/18/2018 (#23066)



By CrunchMeister (Team Breakfast Member)




I LOVED this stuff as a kid! I just remember it having the best flavor. If its ever re-released I'm buying a CASE!

Comment submitted: 8/22/2016 (#20734)



By Saighde (Team Breakfast Member)




I have been trying to remember the name of this cereal forever!! All I could remember was Snappy (not his name but that he was a Zorro-style turtle). I loved this cereal, even though it was so crunchy it would tear up the roof of your mouth!

Comment submitted: 4/14/2015 (#18888)



By Cartoon Kid




This cereal was the best with or without milk. Me and my siblings loved eating this while watching Saturday morning cartoons. Those were the good old days. CORNY-SNAPS :)

Comment submitted: 2/19/2015 (#18570)



By Mr. C.




Corny Snaps was the best cereal I ever had. When I was a kid, I used to eat it every day. I loved that cereal. They should bring it back.

Comment submitted: 9/11/2013 (#13915)



By Bring Back Snaps




Corny snaps was the best cereal I have ever tasted. It stayed crunchy until you finished the very last one. It also tasted great. They really should bring it back. I think kids today would love them.

Comment submitted: 6/23/2013 (#12516)



By Mightyprime (Team Breakfast Member)




One of the most crunchy and delicious cereal ever made. I would love it if they bring it back CORNY SNAPS FOREVER!

Comment submitted: 6/4/2013 (#12273)



By Corny Snapper




Me - scarfing down bowls of Corny Snaps! My big brother - 'I know you just chose it for the lame character on the box.' Me - 'Did not!' Of course, he was right. That's totally why I chose it. It was the Turtle as Zorro version. Loved it!

Comment submitted: 4/11/2013 (#11592)



By SayNo2Snaps




Corny Snaps was a greasy cereal. After being in the milk, it gave off a puddle of grease. I was highly upset. My mother bought that cereal. I wouldn't buy it it was free. Don't ever bring that mess back... ever!

Comment submitted: 3/1/2013 (#11088)



By Ernie




My sister and I practically finished off a whole box of this in a day, without milk!

Comment submitted: 6/9/2012 (#7953)



By salamander




Who was that masked turtle? LOL! I think I saw that commercial once where Snappy rides in on a horse to save the day and after leaving someone utters those words. Never forgot it.

Comment submitted: 1/5/2012 (#6124)



By moose




I loved Corny Snaps! Please bring them back!

Comment submitted: 12/9/2010 (#3407)



By Corny

Hey! I've gotta story for ya! My friends like to make nick names up for people and they were trying to decide what mine should be. They finally settled on Corny Snap, but they had no clue what it was. I'm guessing they thought they made it up. Then my teacher said that he was going to look up what a corny snap was, so I decided I would to. I had no clue it was a cereal! My friends told me it was what they used to call really bad farts. So, I'm glad its a cereal because I would hate to be named after a fart. and that's my story... please rate 1-5 how you liked it. Btw, it really did happen to me.

Comment submitted: 12/8/2010 (#3406)



By Old Ad?




Is there any place that I can find this old commercial posted anywhere? It was about 1975 or so version!

Comment submitted: 11/19/2010 (#3305)



By Artemesia (Team Breakfast Member)




This was my favorite cereal. I could not remember the turtle on the box. I remembered the shape of the cereal, the color, the flavor and all.

Comment submitted: 11/18/2010 (#3296)



By cornysnaps1




Please please bring this back. We need it!

Comment submitted: 5/19/2010 (#2142)



By mankatt

I have this box - there are two versions - the "Zorro looking turtle" and also "old curdmungeon turtle" .... heh

Comment submitted: 5/9/2010 (#2082)



By strummer

Bring this cereal back.... Pull-eaze!

Comment submitted: 4/10/2010 (#1877)