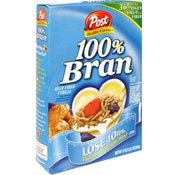 All Comments For
Average Rating = 5 (out of 5)
53 comments



By KB




Please bring this cereal back to the US.

Comment submitted: 4/24/2020 (#25092)



By Carrie




Please bring back 100% Bran cereal, cannot get this item in British Columbia, Canada.

Comment submitted: 2/11/2020 (#24885)



By Pat




I agree with the others. We need the 100% Bran for our muffins. Wanted to make some but haven't been able to find it. Let's get it back on the shelves.

Comment submitted: 7/15/2019 (#24327)



By MorrJoy




WHY oh WHY have they changed the formula for 100% Bran cereal - I have been eating 1/4 cup of it together with other cereals daily for years and now the box says it is "new and improved - stays crunchier in milk longer". It is AWFUL - it may be crunchier but it leaves my mouth feeling like I have just eaten bark off a tree. As for flavor, it initially tastes like cardboard and there is an aftertaste stays with me for hours. I also don't like that it clumps. I am afraid to even try it in muffins. If they don't change it back to what it was before, I won't be buying another box. The old adage - you don't change what ain't broke - applies here. I am very disappointed.

Comment submitted: 3/3/2019 (#23987)



By Susan




Please bring back this cereal. My bran muffins just don't taste the same. Where can I buy it on line?

Comment submitted: 2/13/2019 (#23945)



By Judy




Discontinuing the sale of 100% Bran in the U.S. was the worst decision! Were sales really so bad here that now it's only available in Canada? I can't believe that because every time I went to buy some, they were sold out! I can't go to Canada myself! I hope the powers that be at Post will make this available again in the U.S. Please!

Comment submitted: 11/5/2018 (#23675)



By carole (Team Breakfast Member)




Please bring back this cereal, PLEASE! I have made muffins from this wonderful cereal. Would like to make them again. - Carole

Comment submitted: 8/20/2018 (#23387)



By Barbara




Please bring it back to the US. I have searched stores for years hoping it would appear again. My search online shows that it is in stores in Canada. So maybe they can bring it back to the states?

Comment submitted: 8/12/2018 (#23355)



By beacoup




Please bring it back. I agree with all of the comments. Simply the best.

Comment submitted: 7/20/2018 (#23290)



By Lori12




Please bring back this cereal. Used to eat it everyday with yogurt and it kept the weight off and loved the taste. Please, please bring it back!

Comment submitted: 6/1/2018 (#23104)



By Snuffy N.C.




I have tried ALL of the OTHER brands of what their take is on this cereal. THEY ARE NO GOOD! Expensive and ALL go in the trash can. I have wasted so much money and time trying to substitute - it's crazy. Even as a child, it was a favorite over the kid themed cereals. WHY oh WHY can't WE have our 100% Bran BACK? PLEASE, Please, PLEASE as a country of followers - Can't you hear our cries, begging and pleading to have this cereal back in our life and stocked in our cabinets.

Comment submitted: 1/19/2018 (#22631)



By Need It




I always made muffins with 100% Bran and my family loved them. They would always look forward to breakfast when I make them. Please bring this cereal back. Then, I can stop begging our neighborhood grocer to find some for me.

Comment submitted: 11/6/2017 (#22406)



By Sweet Ann




This cereal tasted great with yogurt and kept the weight off. Nothing else seems to work like it did or taste good like it did. Please bring it back!

Comment submitted: 5/23/2017 (#21796)



By D.E.E.




I agree with all the comments... there is no substitute for POST 100% BRAN CEREAL. Please bring the product back. Can't make great bran muffins without it (that taste good).

Comment submitted: 2/11/2017 (#21379)



By Itza Bitza




Sorry the cereal disappeared. I am now using the same recipe and replacing the 100% Bran Cereal with Kellogg's All Bran. It's been so long since I've used the 100% Bran that now I'm fine with the 'Kellogg's' product. But I do wish the 100% Bran would come back!

Comment submitted: 2/4/2017 (#21350)



By HealthConscious




Back when 100% Bran was available, I would go into a supermarket and buy all 20 or so boxes that were on the shelf. People are extremely health conscious today and are fully aware of the importance of fiber in the diet to obtaining good health. Fiber is important not only for colon health but also for prevention of heart disease and stroke. In addition the Bran muffins that people used to make with this cereal were outstanding. Please, please, please resume manufacture of 100% Bran.

Comment submitted: 1/26/2017 (#21300)



By Lori




This cereal was the best for keeping regular and keeping weight off. Please bring it back!

Comment submitted: 1/13/2017 (#21250)



By Paige




I have modified my bran muffin recipe by replacing half of the water with prune juice and using Grape Nuts instead of the 100% Bran. It achieves an acceptable outcome but still lacks the original taste of muffins made with 100% Bran.

Comment submitted: 9/22/2016 (#20855)



By Donald Cook




PLEASE. Bring it back!!

Comment submitted: 6/19/2015 (#19142)



By Kangi Wiyaka




Please bring 100% Bran cereal back to our stores. If you can't, please tell us why. Please?

Comment submitted: 6/14/2015 (#19122)



By Missed Greatly




I am in total agreement with all of these comments! I have tried several different cereals as a substitute for the 100% Bran and NONE of them come close. Nabisco is technically owned by RJR Tobacco, who acquired Kraft, who then split off the snacks to some other company. Yada, yada. Sadly, the likelihood of this cereal being produced again is very small.

Comment submitted: 4/6/2015 (#18850)



By Muffin SOS

I can't find 100% Bran and my muffins are not turning out. I've used oat bran... terrible. I've used wheat bran... not good. Why did they take bran out of the stores. I live in B.C. Canada.

Comment submitted: 4/2/2015 (#18839)



By Irish U.




My bran muffins just aren't the same without 100% Bran Cereal!

Comment submitted: 12/15/2014 (#18202)



By bfn10 (Team Breakfast Member)




Bring back Post 100% bran cereal. We need it for our muffins!

Comment submitted: 10/26/2014 (#17911)



By Snead




I'd like to add my request that this cereal make a comeback.... my grown up children keep asking for them. There is no substitute!

Comment submitted: 10/14/2014 (#17831)



By Hazel M.




You have got to kidding! With so many people wanting this cereal back on the shelve, what is keeping them from producing it again? I agree, the bran muffins are (were) the best.

Comment submitted: 10/6/2014 (#17790)



By Tinny




Our favorite muffins have just not been the same. I really wish they would make 100% Bran cereal available in Lincoln Nebraska or provide us with an online source.

Comment submitted: 4/8/2014 (#16924)



By Magic Muffins




I agree with the other comments! The difference was the prune juice which gave it a naturally sweeter cereal (and helped in the regularity department). I named them Magic Muffins after my husband chose these over a hospital stay. They worked their "Magic" and he avoided a 4 day stay. What is so difficult about bringing back an old healthy favorite when the cereal is stocked with nothing but garbage these days?

Comment submitted: 1/13/2014 (#15724)



By CoffeeHag




Please bring back 100% Bran cereal! PLEASE!

Comment submitted: 1/12/2014 (#15709)



By Kate

I just made my recipe for the first time since I ran out of 100% Bran... I substituted 100% bran flakes. I agree with the others... these muffins were substandard! PLEASE bring back 100% Bran.

Comment submitted: 12/2/2013 (#15437)



By OmahaJo




Bring back the 100% Bran Cereal to Omaha, Nebraska. Nothing else compares!

Comment submitted: 11/20/2013 (#15362)



By Best Muffins




Never tried the cereal on its own but the muffin recipe is the BEST!!

Comment submitted: 9/17/2013 (#14102)



By Tide Fan




Please bring this cereal back to Birmingham, AL! I have tried EVERY other possible bran cereal on the market for the original LOW FAT and LOW SUGAR muffin recipe that I got from the Post 100% Bran box many years ago. Only fat was the yolk of 1 egg, only 1/3 cup of sugar. The texture and flavor of this muffin cannot be duplicated by substituting. I have to order it from Canada! But, believe it or not, it's worth it. My grandchildren all love them. We gave them the name roller coaster muffins for a couple of reasons including fun to make and eat. Why not introduce a muffin mix using this product, Mr. and Mrs. Post Cereal! It's great for weight loss, great for kids and anyone else that need more fiber. Don't we all?

Here's the recipe:

2 cups Post 100% Bran Cereal
1 cup all purpose flour
1 1/2 tsp. cinnamon
1 1/2 tsp. baking soda
1 1/2 tsp. baking powder
1/2 cup apple sauce
1/3 cup brown sugar
1 1/4 cup skim milk
1 egg
3/4 cup dried fruit

In small bowl combine flour, baking soda, baking powder, cinnamon, mix well and set aside. In a large bowl combine cereal, brown sugar, any dried fruit and milk. Let stand 5 minutes then stir in egg and applesauce. Add flour mixture and stir just til combined. Spray muffin pan lightly with cooking spray and fill. Bake at 400 degrees for 18 minutes. Enjoy!

Comment submitted: 8/3/2013 (#13058)



By P.K. IL




Please bring this 100% Bran back to Peoria, IL. Made my mom's recipe with a substitute this weekend and there's no comparison!

Comment submitted: 6/3/2013 (#12258)



By Missouri-Ohio




I also vote for this cereal. I want it back in the USA so that I can make my bran muffins as well. They just do not taste the same with a substitute for it. PLEASE BRING IT BACK!

Comment submitted: 4/8/2013 (#11565)



By Sally W.




So sad not to be able to make my grandma's muffin recipe anymore. Tried another brand - just not the same. Bring it back!

Comment submitted: 3/19/2013 (#11315)



By star




We need this back in Kansas City, MO as well. Actually, in Independence, MO. We need the muffins and can't find the ingredients to make them any more. :(

Comment submitted: 3/17/2013 (#11280)



By mg3




I have been searching for this cereal forever! PLEASE bring it back!

Comment submitted: 2/17/2013 (#10874)



By baker




Really need to bring this cereal back to the US for our amazing bran muffin recipe.

Comment submitted: 11/14/2012 (#9880)



By Shelly




Please bring 100% Bran back to the US. I have tried every other combination for my mom's bran muffins and nothing compares to this cereal.

Comment submitted: 9/24/2012 (#9216)



By Sherry




Please bring 100% Bran cereal back to Thousand Oaks, California so I can make the yummy bran muffins again.

Comment submitted: 7/18/2012 (#8530)



By Pam




PLEASE bring 100% Bran back to St. Louis/Metro area so I can make my husband's grandma's bran muffin recipe. It is even more special now that she is gone. Please Please! Thank you. - Pam in Edwardsville, Illinois

Comment submitted: 6/19/2012 (#8069)



By Cindy




Please, please bring this back to the US. It's the only thing that makes great bran muffins!

Comment submitted: 5/28/2012 (#7807)



By TurtleRiver




We need the Post 100% Bran back in northern Minnesota too. We are hungry for the muffins you make with them!

Comment submitted: 5/4/2012 (#7556)



By StarvingInGA

Post 100% Bran Buds are the best with no other compairson. Please bring them back to Georgia.

Comment submitted: 4/9/2012 (#7102)



By CAL




Please put this cereal back in our supermarkets in Wisconsin! Those bran muffins are soooo good and it is obvious that I'm not the only one that has been searching the stores for it! In this era of healthy eating, we need healthy choices!

Comment submitted: 4/5/2012 (#7063)



By Marlene

Bring back 100% Bran Cereal. I have used it for many years to make my 6 week muffin recipe. Everyone liked them so much that I gave out the recipe to so many people. Nothing will take it's place.

Comment submitted: 3/27/2012 (#6980)



By Betsy12




I have eaten this cereal for years and have also made muffins from it. Please bring this product back!

Comment submitted: 3/25/2012 (#6959)



By Kate




Please bring this cereal back so we can make our muffins again.

Comment submitted: 2/22/2012 (#6585)



By jpenguin




I really wish Post would bring this cereal back to the states. It is the ONLY bran cereal for my 6 week bran muffin mix. Nothing else works in it and it is a favorite recipe I remember making with my grandmother.

Comment submitted: 12/20/2011 (#6000)



By RI_Baking




PLEASE bring back this cereal to the USA. It's the only bran for bran muffins. Nothing else compares!

Comment submitted: 11/15/2011 (#5764)



By ElvaJane

I miss this cereal, won't you please consider re-entering it into the us grocery stores. If no one realized its value before maybe now that everyone is more aware of what they eat it will make a big come back. We grew up with it and Postum as a hot breakfast drink. Both are health food quality foods and I miss and love them. Can I purchase it in case form from you if you aren't going to reenter it in our supermarkets or health food stores? Thank you. - Pauline Mannese, P.O. Box 374 Milton, New York 12547-0374

Comment submitted: 8/30/2011 (#5203)



By c-loc




I love this cereal, tastes good without sugar.

Comment submitted: 7/12/2010 (#2436)