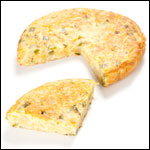 Spanish Omelette
4 medium-sized potatoes - peeled and thinly sliced
6 large eggs
1 onion - chopped
1 green pepper - chopped
1/4 litre (about 1 cup) olive oil
salt
Heat the oil in a large frying pan and then gently fry the sliced potatoes until almost soft, stirring from time to time so that they don't burn on the bottom of the pan. Add the onion and the green pepper and continue frying until all the vegetables are soft. Drain the vegetables in a colander to get rid of the excess oil.
Beat the eggs in a bowl and season with salt and pepper. Add the potatoes, etc. and mix well and check seasoning.
Heat a little oil in a frying pan on a moderate heat. Pour in the potatoes and eggs and shake the frying pan from time to time so that the omelette doesn't stick to the bottom. Once the bottom of the omelette has set, turn the heat down low and cover the pan.
After about ten minutes, turn the omelette by placing either a flat plate or saucepan lid on the frying pan and quickly turning over. Gently slide the omelette back into the frying pan and continue frying, once again shaking the pan from time to time so that it doesn't stick to the bottom, until it has set all the way through.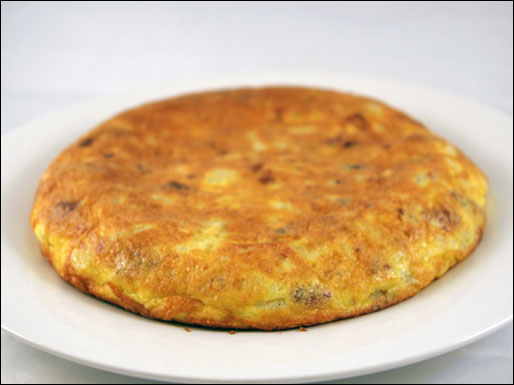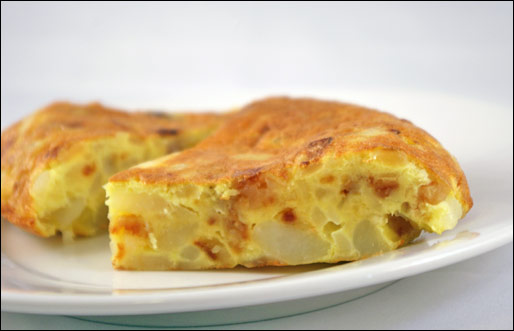 Recipe Tip:

If it's your first time making this omelette, cover the eggs and potatoes with a lid as soon as you add them to the frying pan. This will help the top set slightly before you invert the omelette onto a plate.

Tortilla de patatas (as this dish is know in Spain) is basically a potato omelette (about 4cm thick). It is popular all over Spain and often served in bars as a tapa and is eaten either hot or cold. Some people prefer to make it without the onions or green pepper which more authentic but less flavorful.
Mr Breakfast would like to thank
Terry
for this recipe.
Comments About This Recipe
What do you think of Spanish Omelette?
Overall Average Rating =
(out of 5)

From lostgirl14 (Team Breakfast Member)
This is the MOST delicious recipe to make especially if you have a Spanish family or if you wanna try something new. Love it.

Comment submitted: 10/27/2016 (#20090)



From RiRi
I loved this recipe and I love this website. It was very easy to understand the ingredients and steps to make this omelet. This recipe is tasty and I plan on coming back for more.

Comment submitted: 5/24/2016 (#19948)



From Anabella G
Very good! Love using eggs this way.

Comment submitted: 5/24/2016 (#19947)





From jcawm (Team Breakfast Member)
I did it with closer to 1/3 cup olive oil. Very simple, but good omelet. Was good with salsa on top.

Comment submitted: 10/15/2013 (#16841)



From baju
It's so nice... ;)

Comment submitted: 12/9/2012 (#14949)



From April
I made this for brunch last week and it was amazing! The only thing I added was melted cheese and topped with warm salsa and sour cream! Thanks Mr. Breakfast.

Comment submitted: 10/24/2012 (#14734)



From J.E.H.
Very good. Crispy edges and tender on the inside. Good as leftovers reheated too.

Comment submitted: 6/30/2012 (#14093)



From J. Castle

What else could I add if I don't like onions? Any suggestions out there?

Comment submitted: 4/12/2012 (#13768)



From Alex
This is a favorite in our household, and I grew up eating it - my mother has absolutely mastered this and to this day I struggle to match her skills. My secret ingredient to this is chili flakes - I add them prior to the flip - and it adds a nice little kick if that's your thing. Enjoy!

Comment submitted: 3/23/2012 (#13709)



From Brandy H.
I made it for Spanish class and it was very good. I totally agree that it was hard to flip over. That's the worst part. Other than that, it is easy and tastes really good.

Comment submitted: 1/14/2012 (#13428)



From splashmax
Flipping it is kind of scary. I slide it on a plate and then turned over the plate. I cut the potato into small cubes, not slices. Overall, I was really happy. Beautiful golden brown color.

Comment submitted: 10/25/2011 (#13070)



From Marcin
This looks great. I love the Spanish omelette, I was trying to make something similar at http://easyaffordabletasty.blogspot.com/2011/05/spanish-omelette.html

Comment submitted: 5/14/2011 (#12680)



From laptopleon
I've come to this recipe myself without knowing of the Spanish name. Of course, everybody claims their omelet recipe and so do I ;) If I may do some suggestions: Use potatoes you cooked the other day. This is why I cook some extra potatoes and store them in the fridge. Keep them with a lid on it, because else they get dry, go bad too soon and might take on scents from other food).

Another recommendation I have is: Fry the onions separately, not to hot or fast and until they are completely browned ('carameled'). This can take up to 20 minutes but it's really so much more tasteful! I guess this is slow food but you should really try it once. BtW use 2 or 3 onions, not just one because it will become much less after most of the water has gone.

Comment submitted: 4/9/2011 (#12442)



From iBistro
Mmmm. I like it!! Try it with pesto and it's very good.

Comment submitted: 1/12/2011 (#11898)



From mr. beagle
Fantastic recipe and great name! Top notch Mr. Breakfast! - Andy

Comment submitted: 11/25/2010 (#11614)



From fantastico
Spanish Omelette is the best dish around the world. It's fantastic! Hmmm....

Comment submitted: 10/30/2010 (#11483)



From mahendra
It's a healthy and fast breakfast!

Comment submitted: 10/5/2010 (#11340)



From soaptopia
It's really good, but it's very simple. I might suggest grating some Manchego cheese over the top for just a little more flavor.

Comment submitted: 4/20/2010 (#10349)



From ilikefood
Delish dish!

Comment submitted: 1/20/2009 (#7413)



From mucho deliciouso
Delicious. Thanks for the recipe.

Comment submitted: 9/21/2008 (#6490)



View all 29 comments for this recipe.



---
Connect With Mr Breakfast: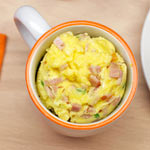 Microwave Farmers Omelet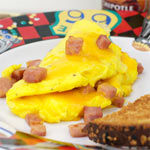 Ham & Cheese Omelette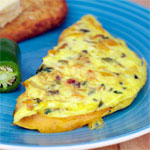 Jalapeno Omelet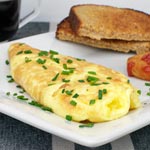 40 Second Omelet

All you need to know. The basics and beyond!
Click here
.