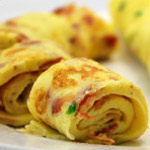 German Omelette With Bacon
4 slices of bacon - cooked crisp and crumbled
1 or 2 teaspoons finely chopped chives
2 Tablespoons flour
3 large eggs
1/2 cup milk
1/4 teaspoon salt
a generous dash of grated nutmeg
black pepper - to taste
2 Tablespoons butter - for frying
This recipe makes 2 thin omelettes.
Put the flour in a medium mixing bowl. Stir in the eggs, one at a time. Add the milk and whisk until smooth. Season with salt and pepper and a little nutmeg. Add the crumbled bacon and chopped chives and mix well.
Over medium heat, melt 1 Tablespoon of butter in a non-stick frying pan. Pour in 1/2 of the egg mixture. When slightly browned on the bottom, flip the omelette and brown the other side. (You may want to slide the omelet onto a plate and invert it back into the pan if it feels like a spatula will tear the omelette.) Slide the cooked omelet onto a plate and make a second omelette with the remaining egg mixture.
Roll each omelette into a cigar shape. If hot to the touch, use a paper towel to help with rolling. If desired, slice the omelettes into sections.
Serve warm.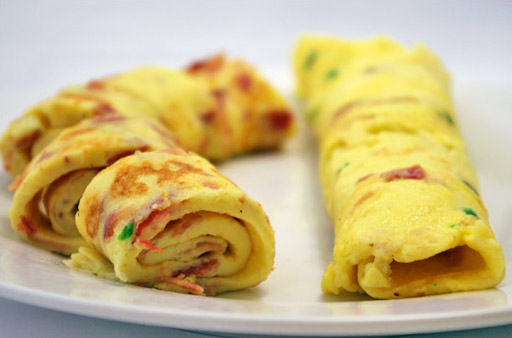 Test Kitchen Notes: This recipe makes about 1 and 1/4 cup of egg mixture, so use a little over 1/2 cup per each omelet. For best results, use a 9-inch omelette pan. After the egg mixture is added to the pan, lift the edges with a spatula to allow uncooked egg to flow beneath the omelette.
The German Omelette is a cross between an omelette and a crepe. Thanks to a bit of flour and a bit more liquid than usual, this omelette can be easily rolled once cooked. A serving may consist of two rolled omelettes side-by-side or a platter of small appetizer-sized wedges cut to reveal the spiral pattern of the rolled omelettes. For a finishing touch, try topping the omelettes with a little browned butter or gravy.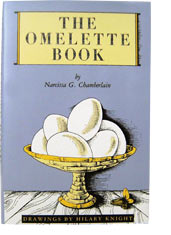 This recipe is a slightly modified version of the German Omelette With Bacon recipe found in
The Omelette Book
by Narcissa G. Chamberlain. First printed in 1955,
The Omelette Book
was considered one of the best books on omelettes up to that date. Juilia Child made reference to the book during her own television show dedicated to omelettes.
The Omelette Book
seems a bit dated now. It's a strange study of how America found chicken livers and brains to be the height of fine dining in the 1950's (Seriously... "Omelette With Fried Brains" is on page 73). However, it's also a great study of how varied and limitless omelettes can be, especially in the caring hands of the omelette obsessed Chamberlain. Check it out if you can find it.

This classic omelette can also be enjoyed at room temperature - European style. Try it instead of a sandwich for an on-to-go lunch or at your next picnic.
Mr Breakfast would like to thank
Mr Breakfast
for this recipe.
Comments About This Recipe
What do you think of German Omelette With Bacon?
Overall Average Rating =

(out of 5)

From Newman
Good!

Comment submitted: 4/14/2019 (#20753)



From F.J.
Tasty. A little hard to roll. Not as pretty as yours. But good.

Comment submitted: 2/13/2019 (#20725)





From Adella43 (Team Breakfast Member)
Very nice and tasty.

Comment submitted: 8/9/2017 (#20375)



From FooSchnickens07
THIS ROCKED. I skipped the nutmeg, but did everything else.

Comment submitted: 12/5/2015 (#19682)



From anna marie
It was the best. I tried to do it and it actually came out like in the picture. I really loved how easy it was. I can't wait to do it over and over again.

Comment submitted: 10/9/2015 (#19587)



From Garlic7girl
I was shocked how firm but so soft the texture was! It rolled too just like the picture! I will make again definitely.

Comment submitted: 8/29/2015 (#19522)





From Alice (Team Breakfast Member)
Exceptionally Tasteful! Danke.

Comment submitted: 4/4/2015 (#19348)



From Libby
Lovely and easy.

Comment submitted: 10/25/2014 (#19077)



From Fat Ratchet
I love it! Simple and tasty! :)

Comment submitted: 5/8/2014 (#18865)



From Fanfood

I am looking forward to trying this recipe.

Comment submitted: 4/8/2014 (#18236)



From Fender68
I sprinkled cheddar cheese over it before I I rolled it and then I gave it 10 seconds in the microwave so the the cheese melted all the way. This is the hot, new way to make an omelet (even though I know it's old)! Winner!

Comment submitted: 9/3/2013 (#16376)



From Liz Food
I think that this was a great recipe. I love trying different foods from different countries.

Comment submitted: 1/9/2013 (#15067)



From sharla
It was very tasty. A little hard to roll into shape (one of them ripped a little), but it was fun to eat an omelet in a different way. BTW... my husband suggested cutting them into sections and serving them with toothpicks as an appetizer. Pretty good idea, right?

Comment submitted: 5/19/2012 (#13921)




---
Connect With Mr Breakfast: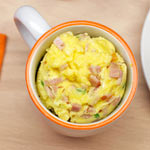 Microwave Farmers Omelet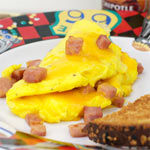 Ham & Cheese Omelette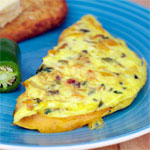 Jalapeno Omelet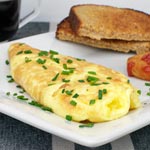 40 Second Omelet