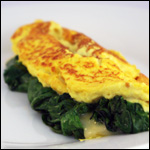 Vegan Egg-Free Omelet
6 ounces (1/2 package) extra-firm tofu
1/3 cup soy milk (plus extra for batter consistency)
1 Tablespoon brown rice flour
1 Tablespoon cornstarch
1/8 teaspoon turmeric
1/4 teaspoon seasoned salt
1 dash cayenne pepper
Remove tofu from package - draining all liquid. Place block on stacked paper towels. Gently press down on it with additional paper towels to remove excess liquid. Cut tofu into 5 or 6 blender-friendly pieces.
Place all ingredients in a blender or food processor and pulse until smooth. Tilt container to see if batter will slowly flow. If not, add additional soy milk by the Tablespoon until the batter is pourable. (Note: A fluffier, non-flowing batter is good for making Mock Scrambled Eggs, but it will break apart as an omelet.)
Place an 8-inch non-stick frying pan over medium heat. Add about 1 Tablespoon of olive oil and swirl pan to coat (or spray generously with cooking spray).
Pour the "egg" batter into the pan. Spread the batter gently to completely coat the bottom.
This is a great time to prepare any omelet fillings (suggestions below).
Cover and cook omelet 6 to 8 minutes until the top appears dry. If the omelet doesn't move freely when shaking the pan, gently work a spatula underneath so it loosens from the pan.
Add toppings to the half of the omelet farthest away from the pan's handle.
To plate and flip, begin to slide the omelet onto a serving plate. When half of the omelet is on the plate, tilt the pan over so the omelet folds in half.
Let set 1 minute. Serve warm.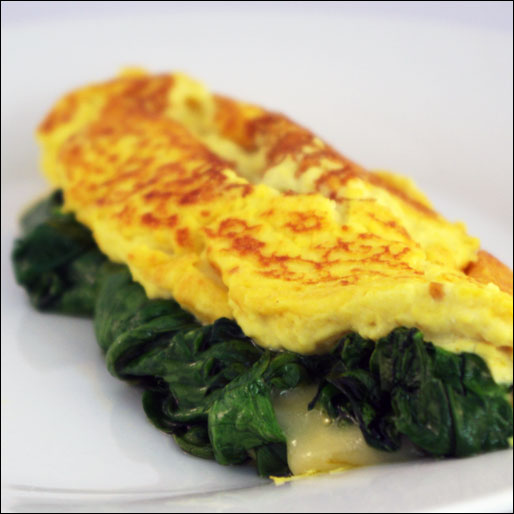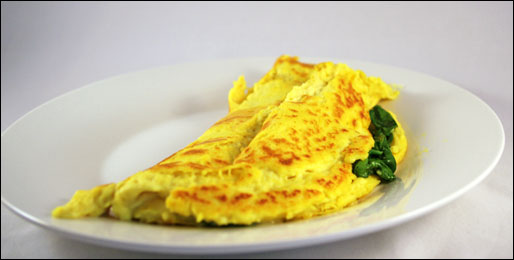 Suggested fillings:
- Spinach (sauteed until just wilted) and vegan cheese
- Sauteed onion and bell pepper
- Avocado and vegan cream cheese
- Any vegan breakfast meat substitute - cooked and crumbed

Who says "you can't make an omelet without breaking an egg?" This egg-free tofu omelet has a smooth texture similar to slowly scrambled eggs while managing to retain an omelet shape perfect for your favorite fillings.
Mr Breakfast would like to thank
Mr Breakfast
for this recipe.
Comments About This Recipe
What do you think of Vegan Egg-Free Omelet?
Overall Average Rating =

(out of 5)




From sarahmarg
I'm making these at the moment and they're turning out great! I'm using the batter to make 'fried eggs' for vegan breakfast sandwiches. Definitely more tasty than just slicing the tofu and cooking it as a patty. I used whole wheat flour and added a tbsp of nutritional yeast. Next time I'll try adding kala namak (black salt) to make them even more eggy. This is my new go-to recipe!

Comment submitted: 9/11/2019 (#20852)



From Monkeeshrines
This is a really good recipe! I wondered if there was a vegan alternative to an omelet for quite a while, and yours seems to do quite a good job as-is. I think I may have skimped on the milk (I used almond milk 'cause that's what I have) and it came out tasty but gooey; it kind of refused to set even after about 15 minutes in the pan. I think the batter needs to be more like a crepe batter than a pancake batter... After reading the comments, I think I will try adding some nutritional yeast - it was a thought I had, but I wanted to try it as it was first. Thank you for the awesome recipe, and I will most definitely make this one again!

Comment submitted: 12/22/2016 (#20153)



From healthymama
Made this for my family this morning. Love it! I changed the soy milk to unsweetened almond milk and changed the cornstarch to arrowroot powder. I used extra firm regular tofu (16oz.) and doubled the dry ingredients and the milk. I also added a heaping tablespoon of nutritional yeast and some garlic and onion powder. It takes longer to cook than eggs but it is definitely worth it! Oh, and I did not use the cayenne pepper.

Comment submitted: 10/21/2016 (#20086)



From VegiGirl
Looks fantastic, so trying this tonight... Many thanks for the recipe.

Comment submitted: 10/13/2016 (#20076)



From leah

I tried making this but it was somewhat mushy. This is my first time making any sort of vegan egg alternative. Taste was alright though. How do I make it closer to the consistency of an egg. I may have used too much milk. Suggestions anyone?

Comment submitted: 6/13/2016 (#19972)



From Mango
Looks like real egg. I'm a new vegan. :)

Comment submitted: 6/9/2016 (#19966)



From Hare
Very tasty!!! This is the best Vegan Omelet Recipe I have ever tried. I have made it for my non-vegan family member visitor. I used a touch of (black) pink salt but did not add Nutritional Yeast. They all liked it and accepted it as Omelet! Thank you for posting it.

Comment submitted: 5/11/2016 (#19923)



From P.B.
Definitely needs nutritional yeast and a pinch of Himalayan salt.

Comment submitted: 3/1/2016 (#19813)



From Lid

So much tastier with nutritional yeast in mix.

Comment submitted: 11/22/2015 (#19664)



From Orion
Best vegan omelet recipe I've found. This rocks!

Comment submitted: 11/4/2015 (#19623)



From Tanabata
Love this recipe. Perfect :)

Comment submitted: 5/7/2015 (#19404)



From Rama
This is the best vegetarian fake egg recipe that I have ever tried so far! I tried this recipe a few times... the best result was when I replaced the soy milk with organic 2% milk. I have always used black salt for salt (or Kala Namak - a pink salt sold at Indian stores)... They call it black salt but it is actually pink. I also shaped it in to small circles (like mini burgers and fried them in heated sunflower oil). Thank you very much.

Comment submitted: 4/20/2015 (#19377)



From Jonesey
Delicious! I added nutritional yeast to the batter which made it perfect tasting! It did stick but next time I''ll have to use a truly non-stick pan with oil.

Comment submitted: 4/13/2015 (#19361)



From Kitchen Travels

I had high hopes for this omelette, but... it was just not very good. I prepared it exactly according to the recipe, and I am an experienced cook. Sadly, I would not make this again. :(

Comment submitted: 1/26/2015 (#19233)



From juleeque
Excellent! I used a firm water packed tofu, filled with mushrooms, onions, peppers, topped with a cashew cheese!

Comment submitted: 1/21/2015 (#19224)





From Dounia (Team Breakfast Member)
Great recipe!

Comment submitted: 8/31/2014 (#18969)



From Vegan
I followed the recipe exactly except instead of 1 tbsp cornstarch I used 2 tbsp whole wheat pastry flour. This was my first time making any sort of omelet and it came out PERFECTLY. It had to cook for probably more around 15 minutes, but it slid off super easily and folded over no problem! It had a great taste and texture. Amazing and easy recipe :) PS. Forgot to mention, I used Mori-Nu Silken Lite Firm Tofu.

Comment submitted: 8/1/2013 (#16227)



From Nellie
I live alone and I love this recipe. I also love it because it does NOT have 8 different ingredients that are impossible to find! It's simple and straight forward. Best one out there! You have to follow the instructions carefully. Cook it, cover and check and make sure the top is dry before you proceed :) - From Nellie Miami

Comment submitted: 7/6/2013 (#16121)



From hedda
A+ for flavor. It tasted surprisingly like eggs. C+ for texture. Our omelette broke apart and we ended up making a scramble. Overall... B+. We'll make it again sometime.

Comment submitted: 5/21/2011 (#12710)



From mojave
We just made this for the first time and were pretty impressed. I was surpassed by how much it tasted like eggs. It's very tender so you have to be very careful when you flip. Our first one crumbled apart. I wish the overall texture was a little bit firmer. Other than that... this is a great find. Thanks.

Comment submitted: 4/16/2011 (#12462)



View all 21 comments for this recipe.



---
Connect With Mr Breakfast: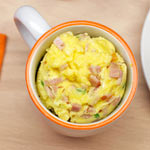 Microwave Farmers Omelet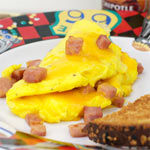 Ham & Cheese Omelette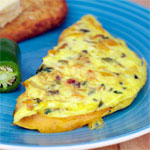 Jalapeno Omelet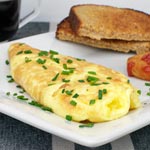 40 Second Omelet

When's the last time you had breakfast in a cup made of bacon?
Click here
.