Vegan Egg-Free Omelet

(1 serving)

6 ounces (1/2 package) extra-firm tofu
1/3 cup soy milk (plus extra for batter consistency)
1 Tablespoon brown rice flour
1 Tablespoon cornstarch
1/8 teaspoon turmeric
1/4 teaspoon seasoned salt
1 dash cayenne pepper
Remove tofu from package - draining all liquid. Place block on stacked paper towels. Gently press down on it with additional paper towels to remove excess liquid. Cut tofu into 5 or 6 blender-friendly pieces.

Place all ingredients in a blender or food processor and pulse until smooth. Tilt container to see if batter will slowly flow. If not, add additional soy milk by the Tablespoon until the batter is pourable. (Note: A fluffier, non-flowing batter is good for making Mock Scrambled Eggs, but it will break apart as an omelet.)

Place an 8-inch non-stick frying pan over medium heat. Add about 1 Tablespoon of olive oil and swirl pan to coat (or spray generously with cooking spray).

Pour the "egg" batter into the pan. Spread the batter gently to completely coat the bottom.

This is a great time to prepare any omelet fillings (suggestions below).

Cover and cook omelet 6 to 8 minutes until the top appears dry. If the omelet doesn't move freely when shaking the pan, gently work a spatula underneath so it loosens from the pan.

Add toppings to the half of the omelet farthest away from the pan's handle.

To plate and flip, begin to slide the omelet onto a serving plate. When half of the omelet is on the plate, tilt the pan over so the omelet folds in half.

Let set 1 minute. Serve warm.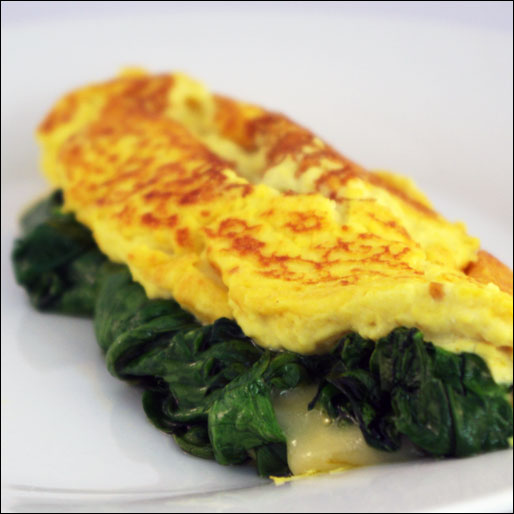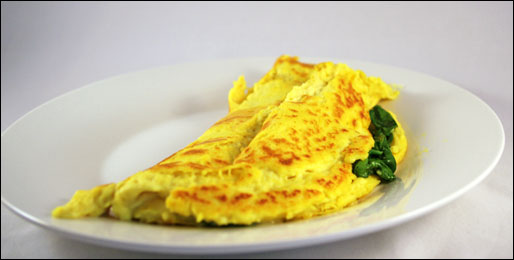 Suggested fillings:

- Spinach (sauteed until just wilted) and vegan cheese
- Sauteed onion and bell pepper
- Avocado and vegan cream cheese
- Any vegan breakfast meat substitute - cooked and crumbed


Who says "you can't make an omelet without breaking an egg?" This egg-free tofu omelet has a smooth texture similar to slowly scrambled eggs while managing to retain an omelet shape perfect for your favorite fillings.




Mr Breakfast would like to thank Mr Breakfast for this recipe.

Recipe number 3002. Submitted 3/14/2011.