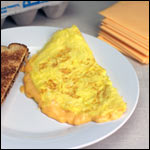 Easy Kraft Singles Omelette
2 large eggs
3 Kraft Singles American cheese
2 teaspoons butter
As part of my ongoing efforts to make, taste and photograph
every recipe
on MrBreakfast.com, here's the Kraft Singles Omelette that I made this morning (12/05/12). This recipe was originally submitted by "supahhstar" in 2009.
This is a good recipe for people who haven't made many omelettes. There's only three ingredients and the instructions are pretty easy.
I have just a couple tips that's aren't mentioned in the recipe. The heat should be medium-high (I used 4 out of 6 on my settings). Two teaspoons of milk added to the eggs before you beat them will make the final omelette a little more fluffy. Also, add just a pinch of salt. As the omelette cooks, lift the edges of the omelette with a spatula and slightly tilt the pan so uncooked egg flows to the cooking surface.
Finally, I found 3 cheese slices to be too much cheese... and I LOVE cheese. I'd go for 2 slices instead.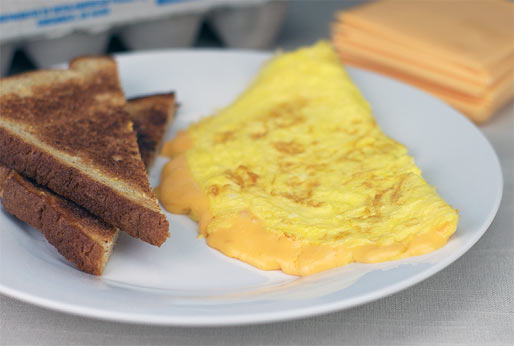 How To Make An Easy Kraft Singles Omelette
1) Take the two eggs and beat them in a small bowl until the yolks and whites are well mixed.
2) Heat the two teaspoons of butter in a skillet until the butter is hot and sizzling. Make sure the bottom of the skillet is coated with butter.
3) Pour the eggs into the skillet. Let it cook for a while but don't overcook. When it looks like the eggs are almost fully cooked put on the three slices of cheese. When the cheese has melted fold the omlette and turn off the heat.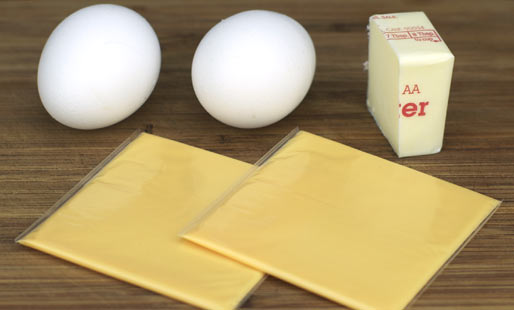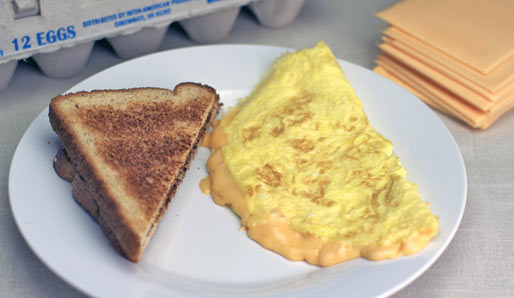 It's as easy as one, two, three... slices of American cheese!
Mr Breakfast would like to thank
supahhstar
for this recipe.
Comments About This Recipe
What do you think of Easy Kraft Singles Omelette?
Overall Average Rating =

(out of 5)

From Poonish
Wow! Yummy!

Comment submitted: 7/23/2020 (#20986)



From foggy
Too cheesy. One or two slices is plenty.

Comment submitted: 1/31/2018 (#20518)



From Cheetah
Nice! This was recommended to me by a friend and I really liked it :)

Comment submitted: 2/20/2012 (#13560)



From Jake
I went on this website looking for an easy to make omelette recipe that satisfied my craving for eggs and cheese. What I found instead was a breakfast that has become a staple in my weekly breakfast rotation. This omelette is quick and easy to make, so even the most novice chefs can cook it to perfection. When I finished cooking it I sat down expecting to taste a note of white American cheese. What I got instead was a symphony in my mouth. The eggs and cheese existed in perfect harmony, their favors complimenting each other to perfection. I found myself cooking a second omelette after finishing the first. It leaves next to no mess in the skillet, allowing for easy clean up. It is a healthy breakfast option that starts your day off right. The rating system on this website only goes up to five. I would easily rate this as being a ten, hundred, or even a thousand. The taste never gets old and it has become my favorite meal. Your missing out on a culinary revelation if you skip over this recipe.

Comment submitted: 2/19/2012 (#13554)



From AkronBen
I grew up with these. I'm not sure if my parents knew any other kind of cheese existed. Now, an omelet with American cheese reminds me of being a kid and I love it.

Comment submitted: 6/14/2011 (#12790)



From Briana
I loved it :D

Comment submitted: 12/15/2010 (#11730)



From Jarrod
This was really easy to make and quite tasty.

Comment submitted: 11/16/2009 (#9050)



From Sophie
I can eat these all day long!

Comment submitted: 9/8/2009 (#8659)



From Kelly
It was delicious and easy to make.

Comment submitted: 9/8/2009 (#8658)



From Annie
Fantastic!

Comment submitted: 8/21/2009 (#8579)




---
Connect With Mr Breakfast: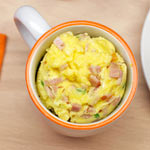 Microwave Farmers Omelet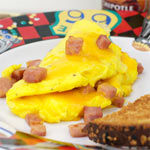 Ham & Cheese Omelette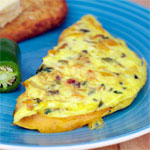 Jalapeno Omelet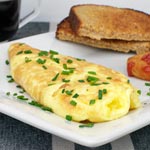 40 Second Omelet

When's the last time you had breakfast in a cup made of bacon?
Click here
.