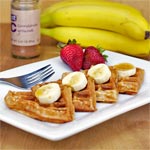 Banana Cinnamon Waffles
2 cups all-purpose flour
1 teaspoon cinnamon
1 teaspoon baking powder
1/4 teaspoon salt
3/4 cup mashed banana (about 2 medium bananas)
2 large egg - separated
1 and 1/2 cups milk
1/2 cup applesauce (skip cinnamon if using cinnamon applesauce)
5 Tablespoons butter - melted
I had to do some major surgery on this recipe to get it to work right. It was submitted to the site ages ago and had gotten mixed, but mostly favorable, reviews. (Please note as you read comments below that I altered the recipe in August 2013). The biggest complaint was that the waffles stuck to the waffle maker if you didn't use an enormous amount of cooking spray. I experienced that big time when I made the recipe as originally submitted. So, I adjusted the ingredients to include melted butter and increased the flour. With those changes, these are pretty good waffles. You get a lot of banana flavor and the applesauce lends just enough sweetness so they're not too awfully sweet when you top them with syrup. That said, these are softer waffles than you might be used to. They won't get super crisp and they have to be pulled gently off the waffle iron so they won't tear. If you know what you're in for, you'll probably be happy with the results.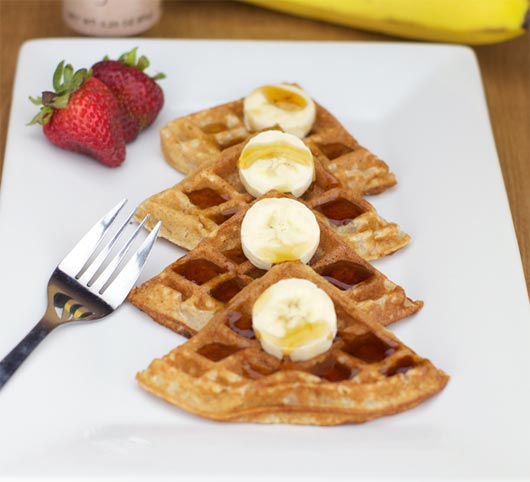 How To Make Banana Cinnamon Waffles
Heat up your waffle iron and give it a thin coat of cooking spray (if directed to do so by your instruction manual).
Combine flour, baking powder, cinnamon, and salt in one bowl. In another bowl, beat together the egg yolks, milk, mashed banana, melted butter and applesauce. Add the dry ingredients to wet ingredients and stir until just moistened.
Beat the egg whites until stiff peaks form and fold that into the batter mixture.
Pour enough batter to fill two-thirds of the waffle iron. Cook until the edges are crisp and golden brown. Repeat with remaining batter.

Great advice for almost all waffles:
When you first take a waffle out of the iron, it is usually kind of soft and moist. Store just-made waffles your oven at about 200 degrees F while you make the rest of your waffles. After a few minutes in the oven, the waffles get more crisp on the outside. Don't let any waffle linger in the oven over 15 minutes.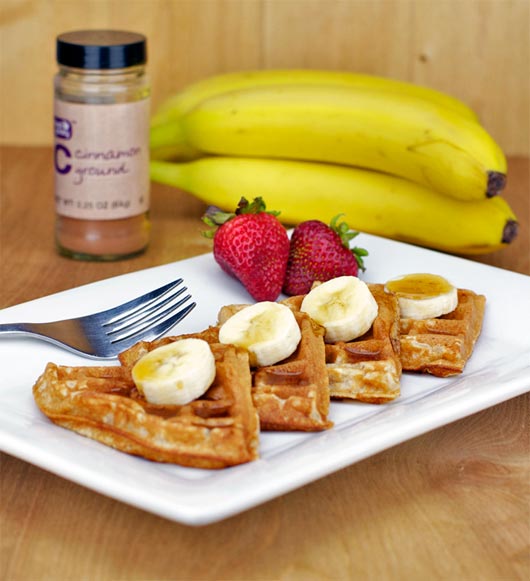 These waffles have a nice banana flavor that's even better if you top them with additional banana slices and maple syrup.
Mr Breakfast would like to thank
Checkers
for this recipe.
Comments About This Recipe
What do you think of Banana Cinnamon Waffles?
Overall Average Rating =

(out of 5)




From Moi
Anyone know the calorie count? I used strawberries for topping. Very good.

Comment submitted: 2/20/2017 (#20203)





From justynajd (Team Breakfast Member)
My family was split on this one so I'm giving it 4 golden eggs. I made it almost as directed (I never separate my eggs for waffles) and used white whole wheat flour (oh, and I sprayed my waffle iron with coconut oil). I think next time I'll add a bit of vanilla and Pumpkin Pie Spice. Love that there is no added sugar!

Comment submitted: 2/22/2014 (#17321)



From Tammy2Go
That was great! I didn't have any problem with sticking at all and the flavor was excellent. Son and husband couldn't get enough. Good job!

Comment submitted: 10/3/2013 (#16699)



From noxolo
Good stuff! I was worried that it might need butter but they were great. The apple sauce made them moist and there was lots of banana flavor and they were still pretty fluffy.

Comment submitted: 8/7/2013 (#16256)



From Bob CY

I know that this recipe has no butter or oil (cool), but I would really recommend stirring 1/4 cup of melted butter into the batter at the end just so the waffles don't stick to the waffle maker.

Comment submitted: 6/9/2013 (#16022)



From sugarcube
Oh yum - I'm going to make them again this weekend.

Comment submitted: 2/17/2011 (#12144)



From Lil C.

Making mine right now.

Comment submitted: 7/16/2010 (#10894)



From KKinNoVa
Nice for a change. Banana taste is not too strong, cinnamon smells great while cooking. Like the "no added sugar & oil", but used a lot of spray on the iron. Texture was a little softer than what we are used to, but still yummy.

Comment submitted: 3/20/2010 (#10102)



From kk

I hope these good reviews are true because I am planning on making them for breakfast this morning.

Comment submitted: 2/21/2010 (#9871)



From The 5 musketeer
These were super yummy !! The whole family enjoyed them. We can't wait to try the carrot cake waffels next.

Comment submitted: 11/1/2009 (#8943)



From Tanners
I found that the waffles were very easy to make, just spray your waffle maker with cooking spray prior to cooking and you will have no problems. there is no oil called for in the recipe so if you don't spray then "HELLO THEY ARE GOING TO STICK". I also added about 1 TBSP of vanilla very good. My 2 yr old never eats anything to do with bread consistency but he loved these and ate a whole one... lol...

Comment submitted: 4/9/2009 (#7927)



From TMP
| | |
| --- | --- |
| Rating (out of 5): | |

I have been making banana waffles for years... this is really not a good recipe. I tried it when i couldn't find my normal recipe and it was awful. The flavor was bland and it stuck horribly to my non-stick iron (which i have never had to use cooking spray on w/ my other waffles). The waffles never raised properly so they didn't cook properly. I was VERY disappointed and frustrated with this recipe.

Comment submitted: 2/1/2009 (#7497)



From tt ringer
It was good easy to make most people would like it but its not for the faint hearted.

Comment submitted: 10/24/2008 (#6671)



From Waffle Girl!
Very delicious - spray with cooking oil before using (I didn't have any problems though) really easy to make to - I used my own waffle recipe and just added 3 banana's and a fair bit of cinnamon... Good Stuff!

Comment submitted: 6/10/2008 (#5502)



From USAF cook
Awesome stuff, but it feeds more along the lines of 4-5 people in this recipe.

Comment submitted: 10/28/2007 (#3866)



From Stuck To Iron
| | |
| --- | --- |
| Rating (out of 5): | |

Nice taste, shame about the b****y waffles sticking to the iron and upsetting my wife on our 12th wedding anniversary! P.S. Add milk and flour to make pancakes out of the darn stuff instead.

Comment submitted: 10/21/2007 (#3815)



From TV
Very good/ awesome added nuts and used whole wheat waffle mix.

Comment submitted: 9/15/2007 (#3570)



From The Halls
Really, really, really good. My son wanted to have it with ice cream and bananas for desert after breakfast! Of course, we didn't let him... but it's a great idea I wanted to share... pretty smart for a 5 year old. Thank you for the recipe Mr. Breakfast. Definitely a site we had to bookmark.

Comment submitted: 9/1/2007 (#3480)



From BuffMom
Fast quick and basic ingredients. Tasty too - add a non-fat whipped cream face and the kids eat them up.

Comment submitted: 5/17/2007 (#2431)



From MC
I didn't think that this recipe was all that great... they seemed to be lacking a certain flavor. I tried adding some vanilla which helped but I didn't enjoy the soft texture of the waffles.

Comment submitted: 4/29/2007 (#2288)



View all 23 comments for this recipe.



---
Connect With Mr Breakfast: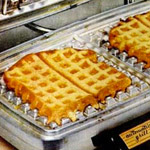 Bread-N-Butter Waffles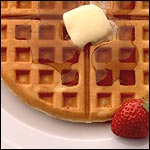 Reliable Basic Waffles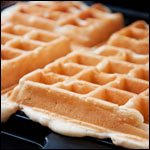 Cinnamon Waffles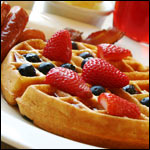 Whole Wheat Waffles

May the force of breakfast be with you.
Click here
.