Banana Cinnamon Waffles

(2 servings)

2 cups all-purpose flour
1 teaspoon cinnamon
1 teaspoon baking powder
1/4 teaspoon salt
3/4 cup mashed banana (about 2 medium bananas)
2 large egg - separated
1 and 1/2 cups milk
1/2 cup applesauce (skip cinnamon if using cinnamon applesauce)
5 Tablespoons butter - melted
I had to do some major surgery on this recipe to get it to work right. It was submitted to the site ages ago and had gotten mixed, but mostly favorable, reviews. (Please note as you read comments below that I altered the recipe in August 2013). The biggest complaint was that the waffles stuck to the waffle maker if you didn't use an enormous amount of cooking spray. I experienced that big time when I made the recipe as originally submitted. So, I adjusted the ingredients to include melted butter and increased the flour. With those changes, these are pretty good waffles. You get a lot of banana flavor and the applesauce lends just enough sweetness so they're not too awfully sweet when you top them with syrup. That said, these are softer waffles than you might be used to. They won't get super crisp and they have to be pulled gently off the waffle iron so they won't tear. If you know what you're in for, you'll probably be happy with the results.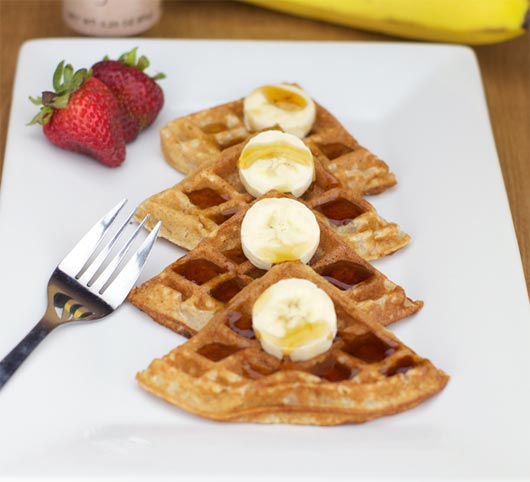 How To Make Banana Cinnamon Waffles

Heat up your waffle iron and give it a thin coat of cooking spray (if directed to do so by your instruction manual).

Combine flour, baking powder, cinnamon, and salt in one bowl. In another bowl, beat together the egg yolks, milk, mashed banana, melted butter and applesauce. Add the dry ingredients to wet ingredients and stir until just moistened.

Beat the egg whites until stiff peaks form and fold that into the batter mixture.

Pour enough batter to fill two-thirds of the waffle iron. Cook until the edges are crisp and golden brown. Repeat with remaining batter.




Great advice for almost all waffles:
When you first take a waffle out of the iron, it is usually kind of soft and moist. Store just-made waffles your oven at about 200 degrees F while you make the rest of your waffles. After a few minutes in the oven, the waffles get more crisp on the outside. Don't let any waffle linger in the oven over 15 minutes.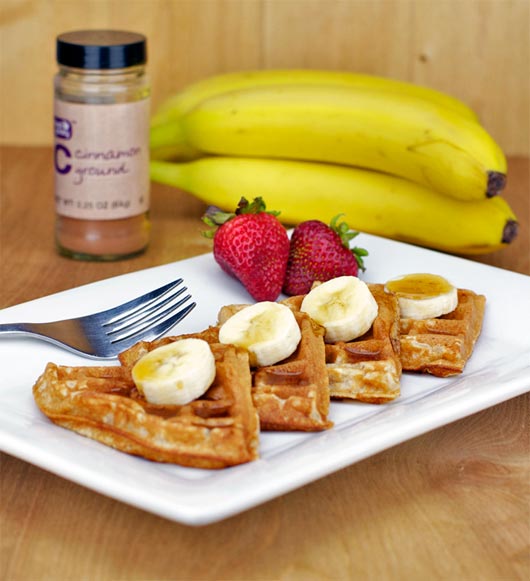 These waffles have a nice banana flavor that's even better if you top them with additional banana slices and maple syrup.




Mr Breakfast would like to thank Checkers for this recipe.

Recipe number 224. Submitted 5/6/2002.