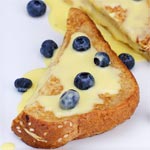 Cinnamon French Toast
3 large eggs
a cap full of vanilla extract (about 1/2 teaspoon)
a shake or two of ground cinnamon
1 cup of milk
6 to 8 slices whole wheat bread
This is a very basic French toast recipe. As a matter of fact, it's pretty much the standard recipe throughout the U.S. except that the word "cinnamon" is emphasized in the name. It might not be unique, but it is truly delicious. I fancied mine up a little by topping it with a homemade Bavarian cream and fresh blueberries. I've also tried the recipe with butter and maple syrup and it was just as good. To make it truly "cinnamon", I'd bump up the that ingredient to 1/4 teaspoon. The person who sent us this one said it made 6 serving. I think it was closer to 4 as I prefer 2 pieces of bread per serving. (Recipe submitted in 2007. It was tested and photographed in August 2013.)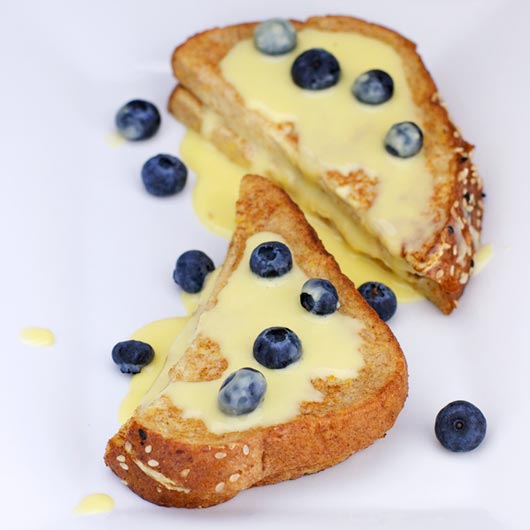 How To Make Cinnamon French Toast
Beat the eggs with the milk, vanilla and ground cinnamon until you get a uniform color and texture.
Dip the bread in the liquid batter and then quickly turn it over to soak the other side.
Fry the soaked bread in a greased skillet or frying pan over medium-high heat.
Flip after the first side is browned and then fry the other side to golden brown.
Serve with delicious homemade maple syrup or any favorite topping.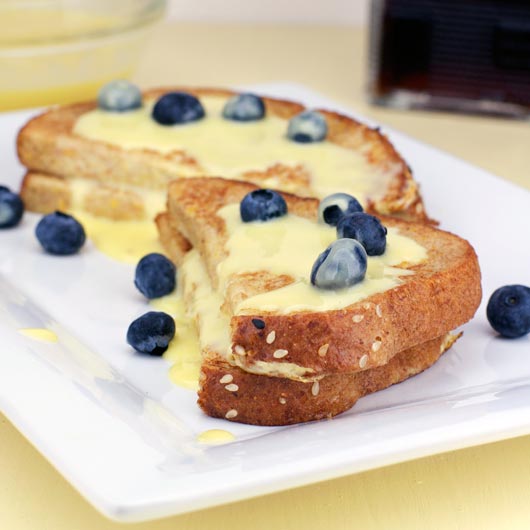 Cooking Notes:

You don't need to to use whole wheat bread. This recipe is actually best with a rustic or artisan white bread. It's even better with cinnamon bread for Double Cinnamon French Toast.

I actually like to bake my French toast for a few minutes after it's been fried. It cooks the inner-custard and brings all the flavors together. You don't need to do this, but if you do, just preheat the oven to 275 degrees while you fry the French toast and then let completed pieces set in the oven on a cookie sheet until all pieces are prepared.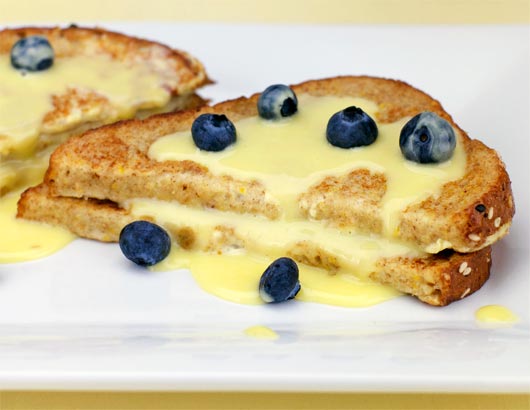 Nothing too fancy. Just a reliable, basic French toast recipe with an extra bit of cinnamon. It's fast, easy and super good.
Mr Breakfast would like to thank
jaras
for this recipe.
Comments About This Recipe
What do you think of Cinnamon French Toast?
Overall Average Rating =

(out of 5)

From Mike22

Can we get you recipe for the homemade Bavarian cream topping? That's what makes this French toast look interesting. I want to try it!

Comment submitted: 9/23/2013 (#16600)



From melcee
| | |
| --- | --- |
| Rating (out of 5): | |

Too much milk and too eggy.

Comment submitted: 2/7/2013 (#15145)



From saffie
Very good. Kids liked it too.

Comment submitted: 8/23/2012 (#14318)



From emma
I love it so much!

Comment submitted: 10/26/2011 (#13082)



From f.t. yu
One word: Yum!

Comment submitted: 6/18/2011 (#12819)



From waters

It was very helpful for our family of 4.

Comment submitted: 3/11/2011 (#12278)





From mickey95 (Team Breakfast Member)
It was super easy and tasted great! Thanks to all who said use less milk and more cinnamon. :D

Comment submitted: 1/16/2011 (#11920)



From noonie11
It was awesome - I added 2 shakes of cinnamon and only 2 eggs and it was great.

Comment submitted: 12/12/2010 (#11702)



From Lena
It's way to much milk - next time I'm using 1/2 a cup cuz its way too much milk!

Comment submitted: 10/9/2010 (#11356)



From Osborne
Super easy. But next time, I'll do a 1/2 cap vanilla and 2 shakes cinnamon.

Comment submitted: 2/7/2010 (#9645)



From Eljefe68
I am about to cook this again. I added a second shake of cinnamon and it was delicious! Thanks!

Comment submitted: 1/10/2010 (#9431)





From spk2urlife (Team Breakfast Member)
Great! This recipe was very easy, and I normally mess up everything that I try to cook. I didn't have any Vanilla Extract at home, but it turned out good without it. I'm ecstatic! I'm encouraged to try some other recipe on tomorrow.

Comment submitted: 1/23/2009 (#7436)



From cool mom
I have a family of seven and quick and easy really works for us. This recipe is amazing and it is something my fifteen yr. old daughter can fix with bacon. Thanks Carla

Comment submitted: 9/21/2008 (#6491)



From d-train
You Cinnamon French Toast is very good. Used less milk per comments. Thanks.

Comment submitted: 8/29/2008 (#6347)



From T. Boone
This was super good and it was easy to make -- used a lot less milk though... about 1/2 cup so it only made 5 toasts... but the coating is more eggy and browned that way.

Comment submitted: 7/18/2008 (#5912)



From MIKE - DRO
Mmmmm. This recipe satisfied my munchies. LOL =P

Comment submitted: 6/5/2008 (#5462)



From E. Z.
I like this recipe: short, sweet and to the point.

Comment submitted: 9/30/2007 (#3671)



From Penguinlover100
This was a good recipe that all the kids enjoyed!!

Comment submitted: 7/2/2007 (#3141)




---
Connect With Mr Breakfast: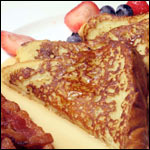 Basic French Toast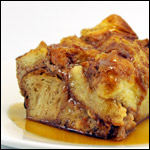 Baked French Toast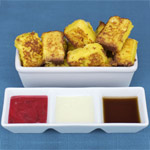 French Toast Bites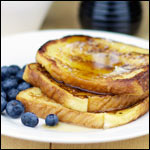 Maple Syrup French Toast