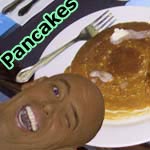 French Pancakes
2 cups all-purpose flour
1 cup milk
3 large eggs - beaten
1 and 1/2 Tablespoons sugar
1 and 1/2 Tablespoons butter - melted
Mix gradually the eggs, flour and sugar. Add the milk and melted butter slowly. The mixture will be quite thin. Mix and beat well.
Drop 1 and 1/2 Tablespoons amounts of the mixture at a time in well greased (buttered preferably) frying pan, spreading the mixture by a turning movement in the frying pan until it starts to thicken. The pancake must be thin and cooked on both sides.
Serve with powdered sugar.

The French word for pancake is crepe (KRAYP; KREHP). For more on crepes, check out the crepes section of this website.
Mr Breakfast would like to thank
scrambler
for this recipe.
Comments About This Recipe
What do you think of French Pancakes?
Overall Average Rating =

(out of 5)




From Q-Zeen
To get the right batter consistency, I needed more milk than listed. I just kept adding more little by little until the batter drizzled off of the whisk. I also added 2 pinches of salt and a 1/2 teaspoon of vanilla. With those adjustments, this recipe was pretty good.

Comment submitted: 2/27/2013 (#15247)



From Nora
Thank you! I love crepes :)

Comment submitted: 2/19/2013 (#15201)



From Lizzie

I've made these before according to the recipe and if you spread the mixture out with a spoon in a circular motion or rotate the pan as the directions say, it will make the pancake thin. These are not supposed to be crepes. They are supposed to be crepe-like.

Comment submitted: 12/3/2012 (#14933)



From TryingNewThings

Tried this recipe yesterday, and the milk quantity is wrong. I used almost 3 cups of milk instead of 1 to make them as thin as they should be. Please can you correct the recipe as when people find it they don't read all the comments and reviews (I didn't) and they'll be disappointed when it doesn't work. Thank you.

Comment submitted: 11/21/2012 (#14883)



From adjuster

The numbers are reversed. It should be one cup flour and two cups of milk. French crepes are thin, and are not called pancakes.

Comment submitted: 4/24/2011 (#12499)



From schwenjky

This is NOT a crepe recipe. It is a French pancake. Different things.

Comment submitted: 8/22/2010 (#11109)



From dustie
Try the recipe by Schmitty in the comments here. It turned out absolutely perfect. Thanks Schmitty!

Comment submitted: 7/22/2010 (#10947)



From kaen

Use 3 cups of milk instead of one. They are supposed to be thin.

Comment submitted: 7/1/2010 (#10807)



From CheFrank

This recipe is WRONG! Either there is too much flour or not enough milk... Anyway, if you follow the above recipe you end up with something that looks more like Aunt Jemima''s pancake mix then crepe mix... If what I have is "thin" then I don't understand the definition... This recipe isn't correct... Don't follow it!

Comment submitted: 6/28/2010 (#10792)



From PolishPancake
This was an awesome recipe. They are similar to crepes and great filled with sweet cheese (a traditional Polish crepe is filled with farmers cheese mixed with egg yoke and sugar).

Comment submitted: 6/4/2010 (#10608)



From Schmitty

I have been making French pancakes for many years and I will give you the correct recipe and the right way to make them. First of all, the french word for pancakes is crepes so they will be very thin compared to American pancakes. We spread a thin layer of butter on them and then sprinkle them with sugar and they are wonderful. You can also use fillers such as jams,and roll them up or just use syrup. It is really just a matter of taste but everyone we have made them for has liked them with butter and sugar. These pancakes will be as big as your plate and are very filling, however, they are so good I always eat two. Okay, let's get to the recipe and directions.

Ingredients:

2 Eggs
1 Cup Milk
1 Cup Flour
1/4 Cup Powdered Sugar
1/2 tspn. salt
1/2 tspn. Vanilla

Directions:

Mix flour, sugar and salt
Add milk and stir until perfectly smooth
Add Eggs and vanilla and beat thoroughly
Melt butter on griddle then pour enough batter to simulate the size of your plate.
Turn when golden brown on bottom side of pancake.
When ready to serve spread a thin layer of butter on pancake and sprinkle with sugar.

Yummy, yummy, yummy.....so good for the tummy!

Comment submitted: 3/11/2010 (#10028)





From celinespr (Team Breakfast Member)
This entree breakfast was soo awesome it turned out great with apples in it... I thought that this wouldn't work out great because since I'm only 12 years old but the crepe turned out awesome.

Comment submitted: 11/7/2009 (#8991)



From Robbie
This is an awesome recipe and this website is the greatest. Thanks, Robbie Petros

Comment submitted: 11/7/2009 (#8989)





From CJBreakfast (Team Breakfast Member)
| | |
| --- | --- |
| Rating (out of 5): | |

If you follow the above recipe it is terrible because they turn out like regular pancakes and are tasteless. You need to add 3 cups of milk to make them thin like a crepe and add a little more sugar, some vanilla and salt. Then they are edible, but I still won't make the recipe again.

Comment submitted: 11/1/2009 (#8944)



From Pudding
Works best with 3 cups of milk and try putting vanilla or chocolate pudding on top my family loves them.

Comment submitted: 8/1/2009 (#8482)



From JamieMacpherson
This worked out great and I shared them with my whole class... I'm only 11 but I think this is a perfect way for kids my age to start cooking 10 out of 10 for me!!!!

Comment submitted: 6/15/2009 (#8288)



From A. Queen
Great with powdered sugar and a little lemon for topping and yes it does need a little more milk than ingredients say.

Comment submitted: 6/1/2009 (#8200)



From Richard
Thanks. Worked great with a little more milk.

Comment submitted: 2/25/2009 (#7653)



From pancake mike

Recipe is all wrong. way too much flour. use half that amount, add vanilla, get mixture real thin, pour on thin, cook till golden, add syrup, rool up and walaaaa!

Comment submitted: 2/15/2009 (#7589)



From CoCo
Awesome! We added a touch more milk to thin the batter per the comments.

Comment submitted: 2/10/2009 (#7560)



View all 37 comments for this recipe.



---
Connect With Mr Breakfast: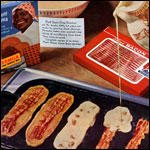 Bacon Strip Pancakes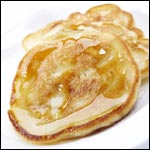 Reliable Homemade Pancakes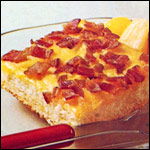 Maple-Bacon Oven Pancake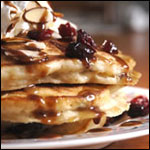 Cranberry Almond Caramel Pancakes

Our list of the best cereal premiums of all time.
Click here
.