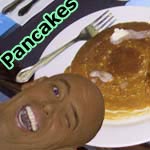 Low-Carb Pancakes (Flax Seed)
1/2 cup of ground flax seed meal
2 eggs
1/4 cup of cream
3 Tablespoons of cottage cheese
2 Tablespoons of oil or melted butter
1/4 teaspoon baking powder
Simply mix together all the ingredients with a whisk - batter should be a bit runny. Cook on a lightly greased skillet as you would any pancake recipe. Drop batter on surface large spoonfuls.
Cook until each side is lightly browned.
Serve with butter and a low-carb store bought syrup. Or for an interesting low-carb topping, mix 1 Tablespoon of sugar-free jam with 1 and 1/2 Tablespoons water and microwave for 45 seconds.
For more low-carb recipes try Mr Breakfast's Low-Carb Breakfast Index.

Satisfy your pancake craving with only 13 grams of carbs. Ground flax is the base for the batter while cottage cheese provides moistness and flavor.
Mr Breakfast would like to thank
CurbingCarbs
for this recipe.
Comments About This Recipe
What do you think of Low-Carb Pancakes (Flax Seed)?
Overall Average Rating =

(out of 5)




From DK Hall

Very good. Best low carb pancake recipe I've tried to date.

Comment submitted: 6/18/2013 (#16052)



From natalie

I have made a similar pancake but I do not add the butter or oil, use cream cheese instead of cottage cheese (1 egg per 1 ounce of cream cheese), no cream, 2 packets of splenda and a dash of vanilla extract. YUMMY!!!!

Comment submitted: 5/14/2012 (#13906)



From thomas
The pancakes are okay... the topping you chose to use makes a big difference.

Comment submitted: 1/23/2012 (#13462)





From bmaybmay (Team Breakfast Member)
Okay, they're yummy!! However, use caution. I calculated the calories after I'd consumed the whole batch (because it says one serving) and it's a whopping 934 calories. And I only used 1 tablespoon of oil. Plan your day accordingly if you're going to use this recipe.

Comment submitted: 1/5/2012 (#13391)



From operagirl201
Thank you!! I'm a young pancake-lover that recently found out she feels MUCH better with limited carbs. Feeling great, but missing the pancakes - until now. :)

Comment submitted: 5/3/2011 (#12642)



From Capt. Snapper
Just tried these pancakes this morning. "Awesome" is to say the least. One of the best flaxseed meal recipes I've tried to date.

Comment submitted: 4/8/2011 (#12408)



From Tasty Treat
I have made these for the last year and think they are wonderful! I put fresh blueberries on them once they are on the griddle and everyone loves them! A little cinnamon in there is great as well!

Comment submitted: 9/7/2010 (#11179)



From nutty

I love the nuttiness of the flax but the texture was off for me, I think it was all the fats.

Comment submitted: 7/12/2010 (#10874)



From Deiter
These are excellent. Love them.

Comment submitted: 5/15/2010 (#10499)



From Mia
| | |
| --- | --- |
| Rating (out of 5): | |

Oh. Dear. God. These were the NASIEST things I have ever eaten. I love flax seed. I'm loving my new low carb lifestyle. But these piles of disgustingness are so far beyond anything I can even attempt to describe.

Comment submitted: 5/6/2010 (#10448)



From Kyle
I am still new to the low-carb diet and this was my first go round with flax seed pancakes. I don't really know what I was expecting the to taste like. They were more egg tasting than pancake tasting.

I made a strawberry and cream cheese spread to go on top and that helped. For a recipe with no sugar they were fine. I think I might keep looking for a different recipe. The instructions were easy to follow and they turned out better than any pancakes I ever made before. I always mixed them too much. With these, you want no lumps!

Comment submitted: 2/27/2010 (#9930)



From amber
| | |
| --- | --- |
| Rating (out of 5): | |

I don't know if I did something wrong, or if you guys have no sense of taste.... but these were disgusting! Followed the directions except used the ricotta instead of cottage cheese like dr. lit said since I didn't have the cottage cheese and ricotta has fewer carbs and it was probably one of the worst things I've ever eaten... I couldn't finish even 1 pancake. Since I have plenty of all of the ingredients I'll probably try one more time hoping I just didn't cook them right but not expecting much better.

Comment submitted: 2/21/2010 (#9873)



From cat
These pancakes were so good! Now all I need is some sugar free syrup and it will be perfect. I almost felt guilty eating these because they taste so much like high carb pancakes. But it's great to know that my blood sugars won't shoot up after eating these. I'm definitely going to make these for the whole family!

Comment submitted: 11/23/2009 (#9088)



From art2lady
I used 1/2 flax seed and 1/2 whole wheat. If you're not into the total carb thing,but want low carb these were delicious. I topped with ricotta mixed with sweetener, a dash vanilla and enough buttermilk to make it smooth. Drizzled low carb syrup... yum.

Comment submitted: 7/15/2009 (#8401)



From Dr. Lit
We love it. I substitute an equal measure of ricotta for the cottage cheese -- it's smoother and I think has a slightly better taste. Two tablespoons of water helps it stay reasonably liquid so it spreads out a little better on the griddle. CARBS = 4.5 (1.5 for the eggs, 2 for the ricotta, and 1 for the cream. No carbs in the oil, baking powder or flaxseed meal).

Comment submitted: 7/13/2009 (#8397)



From Huskerfan
Really loved this recipe-satisfied my craving for pancakes. Recipe is not 13 carbs though-much less than that in fact. 2 carbs for eggs, 1.5 carbs for heavy cream and 1.5 carbs for cottage cheese = 5 carbs for the entire recipe! Really tasty, and I recommend.

Comment submitted: 2/15/2009 (#7585)





From PorkRinds (Team Breakfast Member)
| | |
| --- | --- |
| Rating (out of 5): | |

Well I am fairly new to the low carb thing... and I found these bloody awful. Maybe we did something wrong, but it turned out to be more like scrambled eggs gone wrong. And as for the flax seed flavour... I think I will go try the Pork Rind pancakes instead.

Comment submitted: 2/14/2009 (#7578)



From superdieter
If you use fat-free all natural ricotta or even full-fat ricotta (both have 1g carb/2oz - I get mine from wholefoods) then this is extremely carb and very Atkins friendly.

Comment submitted: 1/22/2009 (#7432)



From J.
Hi I just made the pancakes I used the ground flaxseed w/blueberrys i found in Traider Joes I did not use the cottage cheese and I cut the recipe in half it was real good! I had some sugar free syrup in the fridge I happened to look at the carbs aaaaah 11grams for a 1/4 cup not low in carbs! gos to show you allways have to check the lables!
Happy eating J.

Comment submitted: 6/24/2008 (#5595)



From Dayplace
Great recipe! Used whole milk ricotta instead of cottage cheese & heavy whipping cream. Recipe made 8 - 3" dollar size pancakes. Each pancake approx. 110 cal, 4g Protein, 2g Fiber, .6g NET Carb. According to RDA each pancake is 8% of recommended daily allowance of fiber. Note: try to cook all the batter at once as flax will absorb the liquid and thicken if allowed to sit.

Comment submitted: 6/1/2008 (#5419)



View all 25 comments for this recipe.



---
Connect With Mr Breakfast: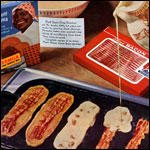 Bacon Strip Pancakes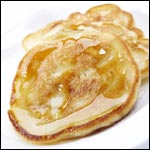 Reliable Homemade Pancakes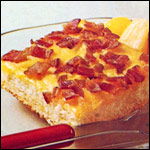 Maple-Bacon Oven Pancake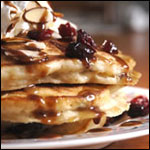 Cranberry Almond Caramel Pancakes

All you need to know. The basics and beyond!
Click here
.