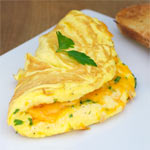 Fluffy Cheese Omelette
3 large eggs
3 Tablespoons heavy cream (whipping cream)
1 Tablespoon unsalted butter
sea salt (to taste)
ground pepper (to taste)
Herbes de Provence (to taste)
1/4 cup shredded sharp Cheddar cheese
If you measure an omelette by how cheesy and fluffy it turns out, this Fluffy Cheese Omelette is a winner. Personally, I like that frying it and then near-broiling it guarantees that the egg is completely cooked through. Finding runny egg in an omelette is a deal-breaker for me. The directions ask you to beat the eggs and cream until soft peaks form. That didn't happen for me, but I did notice that the mixture almost doubled in volume after 2 minutes of beating. I used that as my indicator that enough air had been incorporated to assure ample fluffiness. If you like a big, fluffy omelette, this is a recipe you'll probably want to try. (This recipe was submitted in 2003. It was tested and photographed in January 2014.)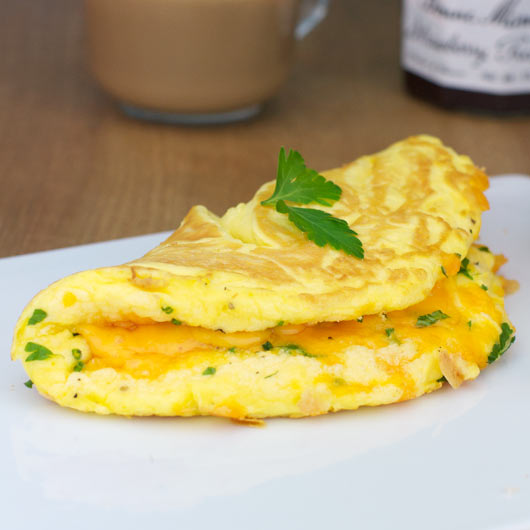 How To Make A Fluffy Cheese Omelette
Preheat oven to 450 degrees. Beat the eggs and cream with an electric mixer until soft peaks form (approx 2 minutes). Set egg mixture aside.
Heat butter in omelette pan over medium heat until butter just stops foaming. Pour egg mixture into pan. Using a rubber spatula, continuously scrape the bottom of the pan while cooking. Use small, rapid, circular motions. (This causes the cooked egg to loosen from the bottom of the pan, and causes uncooked egg to take its place.) Continue until approx. 75% of the eggs have cooked. There should still be some uncooked (runny) eggs on the top at this stage. Remove omelette pan from burner. Season to taste, using salt, pepper, and herbs. Sprinkle cheese over top of omelette.
Finally, put pan into oven at 450 degrees for approx. 90 seconds- - until eggs are firm. Remove from oven (using potholder for the now-hot handle), serve, and enjoy!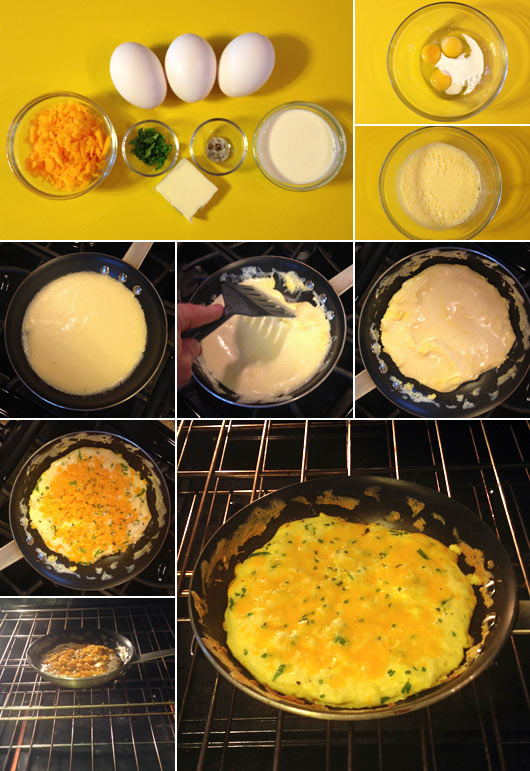 Cooking Notes From Mr Breakfast

Herbes de Provence is traditionally a mix of 7 to 11 herbs usually including rosemary, thyme, oregano and basil. Since this is more of an American omelette, I took that ingredient to mean any combination of seasonings (preferably fresh) that you like or have on hand. I used a combination of chopped chives, chopped parsley and Lawry's Seasoning Salt aka Herbes de What-I-Had-In-The-Kitchen.

Egg purists from the French school of cooking will probably turn up their noses up at this recipe, as egg purists from the French school of cooking tend to do. They believe that eggs should be treated tenderly, whereas this recipe beats the hell out of them. You will notice the egg is slightly less tender than those in a French omelette. If you're a Frenchman or someone who thinks everything the French do is the only way to do something, this may not be the omelette for you.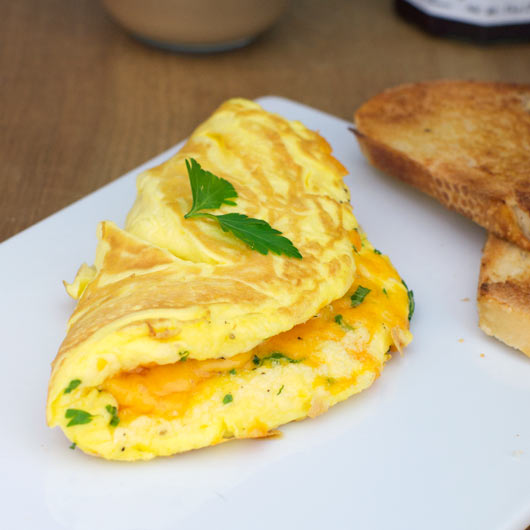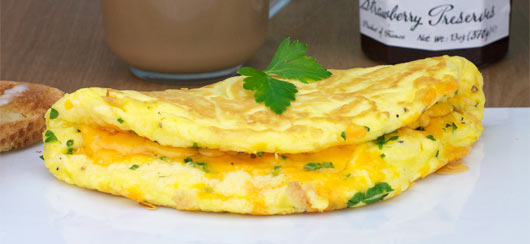 This recipe uses two cooking methods (on the stove and in the oven) to make this the fluffiest, tastiest omelette you've ever had. Really!
Mr Breakfast would like to thank
VirtualBry
for this recipe.
Comments About This Recipe
What do you think of Fluffy Cheese Omelette?
Overall Average Rating =

(out of 5)

From skit357

I have to try this!!!

Comment submitted: 7/19/2017 (#20364)



From Terry
Try just eggs and cream. No herbs for me. Too much like lawn clippings. Cheese is good too!

Comment submitted: 4/9/2017 (#20246)



From Johnnyboi1326
It's a good recipe. Thanks.

Comment submitted: 8/13/2016 (#20020)



From Horse Girl
Delicious!

Comment submitted: 7/26/2016 (#19998)



From R. One

Very good. In response to Horste's comment, it may have been a version of what I refer to as eggs Portugal. The egg mixture is poured over broken up white bread and grated cheddar cheese, some sausage in a casserole dish, topped with more cheese and baked for 30 to 40 minutes. You don't even know the bread is in there. And it's something you can make the night before and just throw in the oven in the morning.

Comment submitted: 5/24/2016 (#19944)



From K.W.
Fluffiest omelette I have ever made.

Comment submitted: 5/1/2016 (#19902)



From Horste

I'm looking for a different kind of fluffy omelet. At my boarding school, the cheese omelets were from a large rectangular pan and were 3 inches thick (looked like angel food cake). I've not seen anything like that since graduation. Who knows about this type of omelet?

Comment submitted: 3/28/2016 (#19849)



From Mag02920
You can't get soft peaks unless you separate the eggs. Beat the whites until you get soft peaks. Beat the yolks separately with the cream, then fold the yolk mixture into whites.

Comment submitted: 3/5/2016 (#19816)



From Sirrahstar
Worked Great! We stuff ours with cheesy or mashed potatoes... Here's to a fluffier tastier Omelet!

Comment submitted: 2/14/2016 (#19793)



From ally
Worked good for me.

Comment submitted: 11/17/2015 (#19656)



From kiddo
I used milk instead of cream and it came out really well... way more fluffy than just making it in a pan on the stove. I also replaced Herbes de Provence (?) with Lawrey's seasoning salt.

Comment submitted: 4/30/2015 (#19390)



From yuyi
Really DELICIOUS. Now I see omelette in a more "yummy" way.

Comment submitted: 4/20/2014 (#18846)



From Joey Sox
It's easy to modify and it definitely came out light and fluffy. I was able to get two servings out of this recipe.

Comment submitted: 11/29/2012 (#14915)



From jazza
This recipe is ultra easy and absolutely delicious. I throw in some 4 cheese mix and everyone in my house asks for an omelette at lunch time.

Comment submitted: 10/10/2010 (#11363)



From Sprinkle
Excellent. Enjoyed it very much. I even added to it chopped parsley.

Comment submitted: 1/9/2010 (#9427)



From YeahYeahYeah
I used an Italian Herb blend instead of the French Herbs and it turned out quite nice.

Comment submitted: 9/6/2009 (#8648)



From Breakfast Fan
Tasty, fluffy and fun - even when one makes it only over the stove!! Yummy.

Comment submitted: 7/31/2009 (#8476)





From funboy (Team Breakfast Member)
Very lovely lunch recipe with bit of salad. We enjoyed so hope you do to.

Comment submitted: 4/19/2008 (#5091)



From kp1994
Yummy!

Comment submitted: 3/13/2007 (#1805)




---
Connect With Mr Breakfast: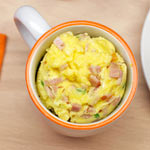 Microwave Farmers Omelet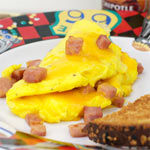 Ham & Cheese Omelette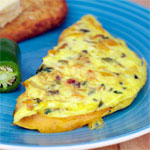 Jalapeno Omelet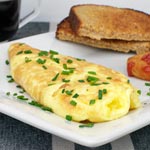 40 Second Omelet

Our list of the best cereal premiums of all time.
Click here
.