Fluffy Cheese Omelette

(1 serving)

3 large eggs
3 Tablespoons heavy cream (whipping cream)
1 Tablespoon unsalted butter
sea salt (to taste)
ground pepper (to taste)
Herbes de Provence (to taste)
1/4 cup shredded sharp Cheddar cheese
If you measure an omelette by how cheesy and fluffy it turns out, this Fluffy Cheese Omelette is a winner. Personally, I like that frying it and then near-broiling it guarantees that the egg is completely cooked through. Finding runny egg in an omelette is a deal-breaker for me. The directions ask you to beat the eggs and cream until soft peaks form. That didn't happen for me, but I did notice that the mixture almost doubled in volume after 2 minutes of beating. I used that as my indicator that enough air had been incorporated to assure ample fluffiness. If you like a big, fluffy omelette, this is a recipe you'll probably want to try. (This recipe was submitted in 2003. It was tested and photographed in January 2014.)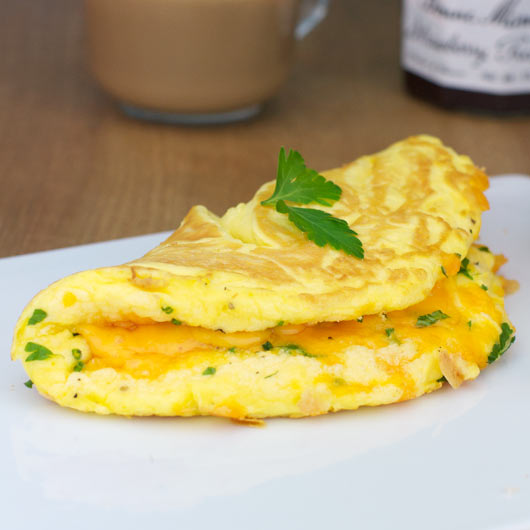 How To Make A Fluffy Cheese Omelette

Preheat oven to 450 degrees. Beat the eggs and cream with an electric mixer until soft peaks form (approx 2 minutes). Set egg mixture aside.

Heat butter in omelette pan over medium heat until butter just stops foaming. Pour egg mixture into pan. Using a rubber spatula, continuously scrape the bottom of the pan while cooking. Use small, rapid, circular motions. (This causes the cooked egg to loosen from the bottom of the pan, and causes uncooked egg to take its place.) Continue until approx. 75% of the eggs have cooked. There should still be some uncooked (runny) eggs on the top at this stage. Remove omelette pan from burner. Season to taste, using salt, pepper, and herbs. Sprinkle cheese over top of omelette.

Finally, put pan into oven at 450 degrees for approx. 90 seconds- - until eggs are firm. Remove from oven (using potholder for the now-hot handle), serve, and enjoy!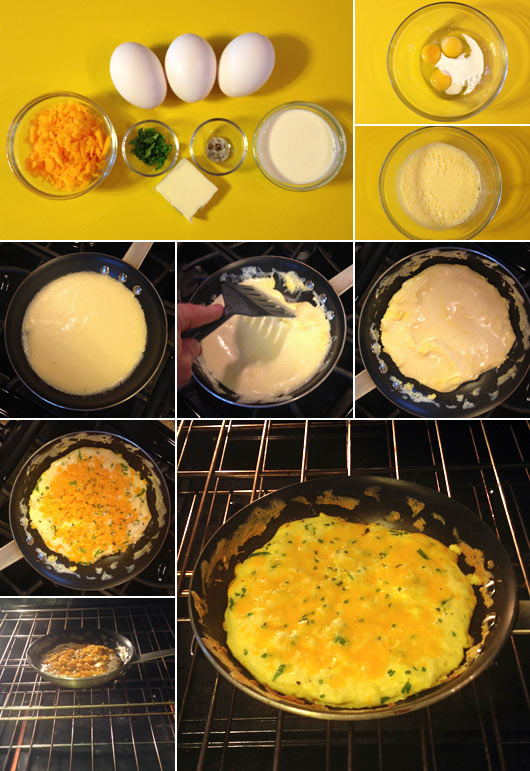 Cooking Notes From Mr Breakfast

Herbes de Provence is traditionally a mix of 7 to 11 herbs usually including rosemary, thyme, oregano and basil. Since this is more of an American omelette, I took that ingredient to mean any combination of seasonings (preferably fresh) that you like or have on hand. I used a combination of chopped chives, chopped parsley and Lawry's Seasoning Salt aka Herbes de What-I-Had-In-The-Kitchen.

Egg purists from the French school of cooking will probably turn up their noses up at this recipe, as egg purists from the French school of cooking tend to do. They believe that eggs should be treated tenderly, whereas this recipe beats the hell out of them. You will notice the egg is slightly less tender than those in a French omelette. If you're a Frenchman or someone who thinks everything the French do is the only way to do something, this may not be the omelette for you.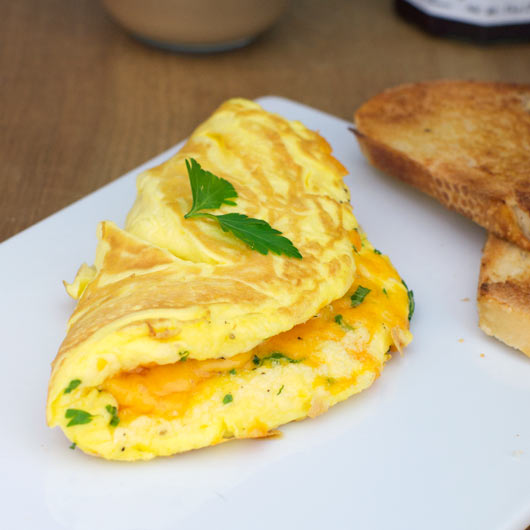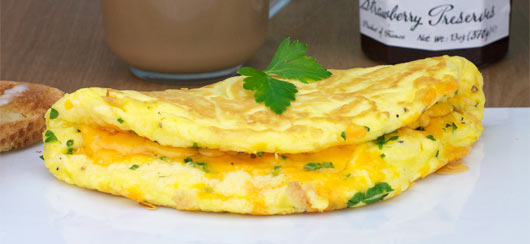 This recipe uses two cooking methods (on the stove and in the oven) to make this the fluffiest, tastiest omelette you've ever had. Really!




Mr Breakfast would like to thank VirtualBry for this recipe.

Recipe number 1135. Submitted 11/16/2003.