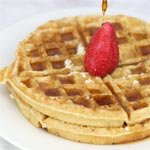 Egg-Free Waffles
1 cup all-purpose flour
1/4 cup wheat flour
2 teaspoons baking powder
2 Tablespoons sugar
2 Tablespoons canola oil
1 and 1/4 cup cool water
dash of salt
No eggs. No dairy. But it works! Once these waffles are topped with a little maple syrup, you can hardly tell the difference between these and waffles made with eggs and milk. The recipe was sent to us by a user named 'checkers' a few years ago and has gotten plenty of rave reviews since then. I tried it this morning (June 2013) and I agree with the positive comments. The only changes I made to the recipe as submitted were to add 2 more Tablespoons of all-purpose flour (to get the batter constancy I'm used to) and to add 1 teaspoon of vanilla for a tad bit more flavor.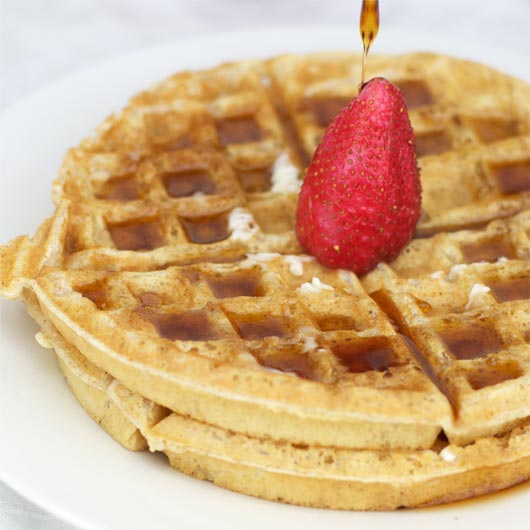 How To Make Egg-Free Waffles
Sift dry ingredients together in a medium bowl. Make a little hole in the middle of this mixture and pour in water then oil. Stir just until wet.
Cook in waffle iron at preferred setting. Serve with butter/margarine and syrup.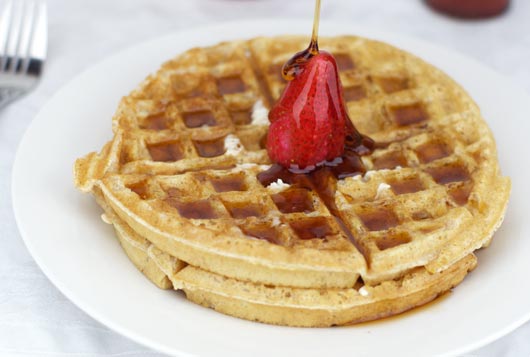 Cooking Notes From Mr Breakfast:

One word of caution: 2 Tablespoons of oil is the bare minimum that you should use in this recipe. It worked for me, but I used a very new waffle maker. If I was using an older model or one where waffles have a tendency to stick, I would definitely increase the oil to 3 Tablespoons.

I would suggest that you increase your normal cooking time just a notch as the waffles are slightly less crispy than than those with egg cooked at the same setting.

This recipe made exactly four 6 and 1/2-inch waffles.

If you add a 1/4 cup more water, this works as a good pancake batter.
Mr Breakfast would like to thank
Checkers
for this recipe.
Comments About This Recipe
What do you think of Egg-Free Waffles?
Overall Average Rating =

(out of 5)




From chopper
It was really tasty and smells supper nice.

Comment submitted: 12/17/2018 (#20691)



From kerplunk
Enjoyed them. Didn't miss the egg.

Comment submitted: 11/22/2017 (#20447)



From Frampton
The best waffle I've ever made without the eggs and milk. I used all-purpose flour and add in cinnamon and vanilla extract. I tried it right when its done and it came out fluffy, crunchy on the outside yummy!

Comment submitted: 10/24/2017 (#20432)



From Plowman
Turned out great. Really good recipe. Easy too.

Comment submitted: 11/8/2016 (#20111)



From Clover
My husband and I gave up milk and eggs 6 months ago. Since that time, we have tried at least a dozen recipes for waffles using different types of substitutions. We can finally stop searching because we both agree on this one. And it is very easy to make. Thanks for sharing.

Comment submitted: 10/13/2016 (#20078)



From Guy Cool
It was good. Way better than the recipes that use egg.

Comment submitted: 4/24/2016 (#19889)



From E. Tee
Mine came out thick and packed, but over all it's a good recipe. Maybe I should add more water next time.

Comment submitted: 4/5/2016 (#19862)



From Mrs. Waffle
I just flew in from a vacation and needed a recipe with "normal" stuff since my fridge is empty and thanks to jet-lag I woke up at 5 am. This recipe fits perfectly! I love the texture but I would suggest adding more flavor to it since it's pretty bland... I added cinnamon, vanilla extract and chocolate chips. This is great!

Comment submitted: 1/14/2016 (#19742)



From Ursula123
This is the best waffle recipe I have ever tried! My kids are so picky, so I know it's a great recipe. I did substitute the water for almond milk and put in some vanilla just to give it a little bit of a sweeter taste.

Comment submitted: 12/9/2015 (#19689)



From cookiecakes
Crispy and yummy! But I am wondering if there is a way I could incorporate eggs while still leaving out the milk?

Comment submitted: 10/23/2015 (#19600)



From Dizzy Pointed

Batter stuck way more than waffles we've made with egg in the batter. Think it needs more oil in the recipe.

Comment submitted: 10/11/2015 (#19588)



From fantastic
I just made it and my sister and I are really excited! It's really light and suitable for people with high cholesterol.

Comment submitted: 8/21/2015 (#19516)



From R.J.
They were pretty good for egg-less option. Just not fluffy enough obviously. I made them on the Cuisinart Breakfast Central waffle maker. They came out nice golden brown and crisp on its maximum setting. Since we prefer egg-less, I would definitely use this recipe.

Comment submitted: 8/2/2015 (#19499)



From I_Heart_Wafflle
These were good. I substituted the wheat flour with toasted wheat germ. Also added a tablespoon of cinnamon and used olive oil instead of canola. Need to add butter and vanilla next time.

Comment submitted: 8/2/2015 (#19498)



From Rikki K.
Loved it. Thank you!

Comment submitted: 7/24/2015 (#19486)



From Carl T.
Maybe I did something wrong since a lot of these people seem to like it, but no there's comparison with regular waffles in my opinion.

Comment submitted: 7/5/2015 (#19468)



From luketheduke
Great recipe. Used regular flour instead of wheat flower. Worked perfectly.

Comment submitted: 6/30/2015 (#19465)



From Simply T.
They weren't as fluffy as ones that you make with egg, but they were pretty good.

Comment submitted: 6/5/2015 (#19442)



From Blaqkween
I used vanilla vegan protein drink instead of water. It added more calories, but I need to be on a higher protein diet. I also added more vanilla for a wonderful taste to the waffles as well as 2 Tablespoons of ground flax. Next time, I will do the canola because I think the recipe will be just as tasty without the butter. The waffles were a little heavier because of the protein drink, but I was able to get a crisp texture. Very excellent taste! I am so happy with it!

Comment submitted: 5/3/2015 (#19395)



From Y.K.T.S.
Good recipe.

Comment submitted: 12/19/2014 (#19157)



View all 60 comments for this recipe.



---
Connect With Mr Breakfast: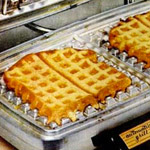 Bread-N-Butter Waffles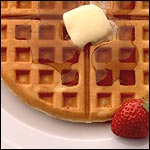 Reliable Basic Waffles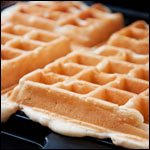 Cinnamon Waffles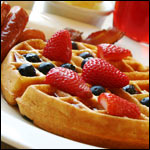 Whole Wheat Waffles

When's the last time you had breakfast in a cup made of bacon?
Click here
.