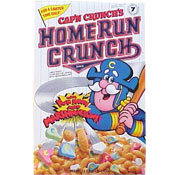 From: Quaker
Introduced in 1995
Cap'n Crunch's Home Run Crunch is a seasonal limited edition cereal that's been on shelves in 1995-96, 2007-08 and 2016*. When first introduced, the cereal box announced that it had "fun shapes and marshmallows!" The main cereal pieces, which tasted like traditional Cap'n Crunch cereal, were tan and shaped like bats and balls. The marshmallows were white home plate bits and multi-colored baseball caps and pennants emblazoned with the letter "C".
When a 2007 version of the cereal came out, the marshmallows were gone, the bat and ball pieces became green and red and traditional Cap'n Crunch pillow-shaped pieces were added to the mix. The version of the cereal that appeared in 2016 appears to be the same as the one from 2007, ie. no marshmallows. These later renditions of Home Run Crunch are considered by most to just be Cap'n Crunch with Crunch Berries cereal plus baseball bats.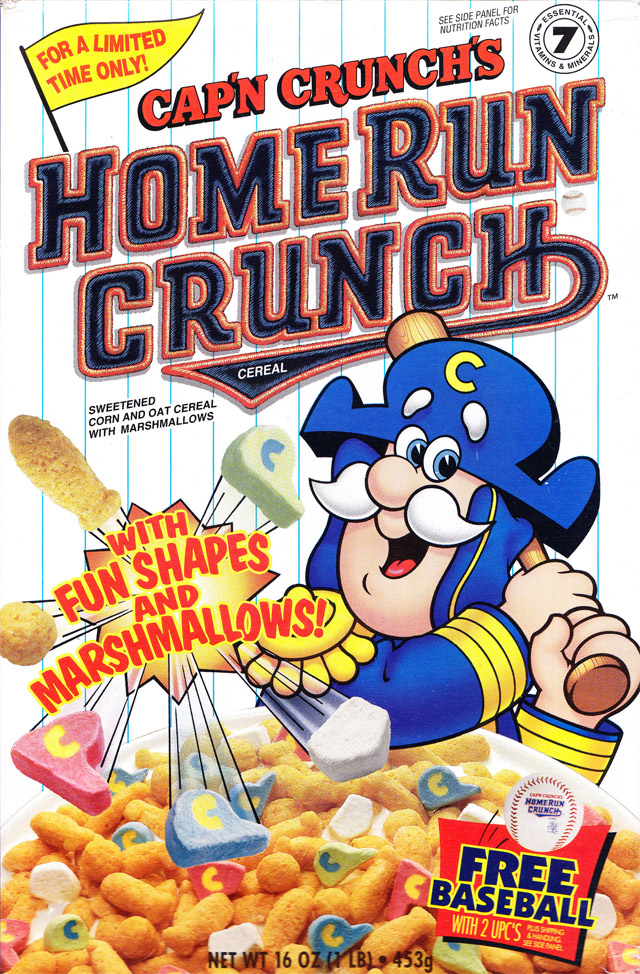 Every rendition of the box has shown Cap'n Crunch with a baseball bat swinging at either a ball or at pieces of the cereal.
The first 3 ingredients listed in 1995 were corn flour, sugar and dehydrated marshmallows. The first 3 ingredients listed in 2007 were corn flour, sugar and oat flour.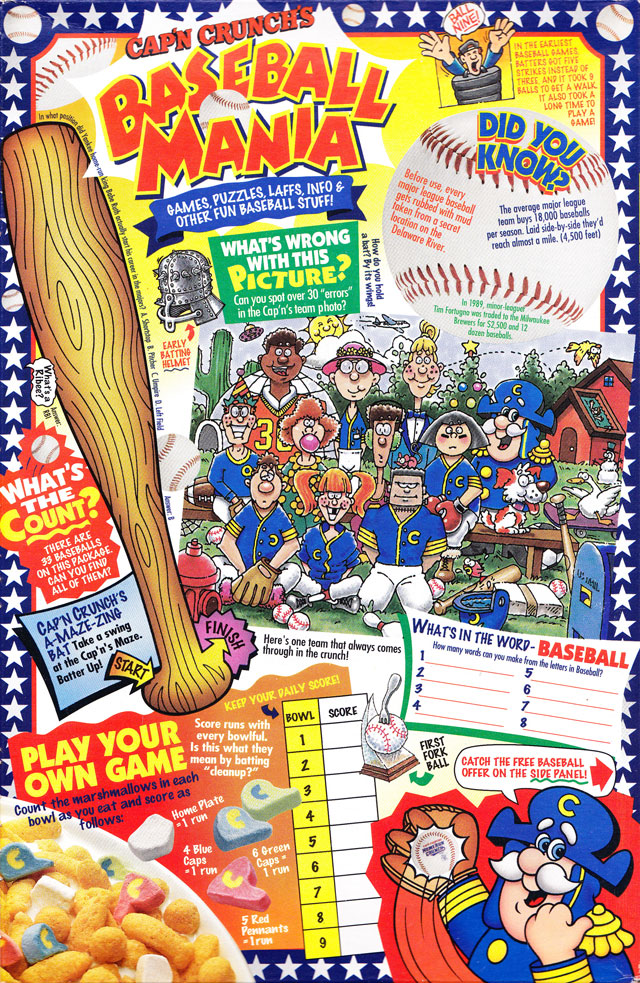 * We've received comments and emails that people also spotted Home Run Crunch on shelves in 2010 and certain other years. We've yet to confirm those reports.
Click here
to see all cereals from Quaker.
This cereal belongs to the following Mr Breakfast Cereal Families:

---
Home Run Crunch (Cap'n Crunch) Cereal Theater

Now Showing: 1995 Home Run Crunch Commercial
---
Additional Images
2008 Home Run Crunch Cereal Box
Submitter: leprican_katie
Uploaded: 5/20/2009
Additional details
1996 Home Run Crunch Cereal Box
Submitter: Mr Breakfast
Uploaded: 11/1/2008
Additional details
---
Comments About This Cereal
What do you think of Home Run Crunch (Cap'n Crunch)?

Overall Average Rating = 5 (out of 5)

By NaNaThompson126


| | |
| --- | --- |
| Cereal Rating (out of 5): | |

This is still the best cereal that was ever made. It crushed my soul to find that it was no longer available. Please BRING IT BACK! OR tell me how to get it!

Comment submitted: 3/21/2020 (#24999)



By Bubby


| | |
| --- | --- |
| Cereal Rating (out of 5): | |

Home Run Crunch Haiku: / I want Home Run Crunch! / Best Cap'n Crunch of the bunch / Best I've ever had.

Comment submitted: 4/8/2016 (#20170)



By B.B. Seazon


| | |
| --- | --- |
| Cereal Rating (out of 5): | |

I wish they would bring this cereal back!

Comment submitted: 6/19/2014 (#17211)



By Todaystheday


| | |
| --- | --- |
| Cereal Rating (out of 5): | |

Yummy! This is making me miss that flavor all the more! I wish they would bring the marshmallows back!

Comment submitted: 8/21/2012 (#8855)



By AttnDefDis


| | |
| --- | --- |
| Cereal Rating (out of 5): | |

That 2008 version just looks like baseball themed Crunch Berries. The original had marshmallows and was awesome. If they just had a Cap'n Crunch cereal with marshmallows all the time, I'd be set. It doesn't have to be baseball themed.

Comment submitted: 9/1/2011 (#5210)



By Postman

I have seen it at Wal Mart just this week.

Comment submitted: 7/30/2010 (#2546)



By Becca


| | |
| --- | --- |
| Cereal Rating (out of 5): | |

I wish this was still around... I still crave it even though I haven't had it since I was a kid!

Comment submitted: 11/2/2009 (#850)



By Conversation La


| | |
| --- | --- |
| Cereal Rating (out of 5): | |

This was a convergence of irresistible flavors that was every bit as amazing as it sounds. Too sublime to last.

Comment submitted: 7/21/2009 (#264)