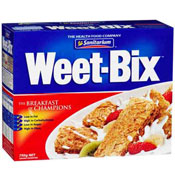 From: Independent / Undefined
Introduced in 1926
First there was Weet-Bix, which may have been Granose, then came Weetabix.
The original pressed wheat biscuit cereal originated in Australia in the 1920's. The cereal was invented either by a man named Bennison Osborne or a Melbourne baker named Edward Halsey.
Halsey's version of the biscuit was sold under the name Granose by the Sanitarium Health Food Company, a company founded by Halsey in 1898.
In 1926, a competing product began to appear in Aussie markets... a cereal called Weet-Bix from the Grain Products Company. Whether this biscuit was developed before or after Halsey's Granose is a point of debate. It's believed that the only significant difference between the cereals was that Weet-Bix contained malt and sugar for more flavor.
As for Bennison Osborne's contribution to the multi-named cereal, it is unclear. We found him listed as the inventor of Weet-Bix in multiple sources, but that's as far as it goes. There's no solid information connecting Osborne to the Grain Products Company, the first significant manufacturer of a cereal called Weet-Bix.
Further obscuring the validity of the one-true inventor of Weet-Bix is the fact that Edward Halsey and his Sanitarium Health Food Company bought Grain Products and the Weet-Bix brand in 1928, two year's after it first appeared. Under Sanitarium's ownership Granose biscuits disappeared and Weet-Bix lived on.
As for Weetabix, this version of Weet-Bix first appeared in the U.K. in 1932 with the formation of Weetabix Limited. According to Weetabix Limited, the company was founded by two South Africans.
Here's where things get wild. Remember Bennison Osborne, the man who gets a lot of credit for inventing Weet-Bix with very little supporting information?
We found one source - an obscure albeit well-written blog called "Antilag - Random rubbish from the motor sport world" - that connects Osborne to the U.K.'s Weetabix. According to Antilag, Osborne and a partner from New Zealand, formed the British & African Cereal Company Pty. Ltd. which was responsible for bringing the cereal, now called Weetabix, to England.
Weetabix Limited's website tells us that in 1932, Weetabix was "founded by two South Africans who introduced the Weetabix breakfast products to the UK."
Is it possible that one of these two South Africans was actually an Australian named Bennison Osborne?
As for Weet-Bix now, it is still considered one of Australia's most beloved cereals and it's still being produced in Australia by the Sanitarium Health Food Company.
In addition to an original version of Weet-Bix, Sanitarium offers 9 spin-off cereals (as of 2009). While the individual cereal are not included in the Mr Breakfast Database Of U.S. Cereals, you see the different varieties of Weet-Bix at
weetbix.com
.
Click here
to see all cereals from Independent / Undefined.
---
Additional Images
Weet-Bix 1960 Cavalcade Of Cars Box
Submitter: jeffrey
Uploaded: 12/10/2010
Additional details
---
Comments About This Cereal
What do you think of Weet-Bix?

Overall Average Rating = 4 (out of 5)

By slamdance


| | |
| --- | --- |
| Cereal Rating (out of 5): | |

Way better than the English version which has little taste.

Comment submitted: 6/9/2012 (#7959)



By bixxy


| | |
| --- | --- |
| Cereal Rating (out of 5): | |

I only like it with soy milk and sugar, otherwise it tastes fowl!!!

Comment submitted: 10/17/2009 (#759)



By wbix123


| | |
| --- | --- |
| Cereal Rating (out of 5): | |

Whats with the Mr. Breakfast? I laughed lol so random!!

Comment submitted: 9/7/2009 (#525)