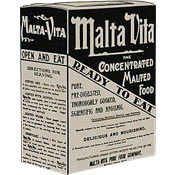 From: Independent / Undefined
Introduced in 1902
From the Battle Creek Pure Food Company (later known as the Malta Vita Pure Food Company).
Malta-Vita was a wheat flake cereal sweetened with barley malt syrup. It was developed by baker Jesse D. Bordeau who infused a recipe similar to Dr. John Harvey Kellogg's Granose Flakes with a malt extract.
An advertisement parading as an article in the July 19, 1902 New York Times described the the way the cereal was made. "Malta-Vita is a wheat product, thoroughly impregnated with the diastase of malt. It is cooked and semidigested."
According to an ad in June 24, 1902 issue of The New York Times, "Half the work and worry of a housewife's life is removed when she introduces Malta-Vita into the family. Malta-Vita is the perfect food; perfect in taste, perfectly cooked, and perfect because Malta-Vita contains all the elements necessary to sustain life and invigorate both mind and body. Malta-Vita requires no cooking and is relished by old and young, sick or well. Malta-Vita and fruit, with cream and sugar to taste, makes a delightful Summer diet and removes all necessity for building fires to insure a palatable and pleasant meal."
The packaging for Malta-Via contained claims even bolder than their advertisements. "Malta-Vita is the only food containing all the elements in their proper portions necessary to support the human system, the phosphates or brain makers, the nitrates or muscle makers, the carbonates or heat makers..."
The Malta Vita Pure Food Company went out of business in 1916.
Click here
to see all cereals from Independent / Undefined.
---
Additional Images
---
Comments About This Cereal
What do you think of Malta-Vita?
By HappySwordsman

I wish I could try some of these long-defunct Edwardian cereals. If the recipes still exist, they might make an interesting novelty.

Comment submitted: 12/8/2014 (#18155)