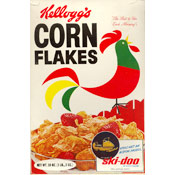 All Comments For
Average Rating = 5 (out of 5)
13 comments



By Emmish




Weren't these corn flakes originally invented to try and stop people masturbating... Read about John Harvey Kellogg. Fascinating stuff.

Comment submitted: 8/23/2017 (#22163)



By Postman




Yes, simple is better. Corn Flakes are simple but really delicious. Most of the new cereals introduced today have way to many things in them. Although Post Toasties were my favorite corn flake, Kellogg's Corn Flakes are really delicious.

Comment submitted: 2/7/2017 (#21359)



By K.G. Jean




I have the regulator clock that was on the front of a Kellogg''s box. Can't find it in your picture collection. Do you have a picture of it please? - Jean

Comment submitted: 7/26/2016 (#20619)



By Holly M.




My grandmother's grandmother (1915 or so) sent in 50 cents and 2 box tops and Kellogg's sent a child's Tea set. It was carnival glass. What company made these for Kellogg's? It looked very nice in the box. Kellogg's invited my Grandmother to come and take a tour and said they had one in the vault in 1982. Thanks!

Comment submitted: 8/21/2015 (#19365)



By big mac




Great cereal. I have eaten this stuff for years. Good stuff!

Comment submitted: 9/17/2014 (#17687)



By delroy




I remember the 'ooooooh that's corny' corniest Kellogg's Corn Flakes jingle from the 60's. We had it here in Australia. Used to collect the plastic cowboys and native Americans, build the forts, stores, etc on back of box. Sent money to get the stagecoach and horses. Those were the days.

Comment submitted: 8/13/2014 (#17494)



By C.H.G.

I have an old ad for Corn Flakes and can't find it anywhere... It has a blonde little girl with real crazy hair on it and there is a tiny box of corn flakes beside her and W.K. Kellogg on the box.

Comment submitted: 6/20/2014 (#17220)



By larry




This is another of my favorites. It's classic and simple and I like it!

Comment submitted: 7/11/2013 (#12740)



By T.B.




I love this cereal so much.

Comment submitted: 4/3/2013 (#11503)



By Ernie




The perfect breakfast cereal.

Comment submitted: 7/14/2012 (#8469)



By Drury




Noting like that first bowl from a newly-opened package. A classic.

Comment submitted: 5/13/2011 (#4832)



By peasoup




This is the best cereal I have ever had. Good job Kellogg :) Keep up the good work :)

Comment submitted: 3/23/2011 (#4186)



By Pounce

Sometimes simple is best. After not having simple cornflakes for some weeks, it's always great to have them again - so good with a teaspoon of sugar.

Comment submitted: 10/16/2009 (#748)