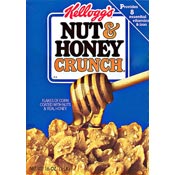 All Comments For
Average Rating = 5 (out of 5)
25 comments



By Monkees Lover




It's back! However, it's been rebranded as 'Honey Nut Frosted Flakes' complete with Tony the Tiger on the box.

Comment submitted: 4/27/2019 (#24122)



By Dianecgb (Team Breakfast Member)




I want them to make this cereal again! I miss it so much. I do not know why it was discontinued? This was by far the best cereal. Please, please bring it back.

Comment submitted: 8/12/2018 (#23358)



By honey ivy




My brother and I concur with everyone here: Nut and Honey Crunch Corn Flakes are THE BEST EVER CEREAL hands down... no competition!

Comment submitted: 4/23/2018 (#22959)



By geatornez82 (Team Breakfast Member)

I've always loved the commercials for this cereal. My favorite was the one with the couple where the man is eating the cereal and the woman is playing the piano. 'He lies like a dog.'

Comment submitted: 1/15/2018 (#22616)



By Twee




I miss this cereal so much. I've tried all similar types of cereal but nothing compares.

Comment submitted: 8/28/2017 (#22178)



By C.J.




I frequently look for this cereal at local grocery stores but haven't seen it in several years. Many years ago on the back of the box, it featured a recipe for Tin Roof Sundae Pie. The crust was made from the cereal mixed with light corn syrup and peanut butter, then filled with ice cream and topped with chocolate covered peanuts and chocolate syrup. It is the best ice cream pie ever! I haven't been able to find a suitable substitute cereal because this particular cereal had peanuts on the flakes of cereal. Would love to make that pie again for a summertime treat!

Comment submitted: 6/29/2017 (#21958)



By spiraldawn




I loved this cereal. I used it as a must have ingredient for coating my oven baked chicken, pork chops, fish, etc... I really miss it.

Comment submitted: 6/9/2017 (#21883)



By CB7Mom




This was my favorite cereal. Absolutely nothing tastes as good. Why was it removed from the grocery store shelves? Who makes these decisions, anyway? What kind of market research was done to render its removal? Come on! Reconsider and please produce this cereal, once again.

Comment submitted: 3/25/2017 (#21544)



By Soog




This gets my vote for the very best cereal ever!

Comment submitted: 3/7/2017 (#21457)



By Jeez




This was the only cereal I would buy and eat. Really miss it. Have not seen Honey Nut Crunch.

Comment submitted: 7/26/2016 (#20620)



By Missing Nut




Why, why WHY was this great cereal discontinued? Is there anywhere I can buy it?

Comment submitted: 4/21/2015 (#18926)



By Dean




When I was a kid, I used to eat this every Saturday morning while watching cartoons. The commercial (aimed at kids) would always come while I was eating, it seemed. I always thought that was cool.

Comment submitted: 12/20/2012 (#10174)



By Shawanda (Team Breakfast Member)

I like the new Crunchy Nut cereal but it is nothing like the old brand. I guess the ingredients have changed.

Comment submitted: 10/14/2012 (#9502)



By finallyfoundit

Oh thank goodness for new Crunchy Nut. I LOVE this cereal. It's pretty much the same.

Comment submitted: 6/30/2012 (#8224)



By Tom6




The best tasting cereal of all time. What doofus decided to change it? Must work for Coke now.

Comment submitted: 1/18/2012 (#6224)



By Calilove82




I used to love this cereal as a child and I have not seen it in a while. I still have been looking for it over the years and even told my husband about it who had no clue what I was talking about. I have tried different types as a variation and none ever came close. I am glad I found an alternative thanks to you.

Comment submitted: 12/27/2011 (#6060)



By Jawz




I pretty much agree with every comment up here and I am going to have to look for Crunchy Nut.

Comment submitted: 12/6/2011 (#5906)



By K.G.3.




Best cereal ever!

Comment submitted: 4/10/2011 (#4632)



By moresa (Team Breakfast Member)




This was the best cereal. I was very disappointed when I could not find it anymore. I looked for this cereal for more than a year every time I went to any store. Now I have it again in the form of Honey Nut Crunch. You have never seen a grown woman get so happy When I saw the commercial I ran out and bought 4 boxes. It is the best cereal I have ever eaten. Do not ever stop making it again.

Comment submitted: 2/20/2011 (#3968)



By TwoPynts (Team Breakfast Member)




I have fond memories of eating this in the 80s. I'm glad they brought it back under a new name.

Comment submitted: 2/10/2011 (#3882)



By dana41231 (Team Breakfast Member)




Yep, just bought some Kellogg's Crunchy Nut. It's good but not as good as I remember.

Comment submitted: 2/8/2011 (#3867)



By jaebello1 (Team Breakfast Member)




They make a newer version now called Kellogg's Crunchy Nut!!

Comment submitted: 1/17/2011 (#3621)



By heidi

They now have a "Crunchy Nut" cereal that is the same I think.

Comment submitted: 1/16/2011 (#3614)



By WoWGal79




This cereal was sooooooo good - wish they still made it!

Comment submitted: 11/17/2010 (#3293)



By tonto




The commercials for this cereal were actually very funny!

Comment submitted: 4/27/2010 (#1995)