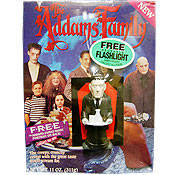 All Comments For
Average Rating = 4 (out of 5)
20 comments



By Dino Bravo




Still remember the taste of it to this day. One of the best.

Comment submitted: 3/1/2019 (#23982)



By P. Crackers




Pretty much what everyone else is saying... this was the best cereal EVER! Ralston made all of the best cereals. I recall this one tasting just like Dunkin' Donuts cereal.

Comment submitted: 7/24/2016 (#20611)



By Jeff H.




This was the #1 best cereal ever made! I can still remember exactly how it tasted and I miss is SO much! It would be so awesome if it brought back, as whatever 'brand' they want, as long as it tastes and feels the same.

Comment submitted: 3/18/2015 (#18762)



By Kaboodle Doodle




This was one of my favorites from the early 90's.

Comment submitted: 9/15/2013 (#14027)



By K.Y.




I remember this cereal for some reason. I was 4 or 5 at the time.

Comment submitted: 6/27/2013 (#12568)



By Bosslady96 (Team Breakfast Member)




Omg! I loved this cereal!!! Would eat a entire box while watching Saturday morning cartoons. With or without milk it was really good! Please please please bring it back!

Comment submitted: 11/19/2012 (#9973)



By F.O.X.




Please bring this cereal back! It was so good, milk or not! Would eat a whole box every Saturday morning!

Comment submitted: 11/19/2012 (#9971)



By Keyes




Please release this cereal again. I can't remember exactly how it tasted, but I do remember that I liked it A LOT.

Comment submitted: 8/1/2012 (#8685)



By AA6




I loved this cereal.

Comment submitted: 5/8/2012 (#7588)



By drwholives (Team Breakfast Member)




Please bring this flavor of cereal back. I was an addict when I was a kid, and couldn't get enough of it. I used to eat an entire box on a Saturday morning.

Comment submitted: 1/19/2012 (#6229)



By Matty G.

Very cool. Going to eBay now to look for a "Thing Flashlight". Loved the Addams Family (TV Show, not so much the movie).

Comment submitted: 9/2/2010 (#2783)



By Rosered




Amazing cereal, couldn't get enough of it, wish it would make a comeback.

Comment submitted: 8/27/2010 (#2728)



By mart




That is JUST WHAT WE NEED... Mart

Comment submitted: 8/24/2010 (#2709)



By Jelli




I remember this stuff tasted like pure maple syrup. I hated that stuff but I loved the Cousin It flash light.

Comment submitted: 7/1/2010 (#2386)



By BenPanced (Team Breakfast Member)




I remember trying it when it first came out (hang on to the intact boxes with flashlights still on them, if you have them. It was incredibly difficult finding a box that didn't have the cellophane wrap torn open and the flashlights stolen!) I described the two flavors as "chocolate" and "brown".

Comment submitted: 4/25/2010 (#1977)



By esam1

I want to try this cereal. Was it good?

Comment submitted: 3/20/2010 (#1647)



By Roxie Katz

I have an unopened box of the stuff. I bought it just because I LOVED Raul Julia. I can only imagine what it looks like inside now...

Comment submitted: 10/15/2009 (#743)



By CactusHeart




Wow, did I EVER have a love/hate relationship with THIS cereal *LOL* I love the Addams family, but didn't know what to make of the cereal...the flavor was kind of, well, WEIRD. *LOL* But then it's the Addams family, so where's the surprise there? *lol* The colors were off-putting. The fruit flavor combination was so out there it borderlined gross...yet...for some reason I couldn't stop eating it *LOL* Sadly, by the time it was discontinued, I was hooked *lol* I bothered the heck out of my uncle to buy as many boxes as he could at the closeout store.

Comment submitted: 9/23/2009 (#611)



By coolie

I'm a little young so I've never heard of that cereal but it seems cool.

Comment submitted: 8/22/2009 (#364)



By Lisa




Oh my God!!! I used to eat this cereal all the time. And I have that Lurch flashlight! Oh, wonderful memories. ^_^ <3

Comment submitted: 2/17/2009 (#55)