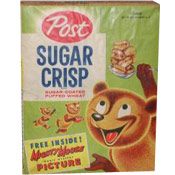 All Comments For
Average Rating = 4 (out of 5)
30 comments



By kevin17




The taste of Sugar Crisp has changed for the worse recently. It used to be my favorite cereal, but not anymore!

Comment submitted: 6/18/2017 (#21918)



By Fozzybear

I just want to know when Sugar Crisp became Golden Crisp.

Comment submitted: 4/20/2017 (#21651)



By T. Kreinen




Always one of my favorites as a kid.

Comment submitted: 9/29/2016 (#20894)



By oldschool




Aldi Foods has a cereal called Honey Wheat Puffs which is exactly the same as Sugar Crisp and only costs about $1.90. My grandkids won't eat it but I love it. Like the old commercial said, it's handy, dandy and you can eat it like candy which is what I'm going to do when I'm done typing this.

Comment submitted: 1/10/2015 (#18342)



By Joanne




Who was the little boy who played Christopher Wheat in the series of Post Sugar Crisp commercials in the late 50's, early 60's? Also, who was the little girl who was always crying for help before Christopher came to the rescue? Does anyone know their names and if they did any other work in TV or the movies besides this series of commercials, which I believe were 5 in all?

Comment submitted: 1/26/2014 (#15831)



By Phil G.




I loved it when I was a kid (I'm sure my dentist loved it too), and still treat myself to a box every now and then 50 years later.

Comment submitted: 1/10/2014 (#15693)



By Leesh75




Thought we were the only family to still have the musical sugar bear ornament. I remember taking it out of the box in 1986 or 87. Ours still sings and my mom still hangs it on the tree.

Comment submitted: 1/8/2014 (#15665)



By Lee

How do I replace the battery in the Sugar Bear ornament? I love that little guy, but he won't play any more. Still hangs on our tree, but silent.

Comment submitted: 12/30/2013 (#15606)



By SugarBearMom




We have had Sugar Bear on our family Christmas Tree for decades! He's just started winding down and we miss his singing Jingle Bells. Thanks BearDoc for the info on the replacement battery needed! Sugar Bear will get surgery within the week and we will enjoy him for a few more decades!

Comment submitted: 12/5/2013 (#15464)



By Paul in NJ




No one's commented on the voice actors yet. I'm pretty sure that Granny Goodwitch was voiced by June Foray.

Comment submitted: 9/16/2013 (#14057)



By M.L.E.

My supermarket doesn't stock Sugar Crisp or Golden Crisp cereal. Where can I find it? I'm in Wilmington, NC.

Comment submitted: 1/14/2013 (#10375)



By BearDoc

I could have sworn that the Sugar Bear musical ornament came out well before 1989. Anyway last year mine finally stopped playing and today I completed open heart surgery on Sugar Bear. He is once again fine (with replacement batteries Energizer 392/384 which replaces the original 192.) and will probably be playing music long after I am gone. Long live Sugar Bear, a Christmas little thing that has become a family favorite!!

Comment submitted: 1/2/2013 (#10272)



By crzy_bss19 (Team Breakfast Member)




Old Timer - Yes, Golden Crisp is the same as Sugar Crisp! There is also Honey Smacks which is also a sweetened puffed wheat cereal that is practically that same! Enjoy!

Comment submitted: 10/5/2012 (#9350)



By old timer

I am 66 yrs old and my doctor recommended that I eat cereal every morning. I have looked in every store for Sugar Crisp. I even ask customers if they remember it. Last night, I was shopping, and I asked a customer if she remembered it. Please tell me if the new Golden Crisp is the same as Sugar Crisp. I don't want to try to find it and not like it. I have been craving Sugar Crisp, and I can even taste it. So I would like to hear from you. Thank you.

Comment submitted: 6/5/2012 (#7921)



By andyfjr51 (Team Breakfast Member)




The bottom ad for Post Sugar Crisp - the bears were drawn by Whittney Darrow Jr. who drew cartoons for the New Yorker Magazine. Ed Graham upscaled one of the bears a.k.a as Sugar Bear and was on the Linus the Lionhearted show.

Comment submitted: 3/31/2012 (#7008)



By Mochamunchies89 (Team Breakfast Member)




I think this is my mom's favorite cereal because every time I have a box she eats my cereal and a few days later my box is empty. I love this cereal. But I can no longer find it at Safeway. The only places I know that sell it are Giants, and maybe Fresh and Greens... oh and Shoppers might have it. Shoppers always has all the cool yummy cereals.

Comment submitted: 2/3/2012 (#6408)



By T.T.




I just read the comment from Paw Paw about the musical sugar Santa bear he got in 1989. I also got one of the Santa bears in a box of cereal in 1989, and he still plays the three songs like it did back then. These bears were made to last. I've been enjoying mine every year and hope he lasts for another 22 years. T.T. in Texas

Comment submitted: 12/18/2011 (#5989)



By Papaw

Shortly before Christmas 1989, we bought a box of Sugar Crisps in an Army Commissary in Utah. The box contained a Sugar Bear Musical Ornament. Sugar Bear is dressed in a Santa Claus suit. Well here it is Christmas-time 2011. It is 22 years later and we still have it and the music still plays. By the way, it plays jingle bells. I find that simply amazing. I just thought I would share this with you.

Comment submitted: 11/28/2011 (#5837)



By Cincinnati Kid (Team Breakfast Member)




Long before "Sugar Bear" came along to tout this cereal, there were three little bears in the ads. One would say, "For cereal, it's dandy" while another would state "for snacks, it's so handy" and the third would remark, "or eat it like candy". There seemed to be no concern for promoting the sugar content of the product.

Comment submitted: 6/3/2011 (#4978)



By ageless kid

The strangest thing about this product is that I remember... in 1967... Post put the word "Super" on top of the "Sugar Crisp" name, then put an "X" over the "14" in "14 ounces" and replaced it for this box with "now 15..." to show that the package contains "15 ounces" and finally... this sign on the front of the box made it look to me like the cereal was "vitamin new" because they added more vitamins to the product.

Comment submitted: 1/26/2011 (#3715)



By cerealman

I live in Jacksonville, FL and can't seem to find Sugar Crisp cereal anywhere. I've been to Publix, Winn Dixie, Walmart. Anyone out there know where to get them?

Comment submitted: 1/18/2011 (#3635)



By frustrated

My comments are: What the "H" are you doing to my cereal? The prices have gone sky high and you took the Jumbo size off the shelves and are trying to gouge the consumer by selling a smaller box for the same price as the Jumbo box and call it "Family Size". Who is the Rocket Scientist that thought that one up? I feel gouged!!!! - Can't afford this favorite anymore! Frustrated in Alberta Canada

Comment submitted: 1/14/2011 (#3588)



By Hayti




I remember when this cereal first came out in 1949. I was 11 years old and we shopped at a Kroger Store down in the bootheel town of Hayti, Missouri. The store gave away free samples of Sugar Crisp for a few days and I thought it was the best tasting cereal ever. A cereal already covered with sugar - Wow - I loved it. Don't know what made me think of it, but I looked it up, and there it is - And now I remember the Sugar Bear commercials. Nostalgia.

Comment submitted: 1/3/2011 (#3518)



By lucy brown (Team Breakfast Member)




I wish the days still lived... that for sharing!

Comment submitted: 12/8/2010 (#3404)



By Q4Jeffery

Hi jeffery i was hoping you could tell me if the sugar crisp bear came in the pink & blue creamer like the bear sugar shaker I know the clown came in the pink blue creamer. My wife had it as a child and can't remember and is on the hunt for it. thanks.

Comment submitted: 10/16/2010 (#3045)



By Post lover

Golden Crisp is alive and well! In fact Sugar Bear has just undergone a character redesign in the states and will be making his debut on boxes in a few months! The box backs will have a special tribute to Sugar Bear's history so keep an eye out for this special collector's box.

Comment submitted: 3/7/2010 (#1560)



By Little Bob




I still love it!

Comment submitted: 2/3/2010 (#1349)



By SK-Canada




This is one of my favorite cereals! I have not been able to find it on the grocery store shelves for 2 months now. I live in SK, Canada. Did they quit making it?

Comment submitted: 1/28/2010 (#1321)



By bonita




Almost as good as Honey Smacks!

Comment submitted: 1/25/2010 (#1284)



By Sjors




A litle too sweet but otherwise a very good cereal.

Comment submitted: 10/30/2009 (#835)