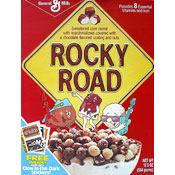 All Comments For
Average Rating = 5 (out of 5)
48 comments



By That Guy McFly




Gawd I REMEMBER this! :-) And KaBoom!

Comment submitted: 10/14/2019 (#24605)



By GalaxyCat




This was my favorite cereal as a kid. Every time my mom took us to the market for shopping, I'd go and get my cereal. One day we went for groceries and it was gone. My mom said, sorry I guess they don't have it anymore. So I had to find another cereal to grow up with. I don't know why they pulled it but even as of now as an adult, I'm a little frustrated on why they pulled it when other cereals that started are still being sold today. General Mills should bring it back. Cereal is like a mixture of Kix, Coco Puffs and their own concoction of cereal bits.

Comment submitted: 4/11/2019 (#24084)



By Watts




This is in the top 5 of my cereals from the 80's. It was one of the best tasting cereals from the 80's.

Comment submitted: 2/27/2019 (#23978)



By Sasha Bedinfeld




This and NERDS... Man, I was in the 5th grade in 1985... loved these cereals... still think about them when buying cereal. I miss everything about the 80s.

Comment submitted: 11/24/2018 (#23725)



By trixie




I loved this cereal growing up. I wish they would bring it back.

Comment submitted: 11/3/2017 (#22396)



By DSHinNC1969




So many people, like myself, want this cereal brought back. Why won't they?

Comment submitted: 8/17/2017 (#22146)



By The Ritty




I COMPLETELY forgot about this cereal until just now. I voted for this one. It was AMAZING. As a Canadian back in the 80's and early 90's, people loved going across the border to the states to shop etc... before the US became 'hated'. I always brought this cereal on the trips we would take to the US. We had nothing compared to the states' cereal until free trade. Like you'd see all these commercials for cereals and we never get them. It sucked. Then TV specials and movies, videos etc, etc... some cartoons didn't come on... but anyways, this one was the bomb.

Comment submitted: 1/2/2017 (#21184)



By Dawnitablue (Team Breakfast Member)




I looked forward to when my parents would splurge on this cereal for us. I wish they would bring it back!

Comment submitted: 8/1/2016 (#20648)



By Gary-5




This gets my vote for the GREATEST cereal in the world. Please bring back Rocky Road cereal!

Comment submitted: 7/24/2016 (#20609)



By RockyRoadFan




Funny story about this cereal... I remember being in 5th grade and my teacher asked me what I ate for breakfast because I was seeming more alert (or maybe just more hyper from the sugar buzz) so I told her 'Rocky Road Cereal' and the whole class started laughing. Not sure why it was that funny, maybe the other kids were eating boring cereal but I was proud of my Rocky Road and that it woke me up in the mornings. My sweet tooth isn't the same now so I probably wouldn't buy it now, but it was great fun back then.

Comment submitted: 6/21/2015 (#19148)



By A.M. Memories




Loved this cereal! I remember losing a tooth on it! Bring it back and then leave me alone with Saturday morning cartoons!

Comment submitted: 3/28/2015 (#18818)



By Ian




It's pretty safe to say that if I'm on a web page discussing Rocky Road Cereal, that I wish they would bring this stuff back. I remember being highly upset when it was no longer at the store.

Comment submitted: 2/16/2015 (#18546)



By mia80 (Team Breakfast Member)




Please make this cereal again. I loved this when I was a kid. I want my children to eat what I did. It's easily the best cereal ever made.

Comment submitted: 2/15/2015 (#18539)



By T.M. Money




Best cereal ever! I remember asking for this when I was 5 in 1987. I couldn't get enough!

Comment submitted: 12/9/2014 (#18165)



By ToujoursRed




I still have a couple of stickers that I got from the box :)

Comment submitted: 9/2/2014 (#17607)



By Leadbelly




I miss it so much! Please bring back Rocky Road Cereal.

Comment submitted: 8/31/2014 (#17593)



By Flexxdd




I would quite literally kill to bring this cereal back. It was the best part of childhood. I would eat a box by myself and I knew the consequences. Even without milk. Please oh please reunite me with this amazing cereal!

Comment submitted: 8/5/2014 (#17459)



By RIP




It's definitely time to bring this back. There's a whole generation of kids that need to experience the best cereal ever!

Comment submitted: 6/19/2014 (#17212)



By j3px1 (Team Breakfast Member)




This was awesome. I could enjoy each of these ingredients as a cereal on its own. I mean the marshmallows alone, the vanilla puffs alone, or the chocolate puffs alone. In fact, if they resold them separately, I would buy them!

Comment submitted: 2/18/2014 (#16104)



By Bucksky11




It was more like a dessert than a breakfast but it was delicious. This stuff was seriously sugar-coma inducing!

Comment submitted: 9/17/2013 (#14100)



By Cookie Bear (Team Breakfast Member)




It was the chocolate and nut coated marshmallows that made it special. The rest was just a mixture of Kix and Cocoa Puffs.

Comment submitted: 8/21/2013 (#13367)



By smackdad1979




This gets my vote for the best cereal ever.

Comment submitted: 8/4/2013 (#13068)



By Carli Romano




Bring this cereal back!

Comment submitted: 7/28/2013 (#12981)



By RandiHook




Bring it back now! Smorz cereal is kind of like it, but nowhere as good.

Comment submitted: 7/27/2013 (#12967)



By rockyroad (Team Breakfast Member)




Why do they always discontinue the good stuff! They must not like making money. I would eat the whole box myself when I was a kid and would again even though I can no longer drink milk. 5 stars from me and then some! P.S. VP of sales and marketing... don't be scared. There's a good market out there for people with the munchies. Gotta take a risk!

Comment submitted: 2/23/2013 (#10989)



By J-Bear




I have very fond memories eating this cereal as a kid. Wish they still made Rocky Road so I could try it again.

Comment submitted: 10/25/2012 (#9693)



By skydivedoc




I bought some Rocky Road ice cream today and all I could think of is this cereal. Please, oh puh-LEEZE bring it back!

Comment submitted: 10/10/2012 (#9424)



By Jrod




This was a cereal that will always be remembered forever. I loved it back in the 80's and wish my kids can experience it also. Miss it.

Comment submitted: 10/2/2012 (#9307)



By drgnopt (Team Breakfast Member)




I remember this cereal from being a kid, I'm now in my mid 30's and still remember it because it was that incredible! Please bring it back!

Comment submitted: 9/15/2012 (#9134)



By mygirls




My oldest son lived on Rocky Road, and my daughters never had the opportunity to taste it... Really should bring it back, even for a little while, just so other kids can try it... it amazes me that all the popular kids cereals just disappear from the market... bring Rocky Road back!

Comment submitted: 7/23/2012 (#8575)



By Kevin L.




With the huge popularity of Reese's Puffs cereal these days, I can't believe Rocky Road isn't around to be a fierce competitor. +1 vote to bring it back!

Comment submitted: 6/24/2012 (#8170)



By Tan3@yahoo.com (Team Breakfast Member)

Please bring back Rocky Road cereal. It's the best. My daughter would eat almost a whole box when she was small. I tasted it and fell in love with it, too. Get it back...

Comment submitted: 5/26/2012 (#7773)



By Tink70




I was just telling my kids about this cereal the other day. If there is one thing I could have from the good old days it would be this. By all means bring this cereal back. Rocky Road is the BEST!

Comment submitted: 3/9/2012 (#6795)



By rowdy




Man! I used to fall in love with that cereal as a kid. One of my favorite cereals of all time.

Comment submitted: 2/2/2012 (#6398)



By omega-man




I have a fully sealed box of this cereal - please contact me at the-omega-man on Ebay should anyone wish to buy it!!!

Comment submitted: 1/1/2012 (#6099)



By D.A.X.




Oh wow... I LOVED this cereal when I was a kid. Would love for my kids to get to taste it!!

Comment submitted: 9/23/2011 (#5335)



By suga N.Y




Please General Mills - please bring back this cereal so that my kids can taste one of the best cereals of all times... how can we petition to get this cereal on the market even if its for a limited time only. We need to bring rocky roads back from the graveyards of cereals.

Comment submitted: 2/28/2011 (#4025)



By kingdomwarrior1 (Team Breakfast Member)




This was an excellent cereal!!! I wish this cereal will come back. I used to eat 4-5 boxes a month, but I didn't put on the pounds. LOL!!!

Comment submitted: 2/10/2011 (#3883)



By Schoms




No other cereal comes even close to Rocky Road. What other cereal can claim that, when the box was nearly empty and there was nothing but crumbs and half-pieces left, did one get excited to tip the box and empty those chocolate crumb pieces into their mouth. It was a fight for the cereal all the way to the bottom of the box! Ah, the memories...

Comment submitted: 2/2/2011 (#3791)



By ajkiii




The greatest cereal of all time!!! But good things never last just like Kaboom & Crazy cow.

Comment submitted: 11/22/2010 (#3325)



By the-omega-man




Easily the best tasting cereal ever.

Comment submitted: 8/22/2010 (#2698)



By Badgeroo




Best cereal ever!!! The amount my brother & I alone ate should have been sufficient to keep profits strong enough to keep it on the shelves forever!

Comment submitted: 8/5/2010 (#2589)



By luvmarshmallows




I loved this cereal. Especially the marshmallows!

Comment submitted: 6/27/2010 (#2361)



By jerel (Team Breakfast Member)




I wish we could still buy this as well... my all time favorite!

Comment submitted: 6/25/2010 (#2350)



By CactusHeart




I love love LOVE this cereal! I still remember it (and miss it) just as much now as I did back then. I remember how sad I was when it could no longer be found! I remember contemplating stealing the neighbor kid's box in an attempt to collect all of the glow in the dark stickers pictured on the back of the box *lol* Count Chocula is the closest thing to Rocky Road cereal, but it's not quite the same....and count chocula is my favorite cereal of all time, if THAT says anything to you *LOL*

Comment submitted: 9/23/2009 (#610)



By Keno




I loved this as a kid. My mom would also put it in little bags and pack it in my school lunch. Count Chocula has nothing on Rocky Road! They need to bring it back!!!

Comment submitted: 9/20/2009 (#597)



By keight




My favorite as a kid. Still looking for something like it, and disappointed that I haven't found it. :/ Bring it back!

Comment submitted: 8/15/2009 (#328)



By LDA




Best Cereal EVER! Bring it back please!!!

Comment submitted: 3/16/2009 (#82)