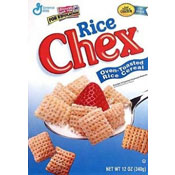 All Comments For
Average Rating = 4 (out of 5)
12 comments



By SpacePatroller




Comment under review by Mr Breakfast. Should appear within 24 hours.

Comment submitted: 10/3/2020 (#25550)



By larry




I've been eating Rice Chex since I was a little kid and I still enjoy it often.

Comment submitted: 7/11/2013 (#12750)



By L.M.




Rich Chex - my favorite cereal. (Corn Chex is my next favorite.) Great for breakfast, but I really like it for a mini-meal, tiny bowl of it with milk, between main meals. Nice as a dry snack. Holds up well even with milk. Perfect food for those with an upset tummy. Great snacky finger food for toddlers when served dry. Love the simple list of ingredients!

Comment submitted: 1/14/2013 (#10381)



By Postman




Rice Chex has only had 2 grams of sugar per serving. It's kind of high in sodium though.

Comment submitted: 7/11/2012 (#8437)



By MyEmptyCanvas (Team Breakfast Member)




To much sugar has to be added to this cereal to make it worth eating. (myemptycanvasreviews.blogspot.com)

Comment submitted: 6/21/2012 (#8129)



By Wessup?!




I have to put loads of sugar in this cereal to really enjoy it. It's pretty good though.

Comment submitted: 5/13/2012 (#7658)



By Postman




Regarding the Chex Scarecrow, I am not sure he had a name. I thought he looked like the scarecrow from the Wizard Of Oz. I still have my scarecrow also.

Comment submitted: 4/30/2012 (#7486)



By Billy




I have a Chex scarecrow and would like any help on his name and background (for bragging rights).

Comment submitted: 3/13/2012 (#6831)



By Benji

Where are Rice Chex manufactured? In what country?

Comment submitted: 2/26/2012 (#6625)



By dalereeley

I would like to know where I could get the bowls used in the latest commercial on TV. Thank you Send answer to my email at dalereeley@msn.com

Comment submitted: 11/30/2011 (#5851)



By peh6193 (Team Breakfast Member)

I have a Chex Scarecrow that is in good condition, even after all the loving I gave it as a child!

Comment submitted: 1/3/2011 (#3515)



By Quispy




I loved my Chex Scarecrow as a child. My wife found one on ebay and ordered it for me.

Comment submitted: 3/18/2010 (#1640)