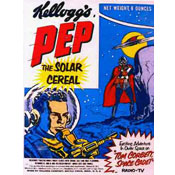 All Comments For
Average Rating = 4 (out of 5)
19 comments



By Daddy Breakfast

Great article! Using this for a school project! Thanks, Mr Breakfast! Have a great day.

Comment submitted: 1/27/2020 (#24836)



By Phuzzy




Light and flaky - not hard and crunchy like other flake cereals. Yes, it DID get MUSHY, but that made it even BETTER!

Comment submitted: 2/25/2018 (#22760)



By Pep Blondie

I'm looking for the Pep Blondies recipe. Does anyone know it?

Comment submitted: 7/14/2017 (#22009)



By jimb




Pep became a soggy mess in the bowl... like eating Cream of Wheat cold. We only bought it once and nobody liked it.

Comment submitted: 5/5/2017 (#21720)



By bohoki

After listening to the old Superman radio show, I really want some Pep. I want to know what it was like. Kellogg's said it was like the flakes from Raisin Bran, but I want a real report. And after listening to the old Dragnet radio show, it's a good thing Fatima cigarettes are discontinued or I might take up smoking.

Comment submitted: 3/13/2017 (#21485)



By D.D.C.

Vitamins for Pep / Pep for Vitamins / So the harder a wife works / the cuter she looks!

Comment submitted: 10/19/2015 (#19569)



By drummar8by2 (Team Breakfast Member)




Pep was my absolute favorite as I grew up in the late 50's and early 60's. I loved Pep... Cheerios too, but I loved Pep more... even better than Wheaties!

Comment submitted: 8/1/2015 (#19272)



By DJ8




I loved Pep. Didn't even have to put sugar on top. Better than Wheaties or any other flake cereals.

Comment submitted: 3/9/2015 (#18704)



By Collector

I just found a button featuring PEP Cereal inside a 1917 Brunswick wind up Phonograph and was wondering how old it was.

Comment submitted: 3/2/2015 (#18661)



By Army Vet.




I was in the Army during the 60's and had Pep wheat for breakfast every morning. Now I can not find it in the stores. Why is that? Did they quit making them?

Comment submitted: 10/13/2013 (#14978)



By Jerry S.




I enjoyed Kellogg's Pep with my breakfast as a child in the 1940's. The newer cereals contain too much sugar.

Comment submitted: 10/2/2013 (#14575)



By Papa Leonard




Pep was always my favorite through High School and then it disappeared.

Comment submitted: 2/24/2013 (#11000)



By Stu




I was kinda a Cheerios fan, still am at age 70. But in the late 1940's and early 1950's, Mom bought Pep, because they had the gizmo, magic eye... their ad screamed... "MAGIC EYE.... WHEN YOU BUY... PEP", I had to have one to go with my Ovaltine Cup, my 1 square inch of the Klondike (Shredded Wheat I think), my Hop Along Cassidy cap pistols, the whoever's glow in the dark belt, and confederate paper money. Dug around in the Pep box until the flakes were crumbs until I found the Magic Eye... it was kind of a hologram thing, cool if you are about 6 years old.

Comment submitted: 12/23/2012 (#10209)



By zach50




I liked Pep better than Wheaties.

Comment submitted: 12/19/2012 (#10163)



By peter darker




I think PEP was discontinued sometime around 1978-1980? I was still eating it then... GREAT cereal.

Comment submitted: 2/8/2012 (#6458)



By Louie7 (Team Breakfast Member)




Nobody SEEMS to know when PEP cereal was discontinued. But I can tell you that I was still buying it around 1974 in San Francisco. As I recall, it was a small box, and they were asking a dollar.

Comment submitted: 1/18/2011 (#3637)



By Lowell

I ate this cereal just to collect the different buttons or pins as I called them. I still have a small collection.

Comment submitted: 1/13/2011 (#3584)



By Jay




PEP was the only cereal I would eat as a kid. Put some sugar on it and sliced banana and it was great!!!

Comment submitted: 12/15/2010 (#3444)



By joebacon (Team Breakfast Member)




I remember this from the late 50s. Pep also sponsored the original Superman radio show with Bud Collyer as Superman. Lots of fun hearing the old time commercials!

Comment submitted: 11/4/2010 (#3214)