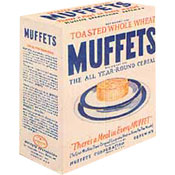 All Comments For
Average Rating = 5 (out of 5)
69 comments



By LB Seely




I have enjoyed Muffets for decades. We have been living in the US for about 20 years and have especially enjoyed Muffets as a taste from home (southern Alberta). So very sad to hear they are gone from the market. I hope we can persuade Quaker to bring them back.

Comment submitted: 9/10/2020 (#25489)



By Bozo




The Best!

Comment submitted: 8/26/2020 (#25447)



By Carolina




Why was it not advertised more as a nutritious cereal? Surely there was room with all the sweetened bars! I found it in the US under the name Barbara's in the Health Food section! Please bring it back!

Comment submitted: 8/16/2020 (#25422)



By Carebear




I cannot find it to purchase anywhere. Is it still available?

Comment submitted: 8/10/2020 (#25401)



By Jewel




I love Muffets Shredded Wheat Cereal. Just can't believe they were discontinued. Please Please make them again. They don't have all that sugar that most other cereals do. Just plain goodness. From Jewel in Canada.

Comment submitted: 8/8/2020 (#25394)



By Gus




Must have been too costly to produce. Is that right Quaker company?

Comment submitted: 7/17/2020 (#25359)



By Marlene




Iím 79 yrs. old & an insulin dependent Diabetic. This is the best cereal on the market & so sad to hear they are no longer available. Please bring them back for us many Diabetics who were so dependent on them.

Comment submitted: 7/6/2020 (#25338)



By Drury




I am afraid that Quaker informed me that they are no longer manufacturing the cereal. Very, very sad.

Comment submitted: 5/30/2020 (#25219)



By RolledWheatRock




I'm 60 and I ate Muffets since I sat over the forced air outlet and read the Saturday comics! My mom never let us have the sugary cereals so Muffets were very common. I got some at Real Canadian about 4 months ago but nothing since. Does Quaker just not make them any more? That would be a shame for many.

Comment submitted: 5/29/2020 (#25218)



By mini_meseeracin (Team Breakfast Member)




I am 59 and have been eating Muffets since I was 4 years old. I love them. They have no sugar great for diabetics like me.

Comment submitted: 5/4/2020 (#25125)



By Grain farmer




Since Muffets disappeared from the stores, I have found a few boxes in small independent general stores in rural Manitoba. I have stockpiled 8 boxes! Shredded Wheat is just not the same. Please bring Muffets back to the big chain grocery stores. PLEASE!

Comment submitted: 3/6/2020 (#24966)



By George




I used to buy 10 packages at a time and freeze them to eat gradually. Now the last box is gone and haven't seen them in the stores for months: No Frills, Rome's, Food Basics, Metro...???? Help! Bring them back! PLEASE!

Comment submitted: 3/4/2020 (#24958)



By old-hay-bales




Where is the original Muffets - the 'round hay bales' style?

Comment submitted: 3/4/2020 (#24956)



By v.e.




WHY is this cereal no longer available - ANYWHERE!

Comment submitted: 2/26/2020 (#24931)



By Ash




I've been trying to find it for about a year. I love the taste and texture and the fact that it comes without added sugar. I like mini wheats except the sugar ruins them.

Comment submitted: 2/26/2020 (#24930)



By Irma

Can't find them in Sobeys/Safeway. Need to get them in the stores.

Comment submitted: 2/24/2020 (#24924)



By spooks




When will Quaker Muffetts be available again?

Comment submitted: 2/19/2020 (#24907)



By CaptainLen




My Dad and I used to enjoy breakfasts every morning with a bowl of Muffets. After Dad passed, I continued eating Muffets every day and I still do at age 65 but now I can't find them anymore. This was the best breakfast cereal ever. Please bring it back.

Comment submitted: 2/10/2020 (#24880)



By hungering

I cannot find Muffets or Shredded Wheat in Amherst, NS for the first time ever... what gives?

Comment submitted: 2/5/2020 (#24866)



By Blandy




We cant find it anywhere in London Ontario, Canada. The staff say they cant get enough of it! The company say there is no demand for it. Get it on the shelves!

Comment submitted: 1/23/2020 (#24824)



By SandyVW




Ate these as a child... my favorite. My Mom would boil water and pour it on these round morsels and then drain them right away... then pour whole milk on them and top them with sugar. We would add fresh raspberries from our patch when they were in season. They are much more compact than the rectangle ones.

Comment submitted: 9/17/2019 (#24518)



By Ronny (Team Breakfast Member)




Love them, miss them greatly. As a child we would butter them then cinnamon and sugar. Probably the precursor to Mini Wheats but much better. Would love to be able to find them in Florida.

Comment submitted: 9/11/2019 (#24491)



By Paul A.




My favorite all time cereal, great nutrition, 'toasted perfectly,' stays crisp in milk, delicious. Hard to find now, so I buy a whole case when it is available. Quaker and Barbara's shredded wheat are the same thing I assume.

Comment submitted: 9/12/2018 (#23463)



By Budge




My husband and I bought Muffets at Sobeys in Sherwood Park, AB yesterday and enjoyed them today with nothing but good old milk added. We may add some blueberries or other fruit tomorrow. Yummy!

Comment submitted: 6/20/2018 (#23164)



By Davo




After opening package, found that box was at least an inch (2.5cm) short of filled. I consider that a deception and a form of theft! Cardboard and shipping space must be less costly to Quaker than wheat. Quaker may plead settling of product after packaging. Total rot! Wont be buying more, this after 70 years of patronage! - David.

Comment submitted: 3/19/2018 (#22843)



By cindy




Just had a bowl of Muffets with milk and brown sugar... yummy... we live in southern Ontario and purchase these at Giant Tiger... kudos to them for carrying them!

Comment submitted: 2/16/2018 (#22727)



By Careful Consume




I loved eating Muffets, until I read the following on the side of the box: "BHT has been added to the waxed paper envelope to help maintain freshness." Soon as I read that the food was in contact with BHT, I threw the package of the cereal in the garbage.

Comment submitted: 1/12/2018 (#22603)



By Leesa




Ate these as a kid. Always liked them better than the rectangular SW biscuits and thought they held together better. We buttered these generously, warmed them in the oven, than poured hot milk over. Still follow this recipe with Shredded Wheat rectangular biscuits to this day. Yum. Wish I could buy Muffets. Have to visit Canada I guess.

Comment submitted: 10/23/2017 (#22370)



By P.M.A.




Terrific shredded wheat cereal, nutritionally and a pleasure to eat - crisper than other shredded wheat cereals and 'roasted' just right!

Comment submitted: 7/8/2017 (#21986)



By ReetaAnita




I love them, but are they gluten-free?

Comment submitted: 5/6/2017 (#21727)



By Drury




We get them at Your Independent Grocer and Loblaws.

Comment submitted: 1/29/2017 (#21322)



By Suzy Q




We have loved Muffets since childhood but haven't been able to find them in Sobeys or No Frills in Brighton since November. Does anyone know where they are sold?

Comment submitted: 3/1/2016 (#20011)



By Rosy




I am so happy to find out how to eat these things. I bought them for the ingredients and then had mush in my bowl! So after reading your comments (thank you), I had a lovely breakfast... added blueberries and apple with the milk!

Comment submitted: 2/18/2016 (#19972)



By stonehenge




I also love them. Found them at an independent grocer in Peterborough Ontario Canada. Will still keep looking for them in Whitby as well.

Comment submitted: 2/7/2016 (#19946)



By Jim F.




Are Muffets shredded wheat still sold in Canada. I have been searching for months. - James Faulds, Pointe Claire (Montreal), Quebec.

Comment submitted: 11/13/2015 (#19663)



By Scampi G




I grew up on Muffets. They are much better then the competition! We would put the hot water on them then squeeze it out and add milk and sugar. 1950's version of a hot breakfast! Wish we could still get them in the US!!

Comment submitted: 2/2/2015 (#18469)



By C. Macgiver




Toured the plant in Niagara falls, Ontario as a kid. Just bought some Muskets at Sharps. Still great.

Comment submitted: 12/30/2014 (#18281)



By Yumarama (Team Breakfast Member)




Wow, sends me back a few decades. Had these a lot when I was a kid; we'd pour boiling water on a couple in a bowl, let them soften up a bit - not TOO much or they'd get all mushy! - then squeeze the water out by putting another bowl on top. Yes, we were handling boiling water as kids. I can actually "memory smell" them right now - how weird! Anyway, add some milk and brown sugar and eat away.

Comment submitted: 11/3/2014 (#17945)



By bill51

Rather than lamenting on the past, if this cereal means that much to all of you, why not send Pepsico/Quaker a message telling them how much you miss it and want to know when you can expect it to again start the US distribution of your favorite "Muffets?" Preaching to the choir will get you nowhere. Contacting the maker with enough mail may have a very positive result for American Muffet eaters. I sent mine! And while were on the subject of cereal... What happened to Kellogg's "Concentrate Cereal?" I could eat an entire box in one sitting. Well, perhaps two sittings.

Comment submitted: 10/21/2014 (#17885)



By chasmears (Team Breakfast Member)




Being sold in Canada. I have not been able to find them in the United States or on line. If anyone knows where to get them in Missouri or Kansas or on line, please pass on the information. They show up on Amazon, but not currently available.

Comment submitted: 5/28/2014 (#17107)



By Jack




My mom served me two of them with butter/sugar and warm milk. I still have my shredded wheat that way. I didn't know Muffets still existed?

Comment submitted: 5/22/2014 (#17087)



By gmaw




We still get Muffets at the IGA and love them. The only difference now in them and Shredded Wheat is that they are in paper packages instead of the cardboard that used to separate layers. Still love them though.

Comment submitted: 2/23/2014 (#16145)



By drury




There was a malted version. I contacted Quaker to see what happened to them, and was informed that they stopped producing them due to weak sales. A real pity. The regular ones are still wonderful!

Comment submitted: 9/8/2013 (#13846)



By RGS




I believe that there was also a malted version in the past. What ever happened to them?

Comment submitted: 5/24/2013 (#12166)



By LongView




I have had the jingle for the Muffets Shredded Wheat going on in my head for two days... don't know why: Is it long? (No, no!) Is it square? (No, no!) Is it Round? (Yes, yes!) Muffets Shredded Wheat! ... It was kind of Music Man chanted and only a bit of real singing at the end. Strange.

Comment submitted: 4/7/2013 (#11560)



By wayne n.

I bought a box of these today at my local Independent in North Bay Ont, it was like meeting an old friend. I thought they had quit making these years ago. Sounds like the stocking of Muffets is hit and miss with the grocery stores.

Comment submitted: 1/25/2013 (#10547)



By KRF




You can buy something similar at Whole Foods in the US. It's an all natural product called Barbara's Shredded Wheat. Same shape, same taste. Introduced my 9 year old daughter to them and she loves them.

Comment submitted: 1/6/2013 (#10302)



By georgdon (Team Breakfast Member)




I notice that this product has left the larger stores and I am unable to but it any longer. Is it still made as it is my favorite breakfast?

Comment submitted: 11/7/2012 (#9830)



By skittles76




This cereal reminds me of when i was a kid and my mom would feed us this in the morning after we went for a walk. It was usually served heated with milk because it was in the winter. It was like a warm hug and tasted so good! I have turned my husband onto them and we love them and eat them sometimes for supper if i don't feel like cooking... ;)

Comment submitted: 9/18/2012 (#9164)



By Jpgirl




Found Muffets at Giant Tiger in Manitoba Canada. Eating them for the very first time. Super good! Thank you :)

Comment submitted: 8/4/2012 (#8719)



By Lucky CA




I live in Canada and we are eating them this morning. YUM!

Comment submitted: 6/13/2012 (#7994)



By Connie W.




Muffets was my favorite breakfast food. I would like to know if it is still made? If so where is it available? I used to get it at a flea market here in California until late 1980 - early 90s, or on trips back to the Detroit area. Any information you can supply me would be appreciated.

Comment submitted: 3/21/2012 (#6916)



By Frury




The cereal is still available in Canada, and I suppose there are some mail-order places in the USA that would order it for people in that country. Would be worth it! I eat it almost every morning.

Comment submitted: 3/12/2012 (#6816)



By daizie

I have eaten Muffets for over 70 years - found them after a long spell of not finding them and now they are gone again. My father used to put milk on them and put it in the oven for a short time. I miss them. June Swint Geneseo Il. daizie@theinter.com

Comment submitted: 2/20/2012 (#6563)



By ricky

I have'nt seen Muffets on the market for many years but they were awesome. Where are they?

Comment submitted: 11/26/2011 (#5828)



By Jake

Do you have any recipes for cookies that contain Muffets? jeanannekirwin@shaw.ca Thanks. -JKK

Comment submitted: 5/17/2011 (#4865)



By Ageless Kid

This was changed to QUAKER SHREDDED WHEAT in the 1960's. It was round, not square like NABISCO or KELLOGG'S.

Comment submitted: 5/17/2011 (#4860)



By Carl




I am so disappointed that I don't see this cereal on the shelf any more - glad to learn it is still produced in Canada!

Comment submitted: 5/16/2011 (#4849)



By Drury




I love this cereal, too, and it is still available in Canada. A few years ago, they put out a malted version of it, and it was absolutely delicious.

Comment submitted: 5/1/2011 (#4763)



By Rusty




One of my favorites. All healthy ingredients. No salt, and no sugar. Hard to beat. - Oshawa, Ontario, Canada.

Comment submitted: 2/2/2011 (#3795)



By spashman




I've eaten Muffets for years and still do. It's my favorite.

Comment submitted: 1/19/2011 (#3659)



By Johnny




Of all the shredded wheat products, we have always enjoyed the Quaker Muffets most. However, they have not been in our stores for years. We sure would like to know where we can get them. No product currently marketed in our area even comes close. Will appreciate your response. Thanks.

Pastor John Weyand, retired
Fairfield Glade, Tennessee

Comment submitted: 11/1/2010 (#3188)



By love it (Team Breakfast Member)




I have eaten Muffet all my life and love it.

Comment submitted: 9/26/2010 (#2927)



By rbutler53




How much Potassium is in Muffets? I need to know as I am being prepared for dialysis. My email is rbutler53 at cogeco.ca.

Comment submitted: 8/5/2010 (#2597)



By Byron (Team Breakfast Member)

Breakfast has really gotten boring. Every morning I open the fridge and stare at the eggs and ponder? - boiled? - scrambled? - fried? - poached? And i try to get my head around - waffles? - pancakes? - brown toast? - white toast? (My neighbor across the street says he does the same thing some mornings and usually settles for 6 eggs in the blender with a half bottle of Tabasco and goes back to bed and starts his life over a couple of days later)

Then I open the pantry and study the row of Quaker oats - original, regular and variety pack that we love and trust, and a variety of cold cereals that have become about as inspiring as a bowl of purple cabbage.

Then one morning I was about to close the pantry door and go jog or something when suddenly a voice whispered in my ear (my right ear i think) and said "Grab that box of Quaker 100% Natural Whole Wheat Muffets, Homer, I got an idea".

I replied, "My name is not Homer, and you'll have to whisper a little louder, I got this hearing problem -- who is this"?

"Never mind Ho -- uh -- whatever -- go get a cereal bowl and place a muffet precisely in the center --- gently now - gently! -- that's it -- now squeeze a 4 second squirt of honey on the top and let it ooze down into the muffet for a minute".

"You sure you know what you're doing Voice"? I said.

"Shut up dude and pay attention".

"Ok, ok! what next"?

"Well I notice you have some fresh blueberries in your fridge and I want you to pick out 14 firm dry ones and encircle the golden brown biscuit with them" --- ah yes, that's it, good - good. Now grab one of those bananas and mash about a 2 inch length of it and spread it over the honey".

I followed "it's" instruction, then mustered up a look of incredible awe and said, "By golly Voice, that looks good! -- is that it? -- That''s your idea"?

A blast of hot, wet, air attacked my inner ear, in the form of an impatient snort, and the voice said, "Not quite Bubba -- go get some milk and pour it into the bowl until it comes half way up the muffet - then slap it into the microwave for 34 seconds --- no more".

The look of incredible awe slid off my face and i blurted, "You're kidding! -- and my name is not ---- oh never mind". There was a pregnant pause then an irritated voice said, "Just DO it Francis"!!

34 seconds later the voice said, "You got any of that whipped-cream-in-a-can"? I didn't answer but opened the fridge and brought out a large bottle of catsup and said, "is red alright"? -- and I braced myself for another super-saturated-snort.

Good grief!! Some voices have absolutely no sense of humor.
I exchanged the catsup for the whipped-cream and "it" ordered me to squirt a fluffy topping on the muffet and drop three blueberries into it.

"Oh and while you are at it" said the voice,"you might as well crown the whole shebang with one of those strawberries sitting there --- what are you, a fruit freak Freddie"?

I stood back and studied it for a moment and said "Voice, that really does look delicious ---- and pretty as all get out".

"Well don't just stand there admiring it" the Voice urged. "sit down boy, eat up, it's best before the milk soaks it's way to the top of the muffet".

I obeyed -- then with unfeigned enthusiasm exclaimed, "Oh Voice, this is incredible! - It's wonderful! - it's heavenly! -- and - and --- really tasty. How can I ever thank you? You have brought new life and excitement to all my AM's of the future. I love it.

Then with a final muffled whisper, that sounded exhausted, the Voice said, "Aw, don't mention it --- you did good Homer, you did good".

"Now how the heck do I get out of your ear? I'm up to my tonsils in wax".

Comment submitted: 6/3/2010 (#2229)



By Byron (Team Breakfast Member)

You can't find Muffets in your grocery store? We just bought another box a couple of days ago. We live in Alberta Canada and buy it all the time. In fact, I just emailed a breakfast recipe for Muffets a few days ago. I don't know if it got through. I've never done such a thing before. I think people would love it.

Byron
bashurtz@telus.net

Comment submitted: 6/3/2010 (#2228)



By Patty575




I miss this cereal!! Why isn't it in our grocery stores anymore? If I remember correctly, you also had malt flavoured Muffets as well they were particularily tasty.

Comment submitted: 3/30/2010 (#1824)



By BENSMITH (Team Breakfast Member)




I have probably eaten a thousand boxes of muffets in my lifetime but I can't find them anymore. please bring this product back to the store shelves. We have so many sugar coated stuff out there that maybe this would stop some of the obesity going on in our country.

Comment submitted: 2/9/2010 (#1397)



By S. Wheat




Love Shredded Wheat Would like to be able to buy this one now.

Comment submitted: 2/9/2010 (#1395)