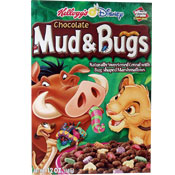 All Comments For
Average Rating = 5 (out of 5)
28 comments



By Peeps

Well I miss this dang cereal so much.

Comment submitted: 3/16/2019 (#24023)



By jason24K (Team Breakfast Member)




I used to eat that cereal SO MUCH! I want it to make a comeback! I miss it so much! Hakuna Matata FOREVER!!

Comment submitted: 7/24/2018 (#23306)



By cereal god




I loved this cereal as a kid... like Oreo O's, Smorz, Cap'n Crunch Choco Donuts and French Toast Crunch, I wish this cereal would come back for once.

Comment submitted: 5/8/2018 (#23037)



By Miss B.




I really, really LOVED this cereal. I wish that it could make a comeback too.

Comment submitted: 9/11/2017 (#22212)



By qveen_amara (Team Breakfast Member)




I loved this cereal so much! It brings back childhood memories! Bring this cereal back, Kellogg's!

Comment submitted: 4/27/2017 (#21682)



By A.G.




Bring it back! Was so good!

Comment submitted: 9/7/2016 (#20799)



By mightystar (Team Breakfast Member)




This cereal was so freaking delicious! I really wish Kellogg's would bring it back!

Comment submitted: 12/20/2015 (#19769)



By Muffasa




It was the best thing I can ever remember from my childhood. Yum yum! Oh goodness, I loved that stuff.

Comment submitted: 4/2/2015 (#18836)



By sarah




Bring it back! I smile when I remember it and then pout because I can't have it.

Comment submitted: 3/16/2015 (#18754)



By 90s kid




Such a good nostalgic childhood cereal. I would buy this regularly if they brought it back.

Comment submitted: 3/10/2015 (#18713)



By High Jinx




It was a terrible cereal. Too sweet and the chocolate wasn't very chocolatey. Pass.

Comment submitted: 2/3/2015 (#18471)



By JAX57




Please bring this cereal back. It was not your run of the mill cereal. We liked it as a snack also! I'll take this over a candy bar with an apple, pear, banana especially, and grapes!

Comment submitted: 8/24/2014 (#17549)



By Erick




Best cereal ever. Wish I could still get it.

Comment submitted: 4/26/2014 (#16990)



By WiggleBun




OMG. This was one of my FAVORITE cereals in the world! If this came back, I would buy it regularly. <3 Childhood floods back!

Comment submitted: 2/15/2014 (#16053)



By MudBugLove




I would seriously pay 100 bucks to get my hands on a box. Back in the day, I would scarf down 2 or 3 bowls in a morning.

Comment submitted: 8/16/2013 (#13317)



By MomsMouthslam




BRING BACK MUD N BUGS CEREAL! We know it's junk food, but it's comfort food also. We exercise on the treadmill while eating it! Bring it back NOW please!

Comment submitted: 7/24/2013 (#12936)



By AwkwardALB




Please... Mud and Bugs needs to come back to stores! Miss this cereal so much!

Comment submitted: 6/18/2013 (#12458)



By emilyduece




Mud & bugs was my favorite cereal but then it just disappeared. Please bring it back.

Comment submitted: 1/31/2013 (#10605)



By TopCat123 (Team Breakfast Member)




I used to eat that cereal when me and my sister were kids. We used to get it at Walmart (Montague). I miss it too.

Comment submitted: 1/15/2013 (#10390)



By Gem S




Please bring this cereal back! I loved it when I was a kid and I still do! Please!

Comment submitted: 1/15/2013 (#10384)



By 97dj




It was my favorite cereal for a long time. Please bring it back por favor.

Comment submitted: 12/21/2012 (#10179)



By sad if gone




This is my all-time favorite cereal. I ate it almost everyday when I was on a diet and lost over 90 lbs. I measured out a serving and ate it dry as a snack. It gave me my chocolate crunchy craving for the day. Oh how I miss it anyone know where I can get this kind of cereal or something like it?

Comment submitted: 10/20/2012 (#9600)



By buggy




I miss this - used to eat it when I was a kid and now I want it again.

Comment submitted: 8/22/2012 (#8864)



By Benjamn




My favorite cereal as a young kid. But then I couldn't find it any more.

Comment submitted: 7/28/2012 (#8636)



By shepherd




My favorite cereal in the whole wide world. Please come back to me. Lol.

Comment submitted: 7/17/2012 (#8519)



By Syd2000

This was the only cereal my daughter would eat. Sure wish we could still get it.

Comment submitted: 4/22/2012 (#7359)



By Playa




Come back Mud And Bugs, come back. If more people got to try it, it'd probably still be around.

Comment submitted: 1/29/2012 (#6315)



By Capri (Team Breakfast Member)

This is my favorite cereal, where can I buy it now? And where can I buy Count Chocula cereal?!

Comment submitted: 11/17/2011 (#5780)