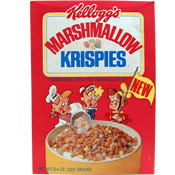 All Comments For
Average Rating = 5 (out of 5)
25 comments



By SNACKLOP




This was GREATEST cereal. Ever. Crackle was my favorite Rice Krispie dude!

Comment submitted: 7/3/2020 (#25333)



By D. Letter




I loved this cereal! Please bring it back!

Comment submitted: 4/14/2020 (#25068)



By Kelly




Please please bring them back.

Comment submitted: 3/24/2020 (#25004)



By rocky




Please, please bring them back!

Comment submitted: 7/25/2019 (#24357)



By Snap




Bring them back now!

Comment submitted: 10/27/2018 (#23651)



By mkrispie




The best cereal ever. Today I picked marshmallows out of another cereal to add to my Rice Krispies because I missed the real cereal so much!

Comment submitted: 6/21/2018 (#23166)



By myren




This was a great cereal. Perfect mix or marshmallow and crisps.

Comment submitted: 6/19/2018 (#23160)



By DokFrank




This cereal was perfect. Bland Krispies with a shot of sweet mixed in. The perfect combination. The crisp of the Krispies and the crunch of the hard marshmallow was also perfect. I ate these constantly.

Comment submitted: 5/14/2018 (#23056)



By poppy p.




Loved it. Bring it back!

Comment submitted: 4/24/2018 (#22960)



By MissMissy




This is my all time favorite cereal. I will try the suggestion of adding the dehydrated cereal marshmallows to Rice Krispies but I do remember a flavor on the Krispies themselves, they seemed slightly sweet although maybe that was just the marshmallow dust. I'm wondering if adding the marshmallows to Frosted Rice Krispies would be closer to Marshmallow Krispies. Man, I wish they would just bring them back though.

Comment submitted: 5/6/2017 (#21730)



By The Ritty




Great cereal. How long did it last? Because I remember eating it later in my childhood.

Comment submitted: 1/2/2017 (#21192)



By Missing U.




This was the best cereal ever produced. The marshmallows were JUST sweet enough to make each spoonful perfectly delightful. Aesthetically, it was nice to see a hearty bowl of Krispies dotted with dozens of pastel-colored marshmallows. I miss you, Marshmallow Krispies!

Comment submitted: 9/11/2016 (#20815)



By UCCF




These were awesome. My absolute favorite as a kid.

Comment submitted: 6/18/2015 (#19137)



By actyourage




Near perfect cereal. Right up there with Jean LaFoot's Cinnamon Crunch for most underrated cereal of all time.

Comment submitted: 6/7/2015 (#19103)



By MeleaCarrie




I had this favorite Kellogg's Cereal when I was growing up... Rice Krispies with little Marshmallows. I would really like it if they could bring that back in 2015! :) I have been talking about and thinking about how good that cereal was for years. I'm sure me and so many others would enjoy the taste even if it's a limited time offer! Thank You Very Much... Melea from Lexington, NC

Comment submitted: 3/23/2015 (#18784)



By Marshmellow11




BEST ever. Taking the Lucky Charm marshmallow suggestion just to try it again. Thanks for the suggestion. If this ever came back I'd buy the entire pallet. Bring it back!

Comment submitted: 2/22/2015 (#18589)



By marshkrisp4evr




Best cereal EVER!!

Comment submitted: 4/23/2014 (#16976)



By wcbryan80 (Team Breakfast Member)




This is definitely my all time favorite cereal that is no longer being made. I am shocked that Kellogg's ever quit making it, since all it consists of is their regular Rice Krispies with marshmallows added. Luckily, as of today, I have found a local store that sells containers of just marshmallows (just like the ones in a box of lucky charms). I made a bowl today and it tastes exactly like I remember them tasting in the 1980's, the only difference being the size of the marshmallow. But for something from my childhood that I haven't tasted in some 20 yrs, I would say the difference is totally nonexistent. I'm telling you, if you want a time machine via your morning bowl of breakfast cereal, buy you some of these loose marshmallows and add them to a bowl of regular Rice Krispies. It is silly to have to go to such lengths, but when you taste the final product I promise you won't be disappointed if you were as big a fan as I am of the original cereal. What I wouldn't give though for a re-release (even if for just a limited time) of this cereal, complete in retro mid to late 80's packaging.

Comment submitted: 9/10/2013 (#13900)



By Strutz




Oh yeah! Loved the Marshmallow Krispies. I feel like they were only around for a year, but it was my fav when I could get it. Hope it comes back again!

Comment submitted: 5/11/2013 (#12007)



By Pepper O.




Marshmallow Krispies was the BEST cereal ever. I'm tempted to get a box of Lucky Charms, pluck out the marshmallows and add them to Rice Krispies so I can try to replicate the flavor of my old favorite.

Comment submitted: 4/22/2013 (#11807)



By Jackie 2.0




Bring it back as it is far better than Lucky Charms. Kids love marshmallows and this cereal had a lot. This was my favorite cereal as a kid. Please bring it back, even for a limited time!

Comment submitted: 4/14/2013 (#11638)



By BetC7




YES! Please bring it back! I have never been able to find another cereal like it!

Comment submitted: 10/14/2012 (#9495)



By skizzo




Bring this cereal back. Please! It reminds me of being a kid! :-D

Comment submitted: 10/10/2012 (#9419)



By C.B. Esse




Why have they not brought this cereal back? It was so good!

Comment submitted: 8/29/2012 (#8939)



By Paula1955 (Team Breakfast Member)




Would Kellogg's ever consider bringing this cereal back for a re-debut!!!???? PLEASE!!!

Comment submitted: 11/8/2010 (#3235)