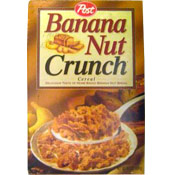 All Comments For
Average Rating = 5 (out of 5)
11 comments



By Mom215 (Team Breakfast Member)




My daughter loves this cereal and heard it was being discontinued & hopes they get enough people to keep making this cereal! I would like to know if they have any coupons for it so I can afford to buy as many as I can for her please! I am on food stamps & would be so grateful as she is such a picky eater & the only cereal she will eat! Thank you!

Comment submitted: 7/22/2019 (#24352)



By Kumail N.




This is my favorite cereal. I like the crunch of it, plus the banana taste. I'm nuts for it. I'm bananas for it too.

Comment submitted: 7/18/2019 (#24338)



By glenn




Love Post Banana Nut Crunch cereal, but never can find it on the grocery shelves anymore.

Comment submitted: 6/16/2019 (#24248)



By ajoyster7 (Team Breakfast Member)




It's been over 20 years since I last tasted this cereal (haven't been able to find it in stores since then), but I've never forgotten it. It's easily one of my favorites.

Comment submitted: 5/20/2017 (#21778)



By J.L.S.




The taste is what's on the box. It is a cereal that's 100 percent greatness.

Comment submitted: 1/17/2017 (#21262)



By Miss Giff




Excellent cereal. One of my top 5 of all time.

Comment submitted: 8/14/2016 (#20698)



By Harry

My favorite cereal is Banana Nut Crunch. I live in Connecticut and I can not find it in any store in my town. Where can I get Banana Nut Crunch?

Comment submitted: 3/26/2014 (#16475)



By vlang77




Recently repackaged under the Post Great Grains label. Love it!

Comment submitted: 8/3/2012 (#8700)



By cel3titas




Best tasting cereal and healthier than most!

Comment submitted: 7/23/2012 (#8576)



By u8mypinkcookies




I love it :)

Comment submitted: 1/18/2010 (#1223)



By del fuego




I love Banana Nut Crunch! Great!!

Comment submitted: 12/22/2009 (#1092)