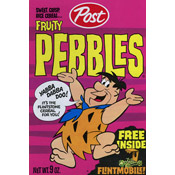 All Comments For
Average Rating = 4 (out of 5)
21 comments



By SpaceBarron (Team Breakfast Member)




My rating reflects the current recipe. My rating for the pre-1984 CLASSIC Fruity Pebbles is a perfect 5!

Comment submitted: 8/18/2018 (#23377)



By timtam




Growing up, my brother and me weren't close but I remember the small things such as eating cereal together... him with his huge bowls of Product 19 and Cocoa Pebbles and me with my bowl of Fruity Pebbles and just watching movies we'd rent from the store or play a video game. I miss those days but I miss spending that time together now we have families and it's changed but I truly remember this.

Comment submitted: 6/28/2016 (#20460)



By NostalgiaL




Does not hold up well when eaten in a large quantity, but it still has a decent taste for a cereal that's been around for awhile. (I work for a discount store and their version is just as good if not better - and cheaper - hence the okay rating.)

Comment submitted: 3/27/2016 (#20118)



By jmroszczak (Team Breakfast Member)




It's odd... As a kid, I loathed this cereal. I thought it tasted like vitamins. But as an adult... I kind of like it now.

Comment submitted: 2/13/2016 (#19960)



By grown up kid

I had some Three Twins Lemon Cookie Ice Cream... which oddly reminded me of the taste of Fruity Pebbles (and lemon-creme cookies). Check it out! I haven't had the cereal in many years now.

Comment submitted: 9/9/2015 (#19438)



By Michele




Fruity Pebbles was my absolute most favorite cereal when I was a kid and it still is. When I have them now, it gives me fond memories of my childhood, watching cartoons with my sister. Definitely a classic cereal.

Comment submitted: 4/11/2014 (#16941)



By Alphonzie




I loved Fruity Pebbles as a kid and I still love it today, although I only have about once a year now days.

Comment submitted: 3/19/2014 (#16406)



By DrDollz (Team Breakfast Member)




My Grandson goes through 3 boxes a week.

Comment submitted: 3/14/2014 (#16353)



By Avrige Bear




Back in the late 1990's, O went to the Family Dollar in my town and found the CANADIAN version of Fruity Pebbles which was different from the USA version I've known for years. This cereal consisted of big pebble shaped corn puffs (about the same size as Corn Pops).

Comment submitted: 11/18/2013 (#15344)



By Ernie




Fruity and Cocoa Pebbles still make it onto my breakfast table when they're on sale!

Comment submitted: 6/21/2013 (#12484)



By TopCat123 (Team Breakfast Member)




I used to hate eating this cereal until I was on a blood type diet and I figured that it was my number 1 favorite now that I can't eat wheat or corn. (O+)

Comment submitted: 1/15/2013 (#10391)



By manofmystery




Cocoa Peebles are one of my favorites (and the cereal I most regular buy) but their Fruity brother is disgusting. I've never found a more unpleasant tasting fruit-flavored cereal.

Comment submitted: 9/4/2012 (#9041)



By reggie7




I love Fruity Pebbles. No cereal can replace it. I could eat a whole box in a day lol. They are so good!

Comment submitted: 7/30/2012 (#8652)



By MyEmptyCanvas (Team Breakfast Member)




Fruity Pebbles... NO! This is on my top 10 cereals that I hate list. LOL & to those that can't find it... I see big boxes of the stuff at Super Walmarts and local grocery stores all the time. I travel A LOT! (myemptycanvasreviews.blogspot.com)

Comment submitted: 6/21/2012 (#8119)



By Mcchevy (Team Breakfast Member)




I want Fruity Pebbles again, but I can't find it in my regular store. I checked the Post website and there's no evidence that they're discontinuing it. What's going on? I'm really craving it lately.

Comment submitted: 3/5/2012 (#6694)



By Mcchevy (Team Breakfast Member)

I like Cocoa Pebbles better, but there's something about the taste of these that really reminds me of being a little kid watching cartoons on Saturday morning. A very distinctive taste and smell that wakes up happy memories.

Comment submitted: 2/15/2012 (#6516)



By Gary

Fruity Pebbles or Cocoa Pebbles? Which do you like best? Discuss. I was always a Cocoa Pebbles man myself, but I do appreciate the other one.

Comment submitted: 2/6/2012 (#6438)



By b.c.h.




I've eaten fruity pebbles all my life. It is my favorite cereal. However, the last two boxes I have purchased have been barely tolerable imo. Something about the texture. Its as if they have tried to put something in the cereal to keep it from going soggy but the result is almost a stale texture and taste. I'm very unhappy!

Comment submitted: 8/18/2010 (#2679)



By iowolfman




I'll just say this - I love my Fruity Pebbles but the last two boxes I got was stall bad and I'm not happy with that at all. My email is iowolfman@gmail.com So now you tell what up with that plsssss.

Comment submitted: 2/16/2010 (#1441)



By Tig1




I liked this cereal until they changed the recipe. Now it turns to glue in like 20 seconds! tig1

Comment submitted: 9/13/2009 (#558)



By TwinCityBiatch




This is my all-time favorite cereal! Yabbba Dabba Doo!

Comment submitted: 5/7/2008 (#11)