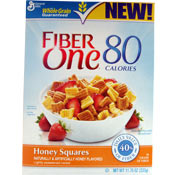 All Comments For
Average Rating = 5 (out of 5)
26 comments



By Marcell




I tried to find this cereal in the stores after having eaten it for a year when I wanted to lose weight. I just wanted to start eating it again and could not find it. Now, checking out this website, I find it was discontinued. Please bring it back.

Comment submitted: 3/29/2018 (#22870)



By Maryann




Love it! Please bring it back to the stores! I used to buy 2 to 3 boxes a week but cannot find it anymore!

Comment submitted: 6/11/2017 (#21888)



By CJ-3




Yes, I agree with the rest of these comments. I was so shocked I could not find it anymore. I travel so much I just kept thinking they just didn't have it - in fact, I still look for it just in case it comes back. Please reinstate this cereal. It helped me so much on my diet!

Comment submitted: 11/3/2016 (#21022)



By Alana N.




Bring this back, along with the chocolate flavor! PLEASE!

Comment submitted: 7/13/2016 (#20560)



By Fly Girl

I agree... and didn't know until today it had been taken off the market. I loved it, and ate it every day or at least until I could no longer find it. In fact, I had it shipped overseas to my APO address. BRING IT BACK.

Comment submitted: 5/31/2016 (#20365)



By P. Kupp




This is only only cereal I really liked. I switched to eggs and toast after it went away.

Comment submitted: 12/28/2015 (#19791)



By Gillian




This cereal and the chocolate version was the only thing like it on the market. Fiber One substituted this cereal for nut-filled high sugar and high calorie options.

Comment submitted: 10/26/2015 (#19597)



By Dobber




I loved this cereal. I ate it everyday, it tasted great and helped me lose weight. I was very disappointed when it was discontinued. I hope it will be brought back.

Comment submitted: 9/29/2015 (#19505)



By H. Squares Luv




Please bring this cereal back. It's a great product for General Mills and us the Consumer.

Comment submitted: 9/29/2015 (#19501)



By I.B. Diabetic

I agree with @saddened. I am totally disgusted this product is no longer available. For a diabetic who used it for successful weight loss (+40 pounds) and tight blood glucose control, there is NO other Fiber One/GM cereal that compares to Fiber One 80 Honey Squares in terms of taste, calories, versatility of use, and nutritional value, especially sugar and fiber content. Its disappearance has presented real problems for me in that I am no longer able to include any cereal in my breakfast meal planning.

Comment submitted: 8/4/2015 (#19286)



By Why Guys?




I can't imagine why General Mills discontinued this cereal. Walmart had it for a while longer than other stores, but now I can't purchase it at Walmart anymore! I will just have to look for another brand made by a different company!

Comment submitted: 7/27/2015 (#19253)



By 80CalLover




I ate this cereal every day until I could no longer get it in Houston. It was the best cereal on the market with that low of a calorie count. Hope they bring it back.

Comment submitted: 6/23/2015 (#19151)



By R.M.




I am very upset that I can no longer find my Fiber One 80 Calorie Honey Squares Cereal or my Chocolate Fiber One 80 Calorie Cereal. What has happened with General Mills that they will no longer produce these two cereals? I wish there was something I could do to get these two products back on the grocery shelves. - Very Upset Customer

Comment submitted: 6/22/2015 (#19150)



By Granny-6




I've been looking everywhere for this... my favorite Fiber 1 cereal. I should have gone on the website much sooner and I would have known it was discontinued. I too am most disappointed as I had it for breakfast most mornings. Here in the Rochester, NY area, stores must of put out on the shelves what they had in stock up until early May. Guess I was able to get it longer than others. Should have stocked up!

Comment submitted: 6/18/2015 (#19138)



By duro

Why did it disappear? Me and my wife liked it a lot. Seems like a lot of people liked it. Sad to see this one go away.

Comment submitted: 4/23/2015 (#18935)



By saddened




Why would General Mills discontinue such a popular product? Only thought that comes to mind is the profit wasn't high enough. I am totally disgusted with General mills and will try to avoid purchasing any product made by GM.

Comment submitted: 4/19/2015 (#18915)



By TrishG




I loved this cereal. I ate it every day. To me, it was the best low calorie high fiber cereal out there that didn't taste like straw!! Please bring it back.

Comment submitted: 4/16/2015 (#18898)



By Healthy80




I also love this cereal. Bring it back!

Comment submitted: 4/12/2015 (#18873)



By Flip




I love this cereal and am so sorry it has been discontinued. Please start making this cereal again for those of us that love it.

Comment submitted: 4/7/2015 (#18851)



By Disappointed-2




What the heck! I eat this cereal every day for breakfast. I am at the bottom of my last box. I can't find this cereal in any stores or on the web. Thanks a lot General Mills. I'll be sure to avoid your other cereals to be safe that the company doesn't discontinue another item I use daily.

Comment submitted: 3/14/2015 (#18740)



By stunned




This cereal was great! I'm stunned that they chose to discontinue it.

Comment submitted: 3/11/2015 (#18718)



By Honey Squares




Our family loved this cereal so much but it became harder and hared to find. We liked it so much that I called General Mills cereal co. and much to my discontent learned that they are not making this cereal any more. I found this web site in hopes that I could get the word out for other lovers, to call and hopefully they get so many calls they will start to make it again. Please call General Mills. Hope this will help put it back on store shelves soon.

Comment submitted: 2/27/2015 (#18632)



By Sad Husband




My wife loved it but then it was discontinued.

Comment submitted: 2/23/2015 (#18592)



By Vicki




My name is Vicki. I love this cereal. But I too am having a hard time finding it in the stores. What's up?

Comment submitted: 2/20/2015 (#18573)



By SweetLee




I loved this cereal. But for a long time now, I can't find it in any of my area stores.

Comment submitted: 1/7/2015 (#18329)



By Kenny1

Awful cereal - boring taste and dull texture. All the other Fiber One cereals are better.

Comment submitted: 11/23/2012 (#9999)